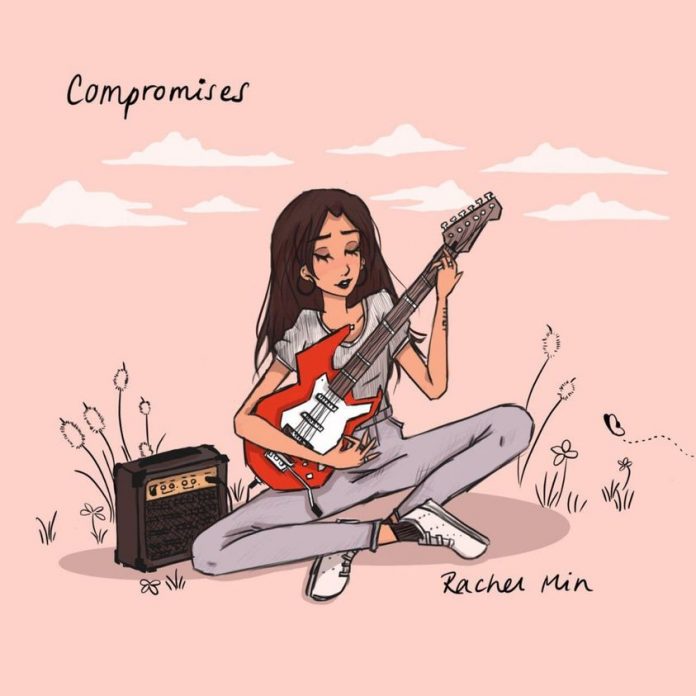 I know very little about Rachel Min but what I do know is that 'Compromises' is one hell of a song. And when it comes down to it that's all that I need to know.
If 'Compromises' is anything to go by – and it's her first release – what she does is singer/songwriter style with more than the odd hint of bedroom pop. Of now but with hints of retro – I get something of a Suzanne Vega thing going on or even Tanita Tikaram. Plus that sense of melody is very Kirsty MacColl. Enough of my old head being musically triggered – Rachel has some more 'of now' influences which you can read about below – but those retro sounds are one of the reasons why I really love this track. The reason I say bedroom-pop is that it's quite dreamy sounding – jangly guitars are a part of that. The vocal is quiet and wonderfully understated which contrasts with the, at times, surprisingly upfront guitar. But it's put together so well that nothing jars; the feel and sound is great pop, but then again it has something that isn't at all pop.
It is quite hard to put her musically into only one niche – it's pop yes but it has a depth and craft that kinda slots it into singer/songwriter. This is one of those times when I'm going to stop trying to do that.
I started off thinking that I wasn't going to like it at all but it gradually won me over during my first listen, then lodged itself into my head. This is just a wonderfully lovely song – a tune to die for, a wonderful vocal and really well put together. Somehow it manages to sound polished and 'bedroom' produced at the same time which is charming.
This song charmed me completely, it charmed my socks off. Rachel Min is firmly on my 'ones to watch' list.
The info
As heard on BBC Introducing Yorkshire, Jorvik Breakfast, University of York Radio and Miss Yorkshire Gold, 'Compromises' tied second-place at University of York's Battle of the Bands. Drawing from upcoming artists like Holly Humberstone, Phoebe Bridgers and Matilda Mann, Rachel recorded this song from her bedroom while in Singapore; collaborating with a producer based in York. In light of the difficult year it's been, she hopes 'Compromises' will resonate with listeners for its optimistic sound and lyricism – "Sometimes I escape from my mind, practice my lines, make up all the fights."