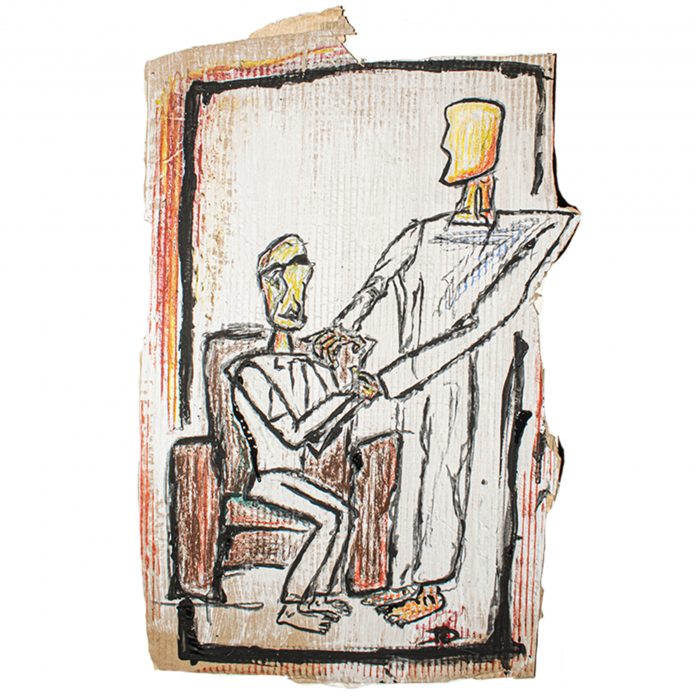 As many of you might have realised by now I love a band that does its own thing, especially when the result is crazzzyyy man. Plant Punk band Yuka Tree is one of those bands. And yes you read that right, the band describe themselves as Plant Punk. What this specifically describes I have not the slightest idea; not that this matters when a track is this good.
You might, if you are inclined that way, think that the title of the song is somewhat Fall-ish; and there is the hint of a Fall influence in there. There's something in the vocals at times and the off-kilter surf sound that surfaces from time to time. You might also wonder what the song is about: vocalist Kieran Breese explains 'The song is about power dynamics, trust and perhaps finding it difficult to understand when a relationship is in your best interest or when it is being abused. This could be a romantic, platonic, or organisational relationship'.
And after many listens I still have no idea who the man In the leather laced shoes is or how he fits into the song; but I really don't give a fuck, it'll come to me one day.
The track kinda goes through a musical progression – from old-school punk, to old-school 'heavy' punk (think Anti Nowhere League) but this is liberally seasoned with hints of madness – crazy sawing guitar that at times sounds almost Eastern, breakneck single note guitar. It's a sonic riot. At times it sounds like King of the Slums; that sawing guitar sounding very viola/violin, the swirling manic sound. And over this the vocals go from old-school punk, to screamed out on the edge of raggedness. It's a heady mix that drives you into a frenzy.
This, my dearest readers, is the cure for musical boredom, a musical kick up the arse of the workaday.
The info
This is the follow up to the debut single from the Sheffield/Manchester based quintet, 'PREACHER'. Live, Yuka Tree sold out their debut at Salford's The Eagle Inn in early
2020 and have supported touring bands across the north. Their biggest live show to date will be supporting Narrow Margin on August 21st at The Breadshed, Manchester.