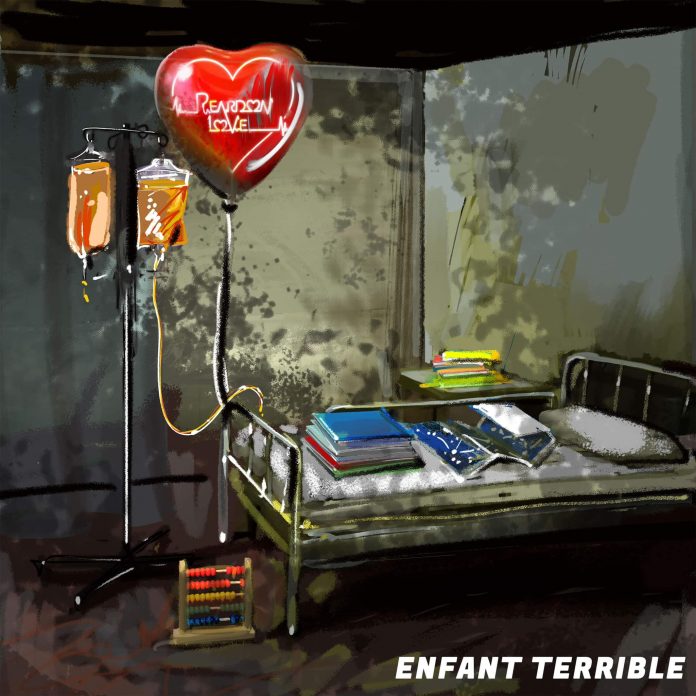 Reardon Love's 'Enfant Terrible' is one of those songs that's hard to define. I mean it's rock but not way out there raucous rock but there's very definitely crunchy guitar. But you could also dance to it; I know this, I did. This isn't helping is it.
There is also something I need to say; which may help, or not. There is something very 80s about the sound of this song. Part of this you may get and part of which I suspect, unless you are a fan of certain bands during the 80s, you won't.
The beginning kinda reminds of Duran Duran; in their 'This Is Planet Earth' period; it's all ringing plucked guitar, synth washes, big bass and big vocals. So far, so pop. But as it goes on it starts to get more complex – layers of synth, glorious backing vocals, rockier guitar, out there drumming.
It sounds, and I need to whisper this, a tad 80s' Prog. You see way back then bands who wanted to play Prog wanted to do something more accessible – shorted songs, earwormy tunes, things you could dance to. This was part of the lumpenlying named New Wave of British Progressive Rock. And although there were bands who played music based on old style Prog – Folk Prog (Solstice), Psychedelic Prog (Ozric Tentacles), driving Heavy Space Rock Prog (IQ), and so on – there were also bands who mixed the sound of the more grandiose New Romantic bands with Prog. You could call this PopProg if you needed to. Marillion dipped in, as did It Bites. There was a range of sounds that these bands made, this is one of them.
The thing is there's more. 'Enfant Terrible' also sounds a bit like Frankie Goes To Hollywood. This isn't that surprising. Frankie's big big sound was constructed by Trevor Horn who produced and joined Yes (along with his partner in Buggles Geoff Downes). So a number of the bands he produced had a Prog element to their recorded sound (Although not Dollar, one of my guilty pleasures).
'Yes', I hear you say, 'but isn't this all a bit of a music nerd tangent?' It is, and I apologise. So the thing I was working towards was that 'Enfant Terrible' sounds like all this.
You may also call this, without all of my musical baggage, a sophisticated rock based song that draws on a huge variety of sounds to make something absolutely great. It has outstanding playing, vocals to die for, a tune that just bores its way into your head and a beat that is positively danceable.
This is all kinds of completely fucking wonderful.
Stream/Download: https://kycker.ffm.to/enfantterrible