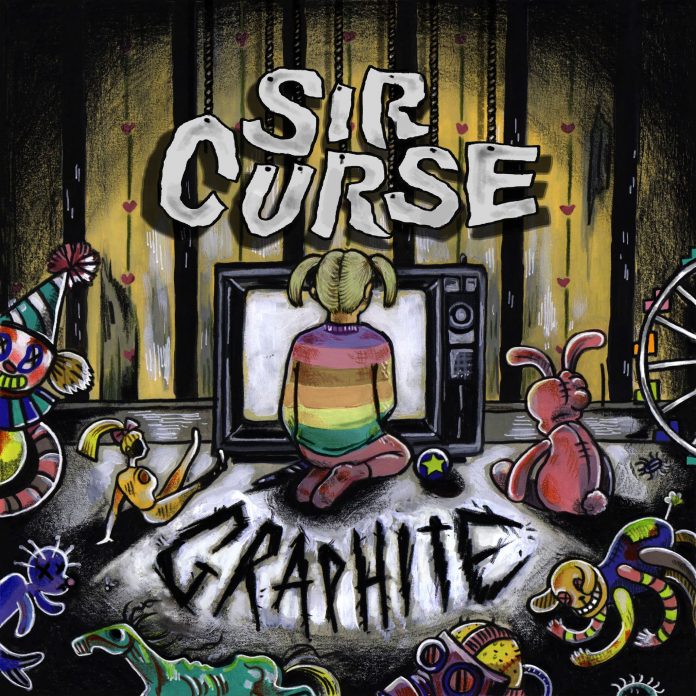 Sir Curse are one of those bands I've heard people talk about but I've never actually managed to hear what they do. Taking my usual first listen approach – play the track, don't bother reading the band bio or the press release (I know this is somewhat appalling) – left me somewhat stunned and amazed. This track is absolutely brilliant.
'So what does it sound like Frank? Tell us now' I hear you say. Well it's somewhat difficult to describe, but I love difficult to describe music. Well I'm going to ask you to imagine something – it's somewhat art-rock of a 70s' type ilk, it has hints of a Kate Bush thing going on, It sounds bizarrely like some mad Russian pop song in places, and it has these hints of alt-rock – it does that quiet loud thing but not in a way you've heard before. And it has horns (or something that sounds like horns anyway). It is completely mad, and completely wonderfully brilliant.
My helpful friend – she can be somewhat strange at times – said it sounded in places like a Eurovision Song Contest song from some small Eastern European country. This by the way is a compliment, she has a particular liking for those weirdly fantastic Eurovision songs that you just know have no chance of winning.
Of course having read the bio and the press release I find that Sir Curse have a reputation for being 'theatrical', and that they describe themselves as 'Kate Bush running away to join the circus with System of a Down', so that's where those strange Eastern European sounds come from.
This wouldn't work – and it does, it does so bloody well – if Sir Curse couldn't play. Sir Curse can play incredibly well. The vocals are wonderful. The tsunami of sounds that cascade out of the speakers are so well put together.
This track is absolutely incredible and you should be listening to it now, right now. Me? Sir Curse have become a new favourite just on the strength of this release.
The info
Sir Curse is a 6 piece band from Leeds, United Kingdom. Experimenting with Rock, Folk, Gypsy style and Jazz elements with elegant sinister vocals, live shows feature drama and story telling, bridging the gap between theatre and live music.
Formed during their University days by keyboardist Ellen Davis and vocalist Lyndsay Dale, Sir Curse bring you crazed live shows that combine campfire horror storytelling, freak-show theatricality, and full-throttle music.
The band say: "Imagine Kate Bush running away to join the circus with System of a Down. Now add some shades of American Horror Story, with an unsettling undercurrent à la The Brothers Grimm. You are now some way towards describing Sir Curse, a 6-piece alternative rock band from Leeds".
Upcoming gigs
Fudge. / Sir Curse (single launch ) / The Harriets / Teeff
Friday, 7 February 2020 from 20:00-23:15
360 Club, 229 Woodhouse Lane, LS2 3AP Leeds
Rockin Rotherham 16
Sunday, 23 February 2020 from 14:30-20:00
The Hive, Greasbrough Rd, S60 1RB Rotherham
APOCALYPSE BABYS
SUKERPUNCH
SIR CURSE
FIRST WAVE
THEE ACID TONGUE
Sir Curse on Facebook: https://www.facebook.com/SirCurseBand/