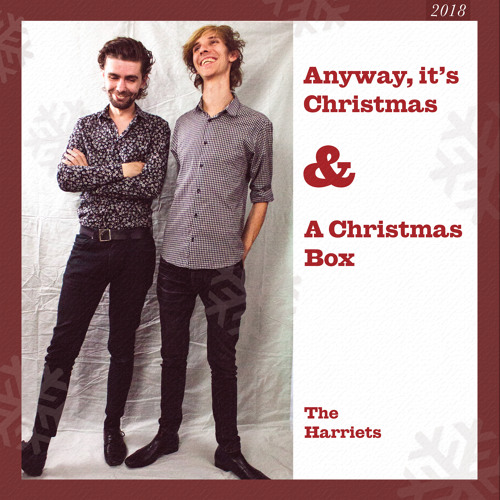 Tricky things Christmas songs, there have been some really great ones and some, speaking frankly, I feel should be removed from my head using bleach or something rather more caustic on the off-chance that some small bit of it will drift into my head if it isn't removed completely. You, the reader, will obviously have your own personal 'best loved' and 'most hated' lists.
On the one hand you may be asking yourself why The Harriets have decided to record not just one but two Christmas songs, but on the other it sort of makes complete sense. They strike me as the sort of people who actually enjoy the festive season (unlike myself, unfortunately I'm not a fan, and strangely even as I say that I feel I should be apologising for feeling that way). Luckily the band actually explain how they ended up with two Christmas songs
"Last Christmas, when our songwriting duo Dan and Ben went back to their family houses for the holidays, they composed a Christmas song each, without the knowledge of the other. To celebrate this festive miracle we decided to record both tunes and release them as a double A-side for Christmas 2018"
So on with the review. 'Anyway, It's Christmas' is one of those 'Christmas songs' that uses Christmas as a basis for something else completely – ticking one of my boxes for a good Christmas song. What we have is a rather sad tale of winter romance. It actually make me feel somewhat emotional if I'm honest. The thing about this musically is that while it may sound rather jaunty, there is actually this great melancholic feel to the music that really compliments the lyrics. And by the way – as though you needed telling, it's The Harriets – the lyrics are really great. They certainly have a way with words.
Listening more closely, for some strange reason, although perhaps not so strangely, much of the drum track uses something rather military in feel although slowed down. This is actually rather clever – I'm going to leave you to come up with the reason I might find this clever. I may of course be reading stuff into this that isn't there at all. I'll leave you to decide whether I'm trying to be a musical smart-arse or not. Anyway for the rest of the musical arrangement it actually sounds both wonderfully sparse and beautifully layered at the same time, which is really clever. There are layers of acoustic and electric guitar that just inter-twine in this great way.
By, say around the third play through, I realised that this track was seeping slowly but surely into my head and and I didn't want this thing to leave me forever.
'A Christmas Box' is a different thing entirely. It's a Christmas song about Christmas. And it sounds like a Christmas song, look you know what I mean by that. It has this great rip-roaring chorus that we'll all be singing, it's covered in all those sorts of Christmas song instruments. It has layers and layers of vocals. I made the mistake of connecting my laptop to my stereo and turning this way up before I clicked the play button and it filled the whole room, and probably the street, with this uplifting huge sound. Although my cat Maisie (aka The LSF Cat, aka Fat Cat – she's always been rather on the large size, when the notice saying somebody had a rescue cat for rehoming they thought she was pregnant, not pregnant just fat. I usually call her Pritty Kitten, she's is very pretty) found it rather scary and left the room faster than I've seen her move for quite some time. Still she's not a huge fan of some of the music I like at all, she usually prefers cheesy Europop. Although she has this weird thing about Rolo Tomassi, should I play something by them she rushes into the room I'm in and sits really really close to the speaker.
Sorry I got a bit sidetracked there.
So back to the song. But listen rather more closely and it's actually a rather romantic thing. It's a song about wanting Christmas to be like it used to be. It is, although it might appear to tick all the boxes for a Christmas song I don't like, a Christmas song about Christmas that I actually like a whole heap. It almost got me feeling festive, quite an achievement there, especially on a damp November Sunday evening in Huddersfield.
Look I was lucky enough to be at the single launch – they only played 'Anyway, It's Christmas' live ('A Christmas Box' for obvious reasons they had to play over the PA at the end) and I noted that 'Anyway, It's Christmas' was an instant Christmas classic. Still think that by the way but 'A Christmas Box' is equally as fantastic. Should you be choosing your Christmas songs ready for this year look no further, quality stuff.