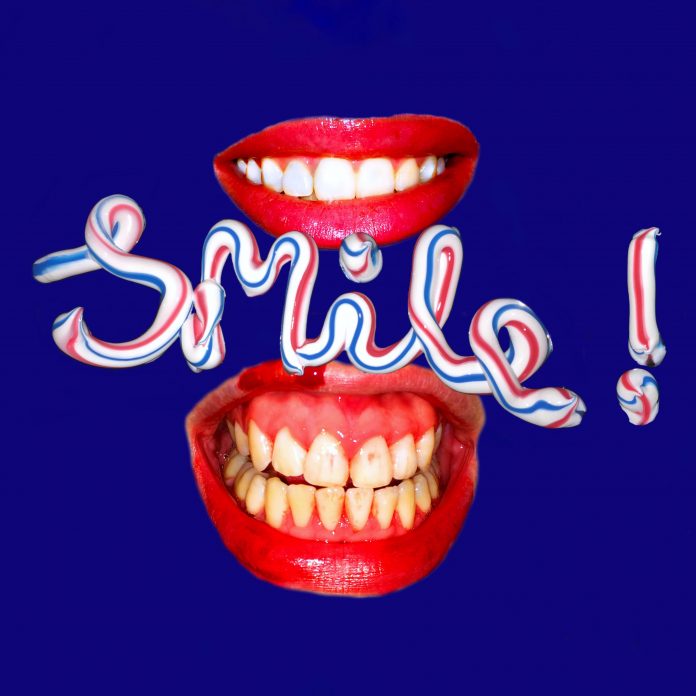 This just wasn't what I was expecting. You see The Red Stains describe themselves as a post-punk band, and I just made an assumption about what I was going to hear. I was wrong, so wrong, and strangely I wasn't unhappy about that at all.
'Smile!' is post-punk, but that doesn't mean doom laden dark electronica, Goth or any of those other things I was expecting. Instead what I heard was the unholy utterly fantastic union of The Slits and The Creatures. And my heart leapt for joy, my feet drove me into a wild dance. THIS IS THE STUFF!
Sometimes it is so good to be oh-so wrong.
Sparse African drums setting a driving beat, funky bass, fast plucked guitar, warped guitar, vocals the like of which I have not heard in decades. It drives you to twist and sway like a crazy thing.
I didn't realise that I missed music like this as much as I do. And while I've been taking a distinctively retro take on the sound – it is and it isn't. It sounds like I remember The Slits sounding, which isn't, as I've just found by taking a side trip to their album, how they actually sounded. The Red Stains come with a sharpness to their sound which I think is where that The Creatures/Siouxsie and The Banshees influence comes into it. But the closer I listen I hear things I can't pin down exactly but sound more of now. But when it comes down to it, where great music comes from isn't that important, and this is great music.
There's more to this band than great music, like The Slits, The Red Stains' songs are based in real life, on real issues. The band explain:
'Smile! starts off by dreaming up a dizzying, suffocating suburbia with biting, ironic lyrics that paint a pretty picture "It's a pastel dream, made of strawberries and cream". There is an escalation lyrically with questions urging for domestic perfection before coming to the push in the central line "Smile! Smile! Smile! Smile! You're on trial!"
'The song is an acidic, tongue-in-cheek bite back at the idea that 'a woman's place is in the
kitchen.
'Overall, Smile! is expressing sharp, controlled and sour fury at the ever-present expectations placed on women to smile and obey.'
I love a song where while your feet and body are dancing, your head is working. And the words are so compelling it rewards a sit down and listen closely as well. Double the joy.
This is music with a message, music that will make you want to change things, and music that will make you go crazy wild. Your soundtrack to a riot. I bloody love it.
The info
The Red Stains take pride in smashing up gender stereotypes and scattering them in your face (and ears!) through a powerful, subversive style about shop mannequins, discount supermarkets and the Manchester Metrolink trams. They are a four piece contemporary post-punk group from Manchester consisting of Natalie Emslie on vocals, Sterling Kelly on bass, Cesca Henderson on keyboard and synths, and Ben Dutton on drums.
The Red Stains are fueled on chaos and resistance to the injustices in modern day society – social inequality, misogyny, political monotony. Opinionated and unafraid, this band brings a refreshing urgency that rips up the rulebook and throws glitter and spaghetti hoops over it.
Expect maximum chaos and get ready to dance your socks off!
The Red Stains take inspiration from a crazy collage of musical styles, from 70s post punk and experimental new wave to 90s Britpop. Their use of gritty bass and minimal, punchy drum lines combined with disconcerting synths and raw, powerful vocals gives them a unique and unpredictable sound.
Gig
The Red Stains + guests All Girls Arson Club + The Dolly Shakes + Pussy Stamina DJ set
Night & Day Cafe Manchester
24th September 2021 8pm
Tickets + info: https://tinyurl.com/TheRedStains