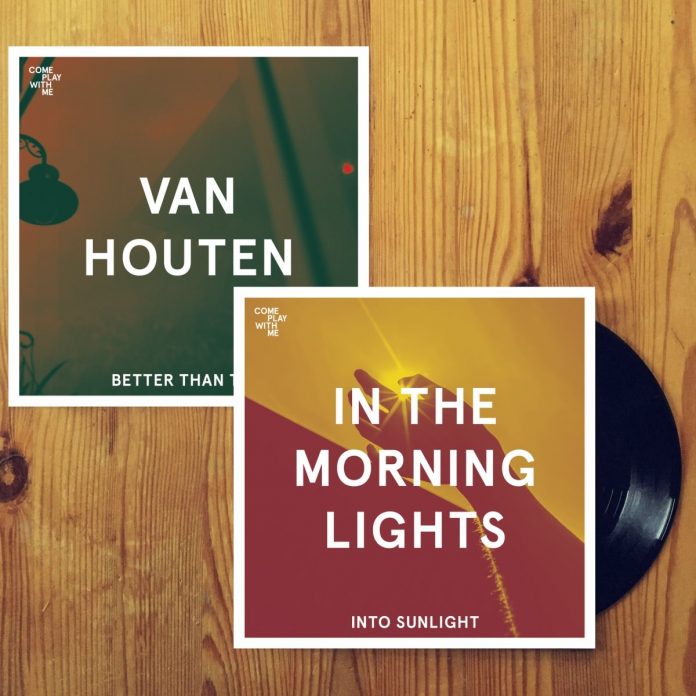 Yet another classy release from those lovely people over at Come Play With Me. In my case one band that I'm rather fond of – Van Houten – and another I've never even heard of before – In The Morning Lights. But this is good you see, it's a great way of introducing you to new acts.
Van Houten's track – 'Better Than This' – is a wonderful dream-pop thing. Full of gorgeous vocals, slightly warped guitar, and a tune to swoon over. And yet there's something else there, it has this lovely hint of Aztec Camera-like sound. Given that I have more than a slight love for Aztec Camera this is no bad thing.
Van Houten make music that takes you to a wonderful place, this is no exemption. It's music to drift away to, to be taken by that oh-so pretty tune. But you should take the time to focus on the words because the song is so much more than the music. Louis from the band explains "The song is about searching and working for a better life, and is hopeful in this respect. The song addresses how easy it can be for life to pass you by, especially when you're always focusing on the next step, or bigger picture. I believe this to be a relatable and universal idea, as most people have the intention to seek something better, and change their life for the better".
This is a beautiful thing, it's a period of calm and peace in a busy world.
And so to In The Morning Lights. As I said before this is a band that I've never even heard of before. But as I pressed play on the track, I really liked it immediately. They mix hip-hop and alt-pop into something soulful and really really classy.
The other thing I love is the dual vocal thing they have going on. And that dual vocal is important. Frankie from the duo explains "The opening line says it all 'Three lovers, one plays the fool'. Into Sunlight tells the story of a secret love affair, narrated by both of us from the perspective of two characters simultaneously. The script-like lyric follows the conflict between right and wrong and into desire. It calls to question love, morality and human nature."
And taking those great voices, the clever, inventive and soulful sound and words that tell what is an unusual story for a pop track, make this something that really has depth.
The longer I've had access to the review stream the more often I find myself listening to this track. It has something that quietly creeps into your head.
The other thing I've been pondering since I decided to review this AA sided single is whether anything connects the two tracks. On a very broad scale they are both pop tracks, different kinds of pop obviously. But this isn't really enough. Going deeper, both songs have a depth to them beyond the obvious musical classiness. They both have a lyrical goodness that raises them above the average.
As I said, another classy release from CPWM. If you listen to it for just one track that appeals to you or because you know the band, please please please listen to the other track.
The single is available for streaming and is released on 7" vinyl via Leeds based record label Come Play With Me. Limited signed copies of the vinyl can be ordered from http://cpwm.awesomedistro.com/.