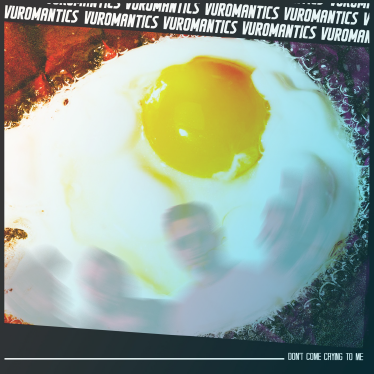 I have, in the past been less than complimentary about Vuromantics, seeing them live a short while ago changed my opinion of what they do big time. Seeing them live made what they do click.
In short people this is huge, it's big big. You might be misled by the start which sounds rather bizarrely like a noise generator from a Hawkwind track, and then it goes all kind of ambient and smoochy smooth. But the thing is that this suddenly becomes this huge funky floor filler. It has hints of electronic 80s' band – specifically Heaven 17 but there are others in the mix, huge dollops of soul-y R'n'B and it even rocks out.
But it makes sense, it makes huge sense, and it works. I defy anybody not to feel moved to get up and shake their thang to this.
And the playing on this is fantastic, the standouts for me are the drumming – that is some way cool drumming – and the guitar – when that takes off, it's a joyous thing, a thing that any rock band would be proud to include in a track. But it's the groove, the combined groove that this band produce that makes it work. It's the sort of track you need to hear loud, you need this to fill the room with that glorious sound.
But, I hear you ask, this doesn't sound like the sort of thing you usually get all worked up about. This is quite true, it doesn't, this sort of music usually brings some rather bad memories of a club in Portsmouth called The Some Place Else Club (or SPECS as it was usually known) which I used to get dragged to by some rather more club-going friends at, what we might call, a fake ID toting age. SPECS used to play this sort of big funk type music to the assembled 'on shore leave' sailors, who when having consumed rather more alcohol than was advised would seek out anyone who didn't fit their idea of somebody who should be in said club – namely people like me – and, if you had long hair or even long-ish hair threaten to set fire to it. It was that sort of place. You may be relieved to hear that I never had my hair set on fire, I managed to escape that. And once the sailors got to that stage the club called in the military police who had a casual attitude to the use of baseball bats and clubs to subdue drunken sailors. Portsmouth was a tough place.
But the thing is that Vuromantics overcome that by including those elements of 80s' electronic pop and rock, and the shear musical ability they have. 'Don't Come Crying To Me' is huge, glorious and full of joy.
The info
Vuromantics launched in early 2017 and wasted little time hitting the road and flexing their touring muscles. Known affectionately as 'The Vu' this UK five piece blend pop sensibilities with a passion for keys and groove to create a modern take on some retro ideas. The band have been consistently bringing their unique brand of pop to most the major cities in the UK by headlining their own small venue DIY tours but also have supported the likes of Shalamar, Alabama 3, The South, Smokey Brights and KOLARS to name a few. Vuromantics; tipped by the music press with Classic Pop Magazine stating "We've been hooked" , Louderthanwar observing "a charming sophisticated slice of popular fusion" and tastemakers Exposed Magazine proclaiming "shimmering synth textures and giant choruses".
'Don't Come Crying To Me' was recorded by Alan Smyth (Artic Monkeys, Milburn, Reverend And The Makers) at 2Fly Studios Sheffield & Old Pig Farm Sheffield. Of the process Sam Christie of the band said "This is one of a number of tracks we created ahead of our UK tour back in November 2018, born during a really exciting flourish of creativity and concerts."…"Ultimately it's a playful song with lush synthesisers, tuneful guitar sounds and some tight rhythmic backbone, it's a favourite of ours during our live performances"
www.vuromantics.com
www.facebook.com/vuromantics
www.twitter.com/vuromantics
www.instagram.com/vuromantics