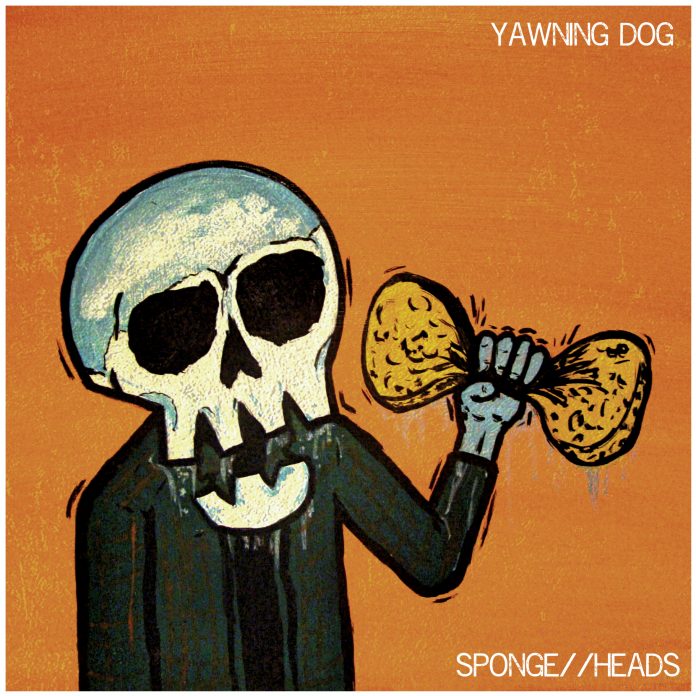 Hailing from Hemsworth in West Yorkshire, Yawning Dog are a grunge/punk four piece who are well known for their chaotic live shows. Actually, I should say they were a four piece, as sadly, the band announced only days ago that drummer Joe Prochera was leaving the group, albeit on amicable terms. So that leaves Sam Womersley (Vocals/Guitar), Ryan Lewis (Lead Guitar) and Daniel Wearmouth (Bass/Vocals) with an unfortunate void in their line-up. I have no doubt the band will recover soon though and get back to grafting on the live scene once again.
In the meantime, the band have left us with a double A side single to be getting on with while they lick their wounds and find a replacement tub-thumper. 'Sponge' is a gloriously scuzzy track with a simple but effective riff that lopes through the song chasing the beat at a steady pace. Womersley's Yorkshire drawl is soaked in reverb as he warns that: "everybody here just wants to burn you down" and bemoans the fact his shoes smell and he can't afford to move. It sounds a little like Mark E. Smith fronting 'Bleach' era Nirvana – which is a good thing by the way.
The second A-side is 'Heads' which is an altogether noisier kettle of fish. Joe Prochera's drums are a big part of this song, and he proves here that his drum stool will be a tough seat to fill. Womersley's vocals are unhinged and heavily distorted; like a mad man on your street hollering instructions at you through a toy megaphone. The music is fast and frenzied, with big, pounding drums and menacing, lurching basslines. Then the song reaches its spaced out instrumental, mid-section, and the pace mellows a bit. The guitars pursue the melody through a fog of feedback until the whole song slows to a crawl and seems to come to a rest before they give us one last snare drum death rattle for good measure.
Website: https://www.musicglue.com/yawning-dog/
Facebook: https://www.facebook.com/yawningdogband
Twitter: https://twitter.com/Yawning_Dog