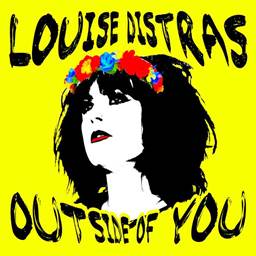 Louise's path from hardship to heart-felt anthems began when she ran away from home, aged 16, armed with a guitar and the few chords she knew.
Inspired by Nirvana and the punk-rock gateway the Seattle legends provided, Louise turned her back on the bullying that had made her life unbearable and decided to play music for anyone who'd listen.
Her unshakeable belief that "music can change the world" underlines her own story. It certainly changed hers. "I'm standing up for the disenfranchised kids who get picked on at school, the kids outside the box whose world has been changed by the power of music," the Wakefield born singer says.
These days Louise has more than an acoustic guitar. 'Outside of You' comes with the added dynamics of a full band. But she insists that the ethos remains the same – a focus on 'nu-punk' for the new generation.
While the undeniable quality of Louise's music stands her in good stead for any scraps she gets into this year, her perceived status as a 'protest singer' is up for debate.
"Growing up as a young working class woman in a post-Thatcher era, these songs and poems reflect that environment," she says. "The gatekeepers of the music industry have tried to call these protest songs, which is a label that I don't understand because I'm just passing on my experience as a human being growing up in these apocalyptic conditions of unemployment and apathy.
"You have to wonder why someone simply speaking their mind is considered a protest in the first place," Louise continues, before conceding that the honesty and personality that fuel her art can both be utilised as powerful weapons in today's culture of suppression.
You can be sure Louise will carry on saying what she thinks and feels in 2017, as she plays her part in what she describes as "the street revolution".
'Outside Of You' is released as a taster for Louise's as yet untitled sophomore album.
Following the huge critical acclaim that greeted her debut, 'Dreams from the Factory Floor', the single offers a small glimpse of what's to come. The second album will, she says, "take my songs to a new level with harder hitting lyrics and harder hitting concepts."
The artistic call to arms has begun, and from humble beginnings, Louise Distras is leading from the front!
'Outside of You', the new single from Louise Distras, is out 26th May via Street Revolution Records, don't miss your chance to hear it on tour!
Pre-order the single here: https://www.louisedistras.co.uk/pledge
Catch Louise Distras live at the following dates:
April 28 Leeds, The Key Club
April 30 Glasgow, Stag & Dagger Festival
May 14 London, Lost Evenings @ Roundhouse w/ Frank Turner
May 27 Birmingham, Slam Dunk Festival
May 28 Leeds, Slam Dunk Festival
May 29 Hatfield, Slam Dunk Festival
June 2 Pippingford Park, Byline Festival
June 3 London, Camden Rocks Festival
June 4 Sussex, Glastonwick Festival
June 10 Bolton, Safe Gigs 4 Women Benefit @ The Alma Inn
June 30 London, Hope and Anchor
July 2 Manchester, Sonderfest
July 7 Cheltenham, 2000 Trees Festival
August 5 Blackpool, Rebellion Festival
Find Louise Distras at:
http://www.louisedistras.co.uk
http://www.facebook.com/louisedistras