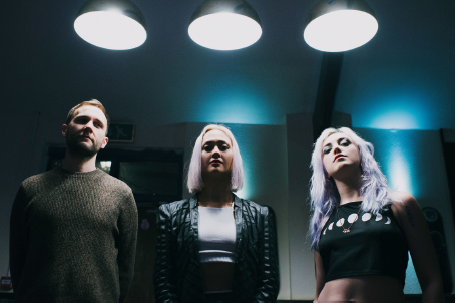 After an exciting 2018 with the success of their second EP ' Fight' , Bristol grunge-pop trio Sœur are storming into 2019 with a brand new single " No Show " released on the 4th March, premiered by Radio 1 Rock Show's Daniel P. Carter on 3rd March. The band will be heading out on a full UK headline tour to promote their latest offering.
Adding new layers of sound to their thick grunge guitars, the new single shares the band's passion for melodic riffs, rhythmic precision and addictive dual vocals.
"No Show is about depression," explains guitarist/vocalist Anya, "it depicts the hopelessness of trying to communicate and the futility of attempting to function or to show up for what life demands of you." Guitarist/vocalist Tina has a different view "For me, 'No Show' is about the different expectations people have of life; theirs and other people's. Sometimes we find purpose and meaning in the places we'd least expect, but we have to show up to find it.".
The band toured relentlessly in winter 2018, selling out shows across the country and are excited to be back out on the road in March. "We love touring," says
guitarist/vocalist Anya, "I've always felt like being on stage is the place where I get to be truly and completely myself, it's both exhilarating and cathartic and I'm not sure there's anything in the world I enjoy doing more."
Recorded by Jamie Ward at Seamus Wong studios in Leicester & Silk Mill Studios in Stoke, " No Show " sees the band expanding their sonic palette with a more focused & defined sound that captures their natural live performance.
" We were actually halfway through touring ' Fight' when we headed in to the studio to record our next batch of songs, it was all quite intense, touring one release whilst recording the next but we're really happy with the results! " says drummer James.
With the success of the 2018 under their belts the band are keen to keep their loyal fans engaged with a string of singles set to be released throughout the spring and summer months.
"We've got a fair few festivals already booked in and they keep on coming so it looks like it'll be a busy summer for us!"
'No Show' Release Tour
06/03 NORWICH, The Waterfront
07/03 GUILDFORD, Boileroom
08/03 STOKE, Sugarmill
09/03 NEWCASTLE, Head of Steam
10/03 GLASGOW, The Garage
12/03 MANCHESTER, Soup Kitchen
13/03 LEEDS, Oporto
14/03 OXFORD, Jericho
15/03 BATH, Moles