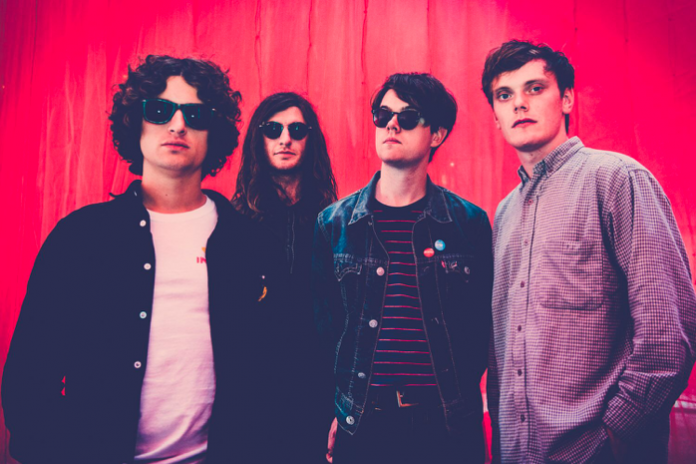 Liverpool based indie rockers Sugarmen have shared their punchy new single 'Push Button Age', taken from upcoming album Local Freaks, out on the 6th October.
Sugarmen have spent the past few years travelling the globe, taking their infectiously manic energy and sonic angst everywhere from Seoul to SXSW, all whilst performing alongside Blur, Paul Weller and The Who. Now the Scouse quartet are looking to bring their own brand of high octane, adrenaline punching energy to the masses with their first single Push Button Age.
Championed by Radio 1's Huw Stephens, Sugarmen sound something like an unholy blend of neo-slackers The Magic Gang and Spring King on speed. You can hear the depth of the boys' record collection in every track and their influences spread from Merseybeat to New York's post punk movement, to Glasgow's Postcard Records, and on, all while retaining a sound that manages to sound quintessentially, urgently, current.
The track takes its title from the retro-futurism of the 1950s when appliances and dishwashers and computers promised luxury and convenience all with the push of a button, and asks what're we meant to do when we're living in that bright new future. Pulsing with psychedelic guitar riffs and a frantically charged drum beat, Push Button Age joyously rockets through the narcotised haze of Gen X apathy, cheekily dancing between condemning and revelling in a generation "far too blazed" to do anything about gentrification. When an iPhone has the processing power of 120 million Moon landings, Sugarmen offer the only sensible response: play on while utopia spoils.
With their debut album 'Local Freaks', Sugarmen have taken their inspiration from Lou Reed and the streetwalking storytellers of the 70s to create a panoramic, polyphonic paean to Liverpool dedicated to "the mad, interesting people we've met along the way."
Modern Sky UK have teamed up with Sire Records to release 'Local Freaks' which was recorded at the famous Parr Street Studios with producer Chris Taylor (Everything Everything, Hooton Tennis Club, Bill Ryder-Jones, Circa Waves, Miles Kane).
Sugarmen Live Dates:
2nd September – Hangar 34, Liverpool
21st September – O2 Academy, Liverpool*
25th September – The Foundry, Sheffield*
5th October – Sebright Arms, London
*Supporting The Jesus and Mary Chain
Listen to 'Push Button Age' on Spotify here