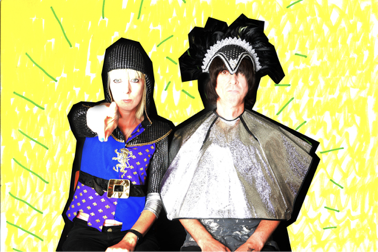 With the country in the grip of Egg Mania surreal DIY punk rockers THE LOVELY EGGS return with their latest single "Big Sea" released on 7" surf blue vinyl and will take to the road in May for another bout of UK tour dates. Taken from their newly released and critically acclaimed album This is Eggland ,"Big Sea" explores the mysteries of the universe and is a rallying anthem to everyone who wants to live life different.
"It's a pretty deep song really," said Holly, "It questions the ridiculousness of human ritualistic behaviour and tries to look at what life is all about, the universe and stuff, and the mystery that weaves its way through everything."
Pre-order "Big Sea" here:
http://www.thelovelyeggs.co.uk/big-sea-single.php
Since its release in February This is Eggland has won high praise from critics and fans alike. The Independent's 4* review described it as "a giant leap forward" with The Guardian describing their single "Wiggy Giggy" as "marvellous."
In April the band will release a special edition of 'This Is Eggland' on giant fried egg vinyl especially for Record Store Day on 21 April. Limited to an eye watering 500 copies, the LP will appear in a special hand packed sleeve, designed by the band with the giant fried egg in its own polythene display sleeve with a uniquely designed cardboard top. This is a true gem for any collector. They will also make an appearance at Rough Trade Nottingham for a special in-store live performance on Record Store Day itself.
To coincide with the release of their new single "Big Sea", the eggs will take to the road for a string of UK tour dates in May and June, this time with their pals Mr Ben and the Bens (a firm favourite of Marc Riley) and poet and comedian Rob Auton, before a summer-full of festivals and their biggest headline gig to date at The Scala in London on 28 October.
Live Dates:
21 April – The Maze, Nottingham [SOLD OUT]
28 April – Are You Listening? Festival
5 May – Ritz, Manchester (The Membranes and Friends)
12 May 2018 – Brewery Arts Centre – Kendal
24 May – Guildhall, Preston*
25 May – The Exchange, Bristol* [SOLD OUT]
26 May – The Boiler Room, Guildford*
27 May – The Printworks, Hastings*
28 May – Ramsgate Music Hall, Ramsgate*
29 May – Portland Arms, Cambridge* [SOLD OUT]
30 May – The Hare and Hounds, Birmingham*
31 May – The Hairy Dog, Derby*
1 June – Picturehouse Social, Sheffield* [SOLD OUT]
2 June – Long Division Festival – Wakefield
3 June – Glastonwick Festival, Shoreham By Sea
23 June – A Break In The Clouds, Clitheroe
22 July – Nozstock, Bromyard
27 July – Indietracks, Ripley
29 July – Camp Bestival, East Lulworth
3 August – The Trades Club, Hebden Bridge [SOLD OUT]
4 August – Rebellion Festival, Blackpool
11 Aug – Boardmasters Festival, Newquay
7 Sept – Festival Number Six, Portmeirion
14 Sept – Head For The Hills, Ramsbottom
28 Oct – The Scala, London
(*with Mr Ben & The Bens and Rob Auton)