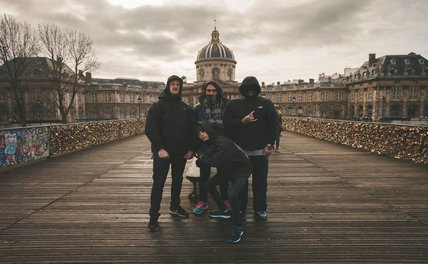 Thy Art Is Murder
Rising from the unhallowed wastes of Western Sydney, extreme metal outfit Thy Art Is Murder have carved a trail of bloody mayhem since their inception in 2006. With an acclaimed EP and debut album in Infinite Death and The Adversary to their name, the band have traversed the highways and autobahns of Australia, the UK and Europe on a relentless crusade to destroy every venue and audience they can with like minded peers in a who's who of heavy metal.
2012 brought a new ritual offering of darkness from the five piece. Simply titled Hate, the band's second full length is the pointed result of Thy Art Is Murder's growing dissatisfaction with all aspects of modern life – political, religious, social and environmental – everyone is to blame. Fusing the blasting technicality of metal luminaries The Black Dahlia Murder with thunderous breakdowns and the intensity born of their nascent hometown scene; the blackened grandeur of Behemoth and the pit churning groove of Tampa originators Morbid Angel and Cannibal Corpse, the furious musical arrangements provide a bloody canvas for vocalist CJ McMahon's outpourings of bile.
Make Them Suffer
Hailing from the most remote capital city on the planet, Perth sextet Make Them Suffer have been honing their razor sharp blend of frostbitten black metal, fiery hardcore and gothic misery since 2008. Partnering with global heavy metal powerhouse Roadrunner Records for 2012's critically acclaimed debut, Neverbloom, the band hit the road with the likes of Northlane, Bleeding Through, Job For A Cowboy and Thy Art Is Murder to spread the nightmare throughout Australia, Europe and the UK.
Now in 2015, it is time to draw back the curtains on Make Them Suffer's brand new album Old Souls, slated for release on May 29. Created in the shadows over the last year and tended to by a who's who of heavy music producers, with Jason Suecoff (The Black Dahlia Murder, Trivium), Joey Sturgis (Emmure, Asking Alexandria), Forrester Savell (Karnivool, Dead Letter Circus) and Roland Lim (Make Them Suffer – Neverbloom, I Am Zero) all getting involved, Old Souls sees Make Them Suffer expanding their sonic universe and exploring new territory without sacrificing the vicious metallic attack that first drew fans across the world to them. Whether it's the furious blasting of Threads, the mournful cinematic dirge of Timeless or manic piano signature piercing the thunderous breakdowns of Scraping The Barrel, Old Souls is the evolution heavy music has been waiting for.