In the first of his occasional columns in which he will dig through his 'heap of music' to bring you highlights or possibly just ramble on about something, Frank introduces you to The Ravishing Beauties and Virginia Astley.
More than 30 years ago (to be exact this was 29th April 1982) I was listening to the John Peel Show and I was stopped in my tracks by a set of songs that were beautiful – pastoral, ethereal, moving. John announced that this was a session by The Ravishing Beauties. I don't recall but as sessions were sometimes repeated I probably did listen to the following days' shows in the hope it was repeated.
To be honest I became obsessed, I rushed round all the record shops in the area asking for records by The Ravishing Beauties. I made record shop assistants trawl through catalogues and ring distribution companies, but there was nothing.
In the end, and this was over a year later, someone – it may have been the helpful assistant in the Tricorn Virgin Megastore – said 'Ah there's this LP by Virginia Astley, she's part of the Ravishing Beauties'. And handed me From Gardens Where We Feel Secure. He may have known something I didn't at the time which was that the Ravishing Beauties really only existed to play Virginia's music live and by that time had broken up – of which more later – but crucially he didn't tell me and I didn't ask (you just didn't push your luck with record shop assistants).
NOTE: There was only one helpful assistant in the Tricorn Virgin Megastore – known to my group of friends as 'the helpful assistant'.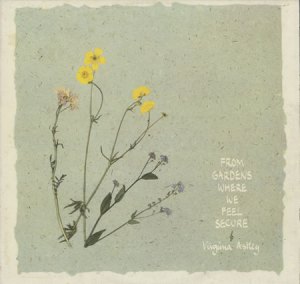 My obsession with this music was, to be honest. strange. I had moved on – thanks to a friend who introduced me to new music – from the largely heavy rock and acid rock stuff I liked in my early teenage years, but this was still some way removed from the punk, post-punk and 'New Pop' part of my collection. It may have chimed with some aspects of Bowie's music (which I loved then and continue to love), and possibly church music and film soundtracks. It may have been the first sign of my emerging obsession with finding music that is new and different.
You'll have seen that it took over a year before I found From Gardens Where We Feel Secure. As you can tell this wasn't mere infatuation.
Over the years I have from time to time searched for the Ravishing Beauties session with no result but recently I decided once and for all to do a proper internet search to see if I could find anything. I can report success.
Ravishing Beauties: Peel Session
Tracks:
Arctic Death
Futility
No Need To Cry
We Will Meet Them Again
Band members:
Virginia Astley (Lead Vocals)
Kate St. John (Backing Vocals, Cor Anglais, Oboe, Flute)
Nicky Holland (Backing Vocals, Keyboards)
Ben Hoffnung (Percussion)
Recorded: 14th April 1982
Transmission: 29th April 1982
What does this music sound like?
As you've probably worked out, at the time it sounded like nothing I had heard before. It was beautiful, ethereal, pastoral, grand and somehow 'English'. By this I mean English in the way Elgar sounds English, Life In A Northern Town by The Dream Academy (of which more later) or Grantchester Meadows by Pink Floyd (on Ummagumma) is quintessentially English. I recognised it had some nice elements of folk. It bought to mind afternoon tea in a vicarage garden or a Sunday morning church service. It used woodwind instruments (Cor Anglais, oboe and flute I now know) and electronic keyboards. It has an epic quality to some of the tracks.
Listening back to it now I still get all of the above, but I can also hear the influence of Nick Drake, The Incredible String Band, The Cocteau Twins and Eno. I get the drone thing that's going on in some of the tracks. But, and most importantly, it still sounds incredibly fresh. It certainly hasn't dated.
There's actually quite a range in the tracks – some are quite synthy and some are more like band arrangements of music from the album From Gardens Where We Feel Secure. There are no writing credits available for the four tracks in the session but you can hear elements of future Dream Academy and Tears for Fears music in two of the tracks, so it's probable that these may have been written by Kate and Nicky.
If I was pushed I'd admit that the vocals are a bit ragged but for me that just adds to the charm.
I'm going to emphasise here that you may not get that pastoral or 'English' thing at all; that's fine it's the feeling I get from it. You may indeed feel that this is just another 'Cocteau Twins' type band; that's fine too. I'd just like you to recognise that there's something here that is good.
Hearing this music
The Ravishing Beauties never recorded anything other than the Peel Session which has never been released. The tracks are available on SoundCloud to stream and download from: https://soundcloud.com/treetopclub
Virginia Astley: From Gardens Where We Feel Secure
Catalogue number: HA001/RT58
Label: ROUGH TRADE/HAPPY VALLEY
Release date: 29th July 1983
Tracks:
Morning: With My Eyes Wide Open I'm Dreaming
Morning: A Summer Long Since Passed
Morning: From Gardens Where We Feel Secure
Morning: Hiding In The Ha-Ha
Afternoon: Out On The Lawn I Lie In Bed
Afternoon: Too Hot For Peacocks
Afternoon: Summer Of Their Dreams
Afternoon: When The Fields Were On Fire
Afternoon: It's Too Hot To Sleep
Produced by: Russell Webb (of the Skids) & Virginia Astley
What does this music sound like?
This is an instrumental LP that uses a blend of live recordings of countryside sounds and piano music, written and played by Virginia and designed to evoke the atmosphere of a summer's day. The album began life as a series of demos produced by John Foxx at the Crépuscule studios, where he was working at the time. For completeness, I can add that the sound effects used on the album were recorded at various times between April and June 1982 at locations in and around Moulsford, Oxfordshire.
Yes you read that right – it's a piano and found-sound instrumental concept album.
At the time I got this I loved it immediately. Even my Mum loved it, she described it 'as a nice change from that screechy guitar stuff you usually listen to'. Quite why I loved this so much I don't know, OK so there was that connection with The Ravishing Beauties but this was way out of my comfort zone musically. It even sounded a bit like classical music.
This is very definitely pastoral – it's got birdsong and a donkey on it (honest). It's beautiful and charming but not lightweight. It makes me smile. It evokes the English countryside on one of those childhood days that you just didn't want to end. I'd suggest lying in a garden and listening to it on headphones.
Me, I just want to make a film and use it as the soundtrack, as long as I can make the film I see in my mind's eye when I hear it.
Hearing and getting Virginia's music
All of Virginia's albums have been deleted as far as I can see. Various CDs and LPs are sometimes available secondhand on eBay, Amazon and other websites. You might ask your friendly record shop if they could try and get you copies, if you get hooked.
None of Virginia's music is available on iTunes – although a search will bring up tracks that she has guested on.
The SoundCloud site TopTreeClub has some of Virginia's music on it and tracks from From Gardens Where We Feel Secure can be found on YouTube. Other tracks available on YouTube include this collaboration with David Sylvian.
Some background
Virginia Astley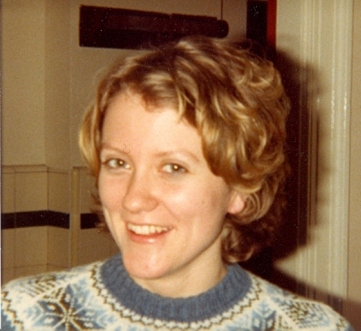 Virginia Astley is the daughter of composer Edwin Astley, noted for TV themes such as The Saint.
Virginia began learning piano at the age of six and flute at 14. After leaving school, she studied at the Guildhall School Of Music.
In 1980 she joined the Victims of Pleasure. Virginia, playing keyboards, worked with them for a short while, playing in clubs and pubs around London.
After that Virginia wrote, arranged and performed music with Skids' frontman, Richard Jobson, for the album The Ballad Of Etiquette. Their collaboration continued when Jobson moved to Belgian label, Les Disques Du Crépuscule, and Astley contributed to the Crépuscule compilation, The Fruit Of The Original Sin.
In 1981 she signed to the small UK label Why-Fi and recorded a series of songs. A school friend, Jo Wells (Kissing the Pink) and a university friend, Nicky Holland, both contributed as did Tony Butler, Mark Brzezicki and Peter Hope-Evans.
She was offered a support band slot with The Teardrop Explodes and this led to the formation of The Ravishing Beauties.
After the break-up of the Ravishing Beauties Virginia continued to record – notably in Japan.
More recently Virginia has published poetry.
The Ravishing Beauties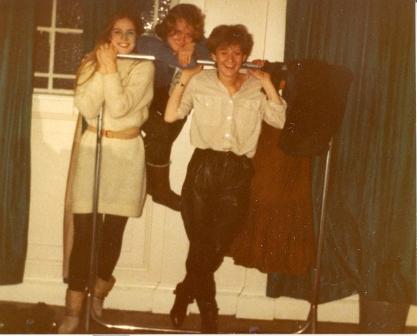 Virginia recruited Nicky Holland and another university friend, Kate St. John, to form the band The Ravishing Beauties. The trio joined The Teardrops in Liverpool during the winter of 1981 for a series of dates at a small clubs and a UK tour in early 1982. They also recorded with Echo & the Bunnymen, Skids, and Siouxsie and the Banshees.
The Ravishing Beauties did not record as a band, but appeared on radio shows, including the John Peel Session – where I first heard them.
The band was shortlived, with Kate first becoming a model and then eventually a member of The Dream Academy, while Nicky did session work and joined Tears for Fears.
Further information
virginiaastley.com – described as the official website this has a full discography including work she did with other artists
An extract from Richard King's second book 'Original Rockers' (Faber & Faber) about 'From Gardens Where We Feel Secure' can be found on the Caught by the River website
Photographs from http://eccentricsleevenotes.com