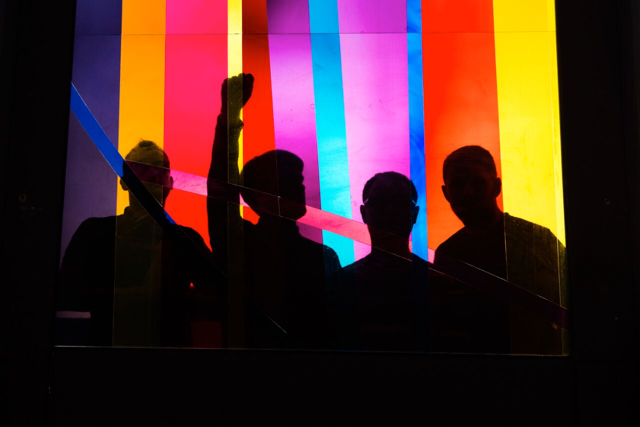 THE TEA STREET BAND have announced details of their new album 'Frequency', to be released November 9th on Modern Sky UK.
The band have now announced a run of additional UK shows as follows:
Thu 15 Nov – Liverpool – District
Fri 16 Nov – Liverpool – District (Sold Out)
Sat 17 Nov – Stoke – Sugarmill
Fri 23 Nov – Blackburn – Electric Church Club
Sat 24 Nov – Leeds – The Fox and Newt
Sun 25 Nov – Manchester – Castle Hotel
Fri 30 Nov – Chester – Telfords Warehouse
Sat 01 Dec – London – Slaughtered Lamb
Tickets available here: https://teastreetband.tmstor.es
The first track to be taken from the Tea Street Band's new album is 'Feel It', now available to stream now and as an instant grat with album pre-orders. 'Frequency' is the cult Liverpool band's follow-up to their 2014 self-titled debut, which gained support from tastemakers such as Huw Stephens, John Kennedy, Janice Long, Clint Boon, and Rob Da Bank, and saw The Tea Street Band travel as far as Australia and South Korea on promotional duties.
The Tea Street Band follow in the tradition of tunefully idiosyncratic Liverpool bands like The Coral, The Lightning Seeds, and Shack, though their blissful Electronica sounds like none of those bands. Rather, The Tea Street Band are closer to artists like Tunng and This Is The Kit, blending instrumentation with synths and beats. Like so many Liverpool artists, at the heart of The Tea Street Band is a keen ear for melody. Driven by propulsive hooks, their songs grab from the get-go, often building to a euphoric rush.
Recorded over a year in Liverpool's fabled Parr Street Studios with Chris Taylor (Ian Brown, Millburn), 'Frequency' is a big leap forward for The Tea Street Band. "The writing process was different than the first album," says frontman Timo Tierney. "We wrote it together, with all of us having a massive input on each song, the title and the art work (photo By John Johnson, designed by Dom Foster). It's all of ours. We have all pushed each other musically and that can be heard on songs like 'Sacré-Coeur' and 'Marseille Blues.'"
The Tea Street Band: Timo Tierney (vocals, guitar), Nick Otaegui (bass, vocals), Lee Smith (guitar, synth) and Dom Allen (drums).
The Tea Street Band 'Frequency'
1. Givin' It Back
2. Sacré-Coeur
3. Only Love
4. Feel It
5. Coming Up
6. BFYH
7. Marseille Blues
8. Hearts Collide
9. Enter The Void
10. Frequency
11. Taken It All
i/ https://www.instagram.com/teastreetband/
f/ https://www.facebook.com/TeaStreetBand/
t/ https://twitter.com/TeaStreetBand