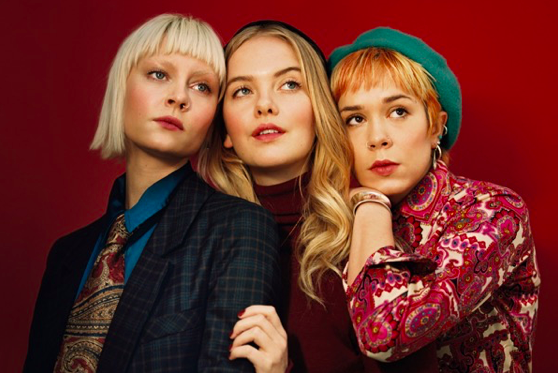 DREAM WIFE, have announced the support artists who will joining them for their upcoming UK & EIRE tour dates. Earlier this summer they announced a support slot open call for women & non-binary artists in select cities across their international tour. They received over 400 submissions and they have shared all of their UK selections – see below for all openers. In collaboration with non-profit organizations Girls Rock London, this open call doubles down on the band's mission to smash society's objectification of women, and aims to take Dream Wife's already fierce live shows – where inclusivity is not only encouraged, but required – to the next level.
Dream Wife on the open call: "One of the best things about touring is getting to meet, exchange ideas with, and play music alongside kickass bands from all over the world. For our autumn headline tour dates we are calling for women/non-binary artists to come share their music, thoughts, the night and a stage with us.
"Gender diversity in the music industry is still an issue and the aim is to provide a platform for women/NB musicians regardless of experience, financial backing, number of online followers etc. If you've got rock 'n' roll in your soul, if you've got something to say; we want to hear from you."
OPEN CALL SELECTIONS
Dublin, Ireland @ Whelans – Girlfriend
Glasgow, UK @ SWG3 – Bobby Kakouris
Leeds, UK @ The Wardrobe – Cat Apostrophe
Manchester, UK @ Gorilla – Dollie Demi
Portsmouth, UK @ Wedgewood Rooms – The Hippaes
Brighton, UK @ Concorde 2 – ARXX
London, UK @ KOKO – Big Joanie
Since forming in 2015 as a college art school project, Dream Wife – a name chosen as commentary on society's objectification of women – have become one of the foremost up-and-coming bands in the U.K. The band came together while they were studying at Brighton University, initially intended as a performance art piece and a way for the trio to obtain a dream trip to Canada. They quickly realized that their chemistry was too powerful for them just to be a one-time thing, so they took themselves out on the road under their own steam, and started touring with only four songs and without a booking agent, promoter or a tour manager. Fast forward to 2018, Dream Wife have released their debut album with guns blazing, armed with strong messages of empowerment backed by unparalleled live shows.
UK Tour Dates
17/10/18 – Dublin, Ireland @ Whelans
18/10/18 – Galway, Ireland @ Roisin Dubh
20/10/18 – Cardiff, UK @ SWN Festival
21/10/18 – Birmingham, UK @ All Years Leaving Festival
22/10/18 – Glasgow, UK @ SWG3
24/10/18 – Nottingham, UK @ Rescue Rooms
25/10/18 – Leeds, UK @ The Wardrobe
26/10/18 – Manchester, UK @ Gorilla
27/10/18 – Coventry, UK @ Central Library
29/10/18 – Portsmouth, UK @ Wedgewood Rooms
30/10/18 – Brighton, UK @ Concorde 2
31/10/18 – London, UK @ KOKO
Dream Wife: