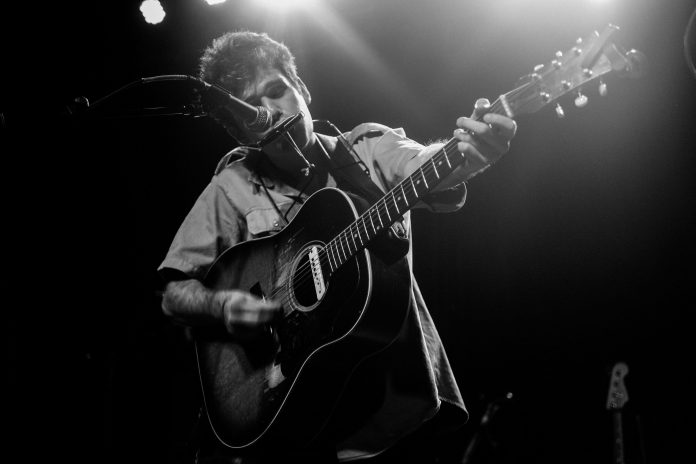 US / UK troubadour JOSH OKEEFE is delighted to announce a busy summer schedule of festival appearances and live shows with the singular Lindi Ortega.
The aspiring singer-songwriter from England via Tennessee will be supporting Lindi at a string of UK dates kicking off at Sheffield's The Leadmill on 5th June 2018 through to her final show at The Garage in London on the 14th June.
However, extending his visit with a number of festival appearances across the land, there'll be many more chances to catch Josh throughout the month as he calls into the likes of Fire In The Mountain Festival (Aberwrystwyth), and other festivals across the summer. Full dates and details below.
Turning heads with his first tour of the UK last summer, Josh returns following a year of near constant travelling across the US and omnipresently performing with artists across the Nashville scene at noteworthy spots like Layla's and Roberts Western World on Lower Broadway where one could see him either taking centre stage or playing the harmonica for someone else. On his ongoing quest to pen songs founded on substance, the last year has seen Josh notably put in emotional performances at Grenfell Tower's Wall of Truth (a public space collating first hand accounts, facts, testimonies and statements created by and for members of the community affected), as well as performing at a gathering for Black Lives in Tennessee (as reported on by Huffington Post); both of which have been hard-hitting and inspirational new chapters in Josh's own living songbook.
Often compared to the likes of Bob Dylan, Pete Seeger and Woody Guthrie, Josh Okeefe is a worthy bearer of the torch lit by such folk legends who have gone before him. Like his heroes, he is an artist who prefers to let the songs do the talking, an enigmatic character with a penchant for the unpredictable. So what can we expect from Josh's upcoming visit then?
"Who knows?" says Josh. "We will have to wait and see. One thing I do know is that there ain't nothing better than playing music for folks, especially in the UK."
With rumours of a new album in the works it seems the singer is keeping his cards close to chest for the time being, our only taster of what may appear on the record Josh's incredibly moving 'Grenfell Tower Fire' video that emerged online earlier this year and as yet unreleased track 'I Won't Let You Down' (as seen on his GemsOnVHS session).
However, those who have already seen Josh performing in the flesh from his former visits here will know to expect an stripped back acoustic set with an electric atmosphere, supercharged by Josh's emotive songcraft.
JOSH OKEEFE WILL PLAY THE FOLLOWING UK DATES
FRIDAY 1st JUNE – FIRE IN THE MOUNTAIN FESTIVAL, ABERWRSTWYTH
TUESDAY 5th JUNE – THE LEADMILL, SHEFFIELD *
WEDNESDAY 6th JUNE – ORAN MOR, GLASGOW *
FRIDAY 8TH JUNE – THE CLUNY, NEWCASTLE *
SATURDAY 9TH JUNE – BRUDENELL SOCIAL CLUB, LEEDS *
SUNDAY 10TH JUNE – GATE TO SOUTHWELL FESTIVAL, NOTTINGHAM
MONDAY 11TH JUNE – GORILLA, MANCHESTER *
TUESDAY 12TH JUNE – KOMEDIA, BRIGHTON *
WEDNESDAY 13TH JUNE – THE FLEECE, BRISTOL *
THURSDAY 14TH JUNE – THE GARAGE, LONDON *
FRIDAY 15TH JUNE – SHREWSBURY PRISON, SHREWSBURY
SATURDAY 16TH JUNE – MIDDLEWICH FAB FESTIVAL, MIDDLEWICH
* W/ Lindi Ortega
In 2012, Derby, England native and folk-singer Josh Okeefe dropped out of school, traveled across the Atlantic and arrived in Nashville, In in search of the places his idols Hank Williams and Johnny Cash once graced. He became a regular in the rock and roll clubs on the east side and the legendary honky-tonks on Lower Broadway; met a host of other musicians and began writing songs at an astonishing pace.
Over a couple of nights in his 350 sq. ft Tennessee log cabin Okeefe recorded his critically acclaimed self-titled debut album with just a borrowed RCA Microphone from the 1960's that vibrated its diaphragm and carbon to the to the voices of Patsy Cline, Johnny Cash, Guy Clark, and other towering specters of country music. and an Ampex 2-track Tape Machine which Okeefe purchased from JJ Cale's estate for $100.
Catapulting himself into the spotlight Josh Okeefe has already performed with the likes of Alison Krauss and Jamey Johnson, earned headline festival spots and BBC Radio appearances, sang for the people at national and local protests and had his songs recorded by major label artists like Ashley Monroe and High Valley to name a few and this is just the start…
FOR MORE INFORMATION
https://www.facebook.com/joshokeefeofficial/