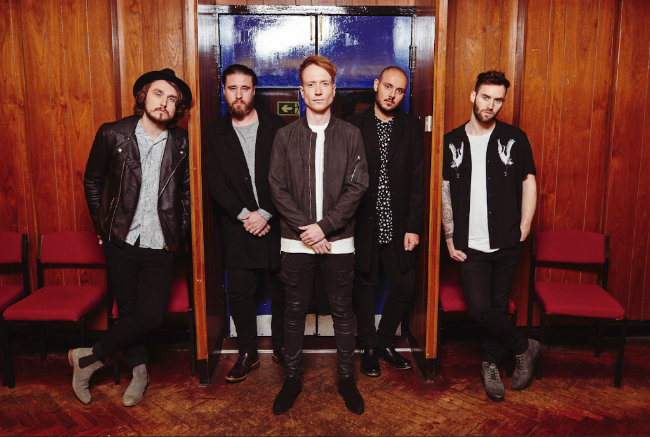 Mallory Knox have announced an exclusive set of in-store performances to celebrate the release of their third album 'Wired', released March 10th on RCA. The special pop-ups will see the band take their unique 'Unwired' live performances across the country, starting off in Sheffield HMV on March 10th, Leeds Crash on March 13th, Manchester HMV on March 14th, Kingston Banquet on March 15th and finishing up with what promises to be a show stopping performance at HMV, Oxford Circus on March 16th. To coincide with the release of 'Wired', the Cambridge rockers will also head out on a UK headline tour, including two underplay shows at London's Koko in April.
Defined by psychological conflict, 'Wired' documents a journey of self-discovery for Mallory Knox. "Sometimes the biggest part is the realisation that you are fucked up," vocalist Mikey Chapman says, "and you do need to sort yourself out if you're ever going to find a pathway to happiness, that leads you away from the vices that deafen you daily." The future of the band, though, seems impossibly bright.
In just five years, Mallory Knox have firmly established themselves as pillars of the British rock movement. The Cambridge five-piece released three BBC Radio 1 A-Listed singles on last album 'Asymmetry', sold out London's 3,700-capacity Roundhouse, played to huge crowds on the Reading & Leeds and Download main stages and reached #16 on the official UK album chart.
Breaking free of the restraints that bound them over the first two albums – inexperience, self-doubt, a restricting reverence to their heroes and a reputation as rock's latest nice guys – Mallory Knox are back – and they're laying bare their souls, kicking at their boundaries, savaging their sound and expanding their worldview. In the process, they are becoming the vital voice of the modern rock generation; damaged, informed, driven, torn between happiness and hedonism and utterly, utterly wired.
Pre-order the album here http://malloryknox.com/unwired for priority instore tickets
'Unwired' live in-store dates:
10 Mar Sheffield HMV
13 Mar Leeds Crash
14 Mar Manchester HMV
15 Mar Kingston Banquet
25 Mar London HMV
'Wired' will be released March 10th on RCA, including the following tracks:
1. Giving It Up
2. California
3. Wired
4. For You
5. Midnight
6. Citalopram (Better Off Without You)
7. Falling in Love
8. Lucky Me
9. Saviour
10. Come Back Around
11. Mother
Pre order 'Wired' here:
Official Store http://smarturl.it/MKWiredstore
Apple Music / iTunes http://smarturl.it/MXWiredAppleMusic
Spotify http://smarturl.it/MXWiredSpotify
Google Play http://smarturl.it/MXWiredGooglePlay
Amazon http://smarturl.it/MXWiredAmazon
Mallory Knox will play the following live dates in 2017. Pre-Sale tickets will be available on 2nd November here: http://smarturl.it/MXpresale
20 Mar Bristol, O2 Academy
21 Mar Cardiff, Tramshed
22 Mar Norwich, UEA
24 Mar Birmingham, O2 Institute
25 Mar Sheffield, Leadmill
26 Mar Cambridge, Corn Exchange
28 Mar Aberdeen, Garage
29 Mar Edinburgh, Liquid Rooms
31 Mar Newcastle, University SU
1 April Liverpool, O2 Academy
2 April Portsmouth, Pyramids
4 April Oxford, O2 Academy
5 April London, KOKO
6 April London, KOKO
Mallory Knox are:
Mikey Chapman – vocals
Sam Douglas – bass and vocals
Joe Savins – guitar
James Gillett – guitar
Dave Rawling – drums