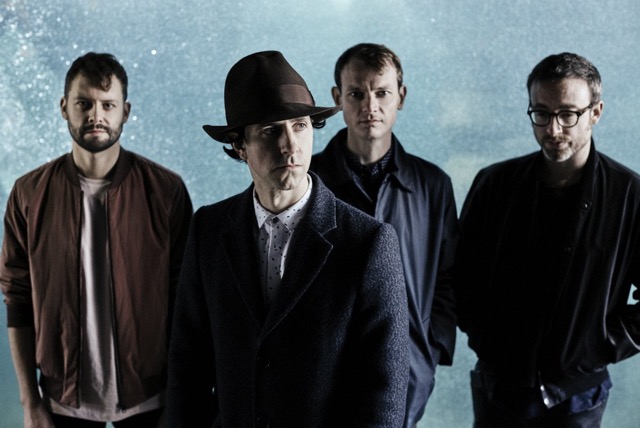 The band will be treating fans to a series of intimate in-store live appearances at participating record shops, plus the unique opportunity to meet the band and get your copy of the new record signed in-person.
To catch the band at your local record shop, please find the times, dates and details of all participating shops listed as follows:
20th Apr – Banquet New Slang Kingston @ 9pm – https://MP.lnk.to/Kingston
21st Apr – HMV Newcastle @ 5:30pm – https://MP.lnk.to/Newcastle
22nd Apr – RECORD STORE DAY – Rough Trade Nottingham @ 8pm – https://MP.lnk.to/nottingham
23rd Apr – HMV Manchester @ 2pm – https://MP.lnk.to/manchester
24th Apr – Truck Oxford @ 6pm – https://MP.lnk.to/oxford
25th Apr – Rough Trade East London @ 7pm – https://MP.lnk.to/eldn
26th Apr – Rise Bristol @ 6:30pm – https://MP.lnk.to/bristol
27th Apr – Sound It Out Stockton @ 1pm – http://mp.lnk.to/SIO
27th Apr – Reflex Newcastle
The news comes as the four piece prepare to release their much anticipated sixth album on 21st April 2017. Bringing together their trademark hook-laden melodies and sense of urgency with off-kilter rock, soulful grooves and pop sensibilities, 'Risk To Exist' is a vital record for our times, raging against the dire state of world affairs in 2016 and crumbling political systems.
Watch the new video for 'Risk to Exist' here – https://www.youtube.com/watch?v=mStNOUpGcw4
Frontman Paul Smith says: 'The album is, ultimately, about empathy. Some songs are simple messages of solidarity and others are fuelled by anger at the elitist, established order of British society. There's a questioning of power throughout and a feeling that there must be a different way of structuring our society in order to alleviate inequality. Musically, the songs reflect more soulful and groove-based influences, allowing more space in the arrangements than ever before. The central idea is to align great pop melodies with songs that reflect the state of the nation."
'Risk To Exist' (released April 21st on Daylighting/Cooking Vinyl) was co-produced by Tom Schick (Wilco, Beck, White Denim) and Maximo Park. Keen for the inspiration of unfamiliar surroundings after writing the album in their native North-East, the band decamped to Wilco's studio, The Loft in Chicago, in Autumn 2016. Recorded completely live, the recording represents another bold stylistic step for the band after 2014's Top 10 'Too Much Information'. Maximo Park have also enlisted Mimi Parker from acclaimed US band Low for the record, whose voice lends its inimitable warmth to five album tracks, including lead single 'Risk To Exist'.
With 1,500,000 albums and four UK Top 10 albums under their belt to date, Maximo Park have once again shifted seamlessly into a higher gear. They have expertly crafted an infectious pop album for our time, confronting the crucial issues track by track, one monstrous hook at a time.
Following the record shop tour in April, the band will also embark on their first UK tour dates since 2014. Starting at Birmingham O2 Institute 1 on May 5th, the tour takes in London's Royal Festival Hall on May 12th before ending on May 19th at Manchester Albert Hall. Tickets are now sale from www.maximopark.com.
Full list of headline tour dates listed below:
Fri May 05 Birmingham o2 Institute 1
Sat May 06 Newcastle o2 Academy
Mon May 08 Aberdeen Lemon Tree
Tue May 09 Glasgow o2 ABC
Wed May 10 Sheffield Leadmill
Fri May 12 London Royal Festival Hall
Sat May 13 Bexhill De La Warr Pavillion
Mon May 15 Cambridge Junction
Tue May 16 Cardiff Tramshed
Wed May 17 Falmouth Princess Pavillion
Fri May 19 Manchester Albert Hall (10pm curfew)
Maximo Park are Paul Smith (vocals), Duncan Lloyd (guitar), Lukas Wooller (keyboards) and Tom English (drums).