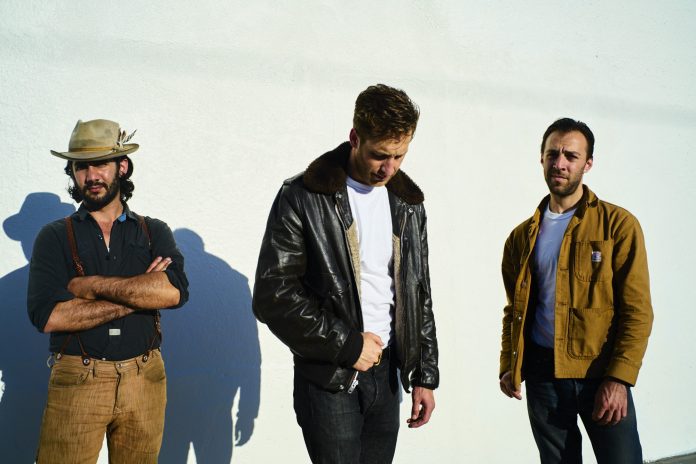 LA outfit The Americans return to Europe for the first time since releasing their debut album 'I'll Be Yours' this summer.
Dates
06 Nov – BRISTOL Louisian
07 Nov – MANCHESTER Gullivers
08 Nov – LONDON Borderline
Having started out as a roots band enthralled by pre-war American country and blues, they have evolved into a blistering amalgamation of those influences, injected with a fiery blue collar rock'n'roll attitude, absorbing and reconfiguring the history of American music from Chuck Berry and Tom Waits to Bruce Springsteen. They named themselves after the controversial photo series by Robert Frank, which was first published in 1958 with a foreword by Jack Kerouac. Like Frank's photos, The Americans' songs are miniature biographies, intimate and empathic portraits of individuals that leave much unsaid.
The info
The Americans were plucked from obscurity by Jack White, T Bone Burnett and Robert Redford to appear in the BBC/PBS documentary series American Epic. Featuring artists such as Beck, Elton John, Nas, Willie Nelson, Alabama Shakes, The Avett Brothers and many more, the film reconstructs the story of the first American music in the 1920s and re-assembled the recording apparatus that was used at the time. As experts in early music, The Americans were invited in to figure out the equipment and make the first recordings. Once the sessions were underway, they functioned as the house band, backing up various artists and suggesting songs to the filmmakers. Burnett was quoted as saying; "The Americans are part of this group, these genius 21st century musicians that are reinventing American heritage music for this century. And it sounds even better this century."
The band are made up of frontman and guitarist Patrick Ferris, bassist Jake Faulkner and lead guitarist Zac Sokolow, brought together through their love of American roots music. Spurring one another on, they spent years digging through obscure records and arcane field recordings, busking and teaching themselves banjo, fiddle, mandolin, and slide guitar. They were deep into a purist phase, as Patrick recalls; "We were suspicious of modern rock music. I think we were all curious whether we could summon the spirit of old blues and country through what we'd learned firsthand, and create something brand new, leaving behind the nostalgia and musical aesthetics."
The Americans' debut album seems to have achieved just that. "They've shape-shifted back into the modern-day rock and roll band," writes Cara Gibney (No Depression), "writing contemporary music of their time, incorporating the kernel of their traditional roots, enhancing their rock and roll credentials with the emotional quality of music made generations earlier."
Their live show, honed over many hundreds of performances, is something to behold. Ron Wray (No Depression) writes, "They're led by lead singer, guitarist Patrick Ferris, looking like James Dean but even better… Jake Faulkner, with his dark black beard and jaunty hat, dances across the stage, lifting his stand-up bass like a dancing partner."
'I'll Be Yours' is out now via Loose, available on 180g vinyl, CD & digitally.