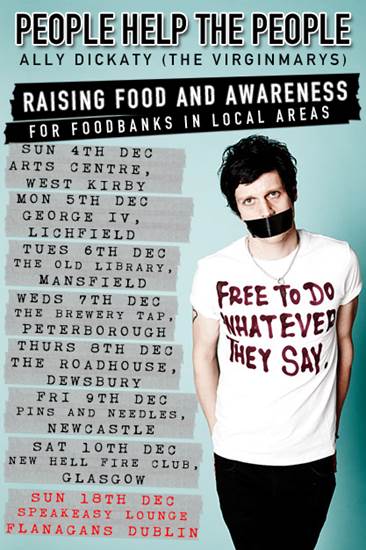 Following the success of his 'People Help The People' DIY charity show, in support of the Macclesfield foodbank 'Silklife' last September, Ally Dickaty, vocalist/guitarist with The Virginmarys, is playing a run of solo acoustic gigs in support of various foodbanks and homeless charities all over the UK – including The Roadhouse Dewsbury on 8th December.
Last month, Ally released a series of videos on The Virginmarys facebook, asking fans if they would like to host an event to support foodbank and homeless charities in their local community; Ally offered to travel and play these events for free, all with the intention of raising much needed funds and food.
These video announcements swiftly resulted in a 7-date UK tour, plus an extra date in Ireland too. The response and support from fans has been unprecedented! Folk have actively promoted and hosted all shows, as well as provided Ally with a couch to crash on across all dates.
Explains Dickaty: "I was amazed by the response of the event I put on in our hometown in September and decided to put it to our fans to help organise a UK tour, getting people actively involved. It's a situation that's continually getting worse and showing no signs of improvement, homelessness in Manchester has increased by 80% in the last 6 years. I want to feel like I'm actively doing something and not just talking about how bad things are getting. I wanted to do something great this Christmas."
Obtain your ticket for any of the remaining dates by offering a bag of shopping or a donation. More details can be found on the The Virginmarys facebook page: www.facebook.com/TheVirginmarysOfficial