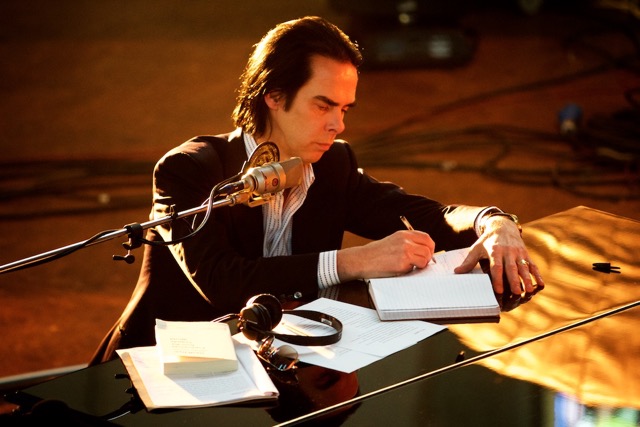 Nick Cave & The Bad Seeds have announced the release on DVD and Blu-ray of 'One More Time With Feeling' – the feature film about the making of their acclaimed album 'Skeleton Tree' directed by Andrew Dominik (Chopper, The Assassination of Jesse James by the Coward Robert Ford).
Visually unique, One More Time With Feeling is a stark, fragile and raw documentary. Shot in 3D, colour and black & white, the film probes the deeply personal circumstances surrounding the making of 'Skeleton Tree' (Nick Cave & The Bad Seeds' 16th studio album) and features live performances by the band in the studio.
Originally conceived as a one-night-only global screening event taking place in 950 cinemas across 30 countries simultaneously on 8th September 2016, One More Time With Feeling extended its initial run over several days as cinemas sold out around the world. Due to overwhelming demand, this extraordinary film has returned to the big screen for its final run and is playing now in cinemas worldwide.
'One More Time With Feeling' is the first ever non-animated B&W film shot in 3D. On 3rd March 2017, this filmic milestone will be released on DVD, Blu-ray and a Limited Edition 3D Blu-ray. All formats of One More Time With Feeling will come as two-disc editions with previously unseen footage.
Formats as follows:
One More Time With Feeling 2 Disc DVD
BS011DVD
This 2 disc DVD edition includes 3 exclusive short films from Andrew Dominik.
Disc 1:
One More Time With Feeling (2D Film)
Disc 2:
Boredom
Do You Pray?
Snowman
(2D Extras)
One More Time With Feeling 2 Disc 2D Blu-Ray
BS011DVD
This 2 disc 2D Blu-Ray edition includes 3 exclusive short films from Andrew Dominik.
Disc 1:
One More Time With Feeling (2D Film)
Disc 2:
Boredom
Do You Pray?
Snowman
(2D Extras)
One More Time With Feeling 2 Disc 3D Blu-Ray
BS011BLURAY3D
This 2 disc 3D Blu-Ray edition includes 3 exclusive short films from Andrew Dominik.
Disc 1:
One More Time With Feeling (3D Blu-ray Film)
Disc 2:
Boredom
Do You Pray?
Snowman
(3D Blu-ray Extras)