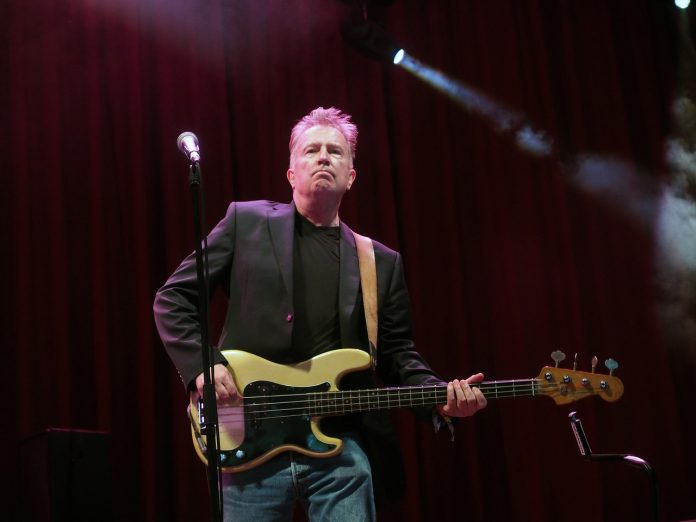 To mark the 40th anniversary of 2-4-6-8 Motorway in October 2017, he pays tribute to the original Tom Robinson Band by performing his entire 'Power In The Darkness' album at select venues across the country.
Taking in 15 dates in total, the tour will also see Tom back at London's legendary 100 Club for a 3 night residency with a classic four piece lineup. His incendiary live quartet features Faithless drummer Andy Treacey, Richard Ashcroft guitarist Adam Phillips and keyboard virtuoso Jim Simmons plus Tom himself on bass and lead vocals. Full dates listed below.
Born in Cambridge in 1950, Tom Robinson first became known in the late 1970s as a musician and LGBT activist with the Tom Robinson Band (TRB) who were early supporters of Rock Against Racism and Amnesty International. In 1977 their Top 5 debut release 2-4-6-8 Motorway became one of the landmark singles of the UK punk era. Other hits included Glad To Be Gay, Up Against The Wall and the band's debut album Power In The Darkness which went gold in the UK and Japan.
As a solo artist Tom had further solo hits in 1983 with War Baby and Atmospherics: Listen To The Radio, and co-wrote songs with Peter Gabriel, Elton John and Dan Hartman. His 14th studio album Only The Now was released in 2015 featuring guests such as Billy Bragg, John Grant and Ian McKellen. Recent festival dates include Latitude, Green Man and headlining the Left Field stage at Glastonbury 2016.
As a radio broadcaster Tom hosts three shows a week on BBC Radio 6 Music, is a member of the Ivor Novello Awards committee and in 2016 was awarded a fellowship of LIPA to recognition his support for new music artists through BBC Introducing.
OCTOBER TOUR 2017
10 – Cardiff, The Globe
11 – Milton Keynes, The Stables
12 – Cambridge, The Portland
13 – Bewdley Festival
14 – Nantwich, Words & Music
17 – Wakefiled, Unity Works
18 – York, The Crescent
19 – Nottingham Rescue Rooms
20 – Sheffield, Leadmill
21 – Manchester Home
24 – London 100 Club
25 – London 100 Club
26 – London 100 Club
28 – Newcastle, Riverside
29 – Glasgow, King Tut's
TR homepage: http://tomrobinson.com
TR on Twitter: http://twitter.com/freshnet
TR on YouTube: http://youtube.com/bothways
TR on Facebook: https://www.facebook.com/tomrobinsonmusic/
TR on Instagram: https://www.instagram.com/freshonthenet/