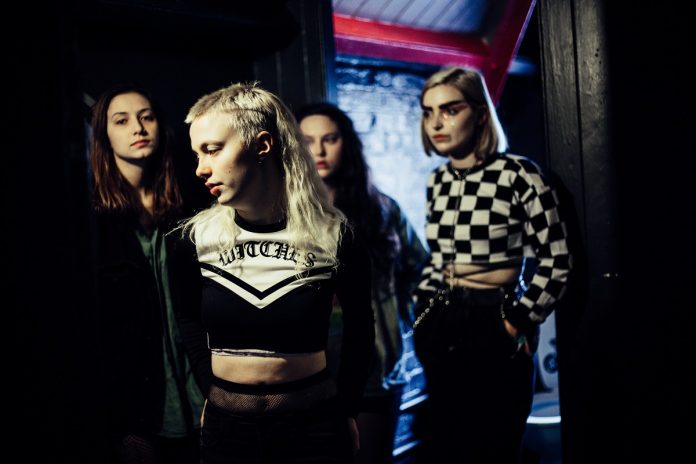 Manchester based all girl punk/grunge band WITCH FEVER are angry and honest, bringing punchy riffs, a heavy beat and an eclectic mix of clean and shrieking vocals. The five-piece consists of Alisha Yarwood (lead guitar), Alex Thompson (bass), Amy Walpole (vocals), Annabelle Joyce (drums) & Emilia Catle (guitar).
"They are raw, in your face and making a glorious and beautiful racket, are full of explosive and kinetic energy and collapsing new riffs and are going to make a noise musically and culturally…" – John Robb / Louder Than War
"Imagine the Slits meet Black Sabbath partying with Pussy Riot in Kim Gordon's angry neighbour's basement. Drunk. Witch Fever are wonderful." – Dave Haslam / The Guardian & Hacienda DJ
With influences ranging from The Cramps, to Sonic Youth & Nirvana, Witch Fever certainly have a great range of inspirations to help hone and progress their inherent talent. The band stated that what they do musically is driven by "A love for writing and performing." They continue, "We're all passionate about music, and through playing together we continue to encourage and empower eachother. We are also driven by the importance in disproving all the stigma and stereotypes attached to female musicians."
So far, Witch Fever have already secured a support slot for The Moonlandingz, were featured in the first wave of announced artists for Neighbourhood Festival and have been signed to Black Bleach Records. They are pleased to confirm a string of live dates, including festival appearances for Spring 2018.
Debut Single Available:
iTunes: https://itunes.apple.com/us/artist/witch-fever/id1216861773
LIVE DATES
MARCH
27th – Manchester, Soup Kitchen w/ Pip Boom & Sports Team
30th – Manchester, Aatma w/ Empty Page (Annabelles Coven Events)
31st – Bristol, Imagine That All Dayer
APRIL
5th – Chester, Mammothfest
20th – Manchester Punk Festival, Zombie Shack
MAY
5th – Leeds, Wharf Chambers
12th – Northampton, Metal2Masses/Bloodstock
19th – Manchester, The Ritz w/Cabbage