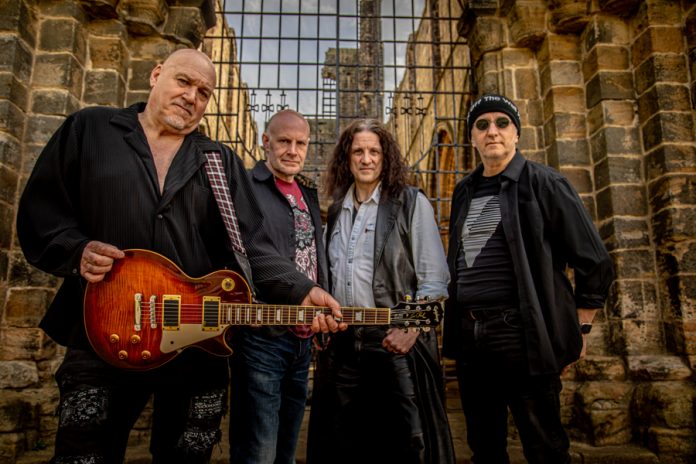 West Yorkshire guitarist Michael Alan delivers news of his video release for the melodically charged rock guitar ballad 'Thank You'. Taken from his forthcoming and unashamedly instrumental debut album 'Calling' – the track ascends from its classical guitar themed introduction into heavier melodic rock adventures. Soaring anthemic melodies and emotive hook lines, re-occurring motifs and articulately arranged song dynamics all add to the flowing sense of drama and feeling encased in Michael's latest and 'stream only' release.
Formerly releasing under the moniker of MK or Mike Kremastoules – the Leeds (UK) born and bred musician frequently draws stylistic comparisons to greats such as Gary Moore, Bill Nelson, Dave Gilmour, Joe Satriani and many more. After paying his dues as the lead guitarist in 80's NWOBHM movement outfits Ded Ringer (Neat Records) and Streetfighter, Michael continued to maintain his presence on the British rock scene whilst embarking on a career as a professional actor. Artistically inspired during the pandemic lockdown of 2020, Michael produced a collection of guitar-driven instrumentals that reflected his deep love of classic rock, blues, metal and progressive rock. A diverse range of compositions shaped to have their own individual voice and unique character. This material has since evolved into the finely crafted works that all feature on his Calling album and co-produced with Dave Johnson (Spellsound Studios -UK).
Those already familiar with Michael's work may have heard the retro hard rock fuelled 'Run' and the ballad- like single 'Butterfly'. Two well received and contrasting offerings that garnered much support from independent press/radio stations across the UK and far beyond. These singles and his new release 'Thank You' – all provide an insight into a mature performer striving to create memorable and timeless melodies. His focus has never been to try and push the boundaries of modern guitar playing techniques. Michael Alan's guitar is his 'voice' and his music aspires to express what words fail to say through sheer melody, tonality, dynamics and most of all – emotion.
The British artist (with proud Greek heritage) is now joined at live shows by fellow comrades Dave Johnson (Guitar), Lincoln J Roth (Bass) and Bob Pears (Drums). Official news announcements of his Calling debut album shall be arriving soon.
Connect with Michael Alan at:
www.facebook.com/michaelalanofficial
www.instagram.com/michaelalanofficial
www.tiktok.com/@michaelalan201
www.michaelalanofficial.com