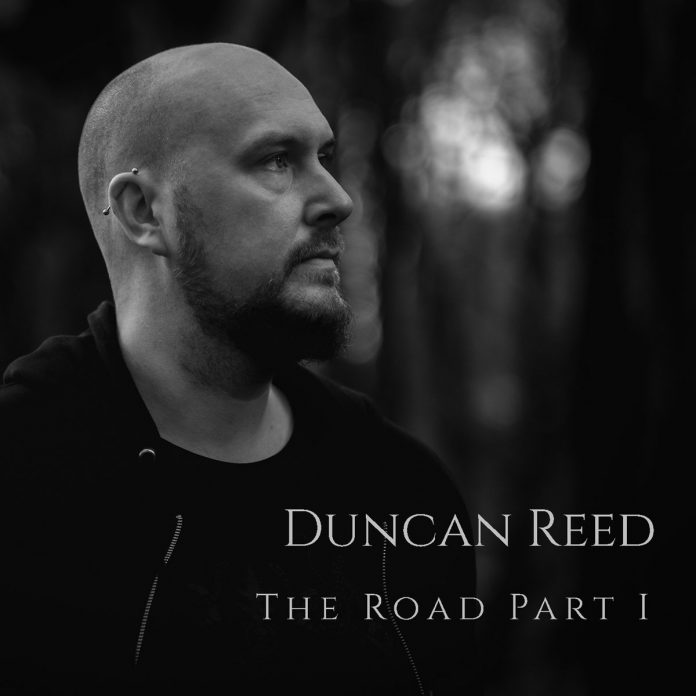 Duncan Reed's music is carefully crafted, incredibly well put together and, most importantly, you know his songs come from his heart, his soul. They have emotional depth.
He makes music that is hard to define exactly. I guess you could call it singer/songwriter with a lot of influences – folk, Americana, hints of blues, a Celtic sound. The thing that strikes me about a lot of the tracks is that they sound like acoustic versions of big rock songs, if you get what I mean. I don't say this to put them down at all. The acoustic based arrangements hold a lot of power, and enable the emotional meanings of the song to be upfront.
This doesn't mean that the tracks only feature acoustic instrumentation; there are electric instruments but they're used within an acoustic framework. They provide texture, mood.
This collection of songs is the first in a two album release. The second will have a rock or full band feel. This album is more acoustic. The two albums form a kind of musical and writing journey through time since his last release. This period was interrupted by a long period of illness. I think it's up to the listener to decide whether any of the songs reflect that journey through time.
This is going to be a 'favourites' review, a review that will hopefully encourage you to explore this album.
The opening track – 'Far From Home' – I'm going to describe as progressive folk. There's a definite folk basis but the sound is layered with sounds you may not hear in folk. The sound is held together by a gently plucked acoustic, there are subtle swells of keyboards. And this is a great introduction to Ducan's voice – his voice is rich, he sings simply with no vocal gymnastics, he's letting the words shine through. And these are words that should shine through, words to listen to, words to spend time understanding them.
'The Circle Grows' is a song that beguiles with it's gentle, although many layered, start. The clever thing about the start is the electric guitar that both melds into the feel and stands out. And as the track goes on that electric becomes more upfront. But nothing jars; the music reflects the words, the mood of the song.
Ducan says 'This song is written about the stone circle at Castlerigg in Cumbria. I wanted to explore the idea that although seasons change and empires come and go, the stones remain the same to the point that they are almost more of a constant than the mountains growing around them. It explores our connection to the ancient world'.
And this, as I said, is reflected musically. There's a theme that runs through it, with changes that reflect those changes.
I'm going to let Duncan describe 'Time' – 'This is probably the most personal song on the album and was written at a time of great sadness in my life. It was my way of exploring where I was at the time and expressing my feelings on the recovery process'.
The song is built around a stalking guitar figure that both evokes the ticking of a clock and a feeling of sadness. But as the song goes on there are moments of soaring beauty, the feeling that along the way there are times when things get better.
And over this he sings words that are both simple and deeply emotional. I, like many people, have had the same experiences and I get what the song is saying. But the crucial things is that although personal the song let's the listener understand what he's going through.
'Blink Of An Eye' explores an important subject. Duncan explains 'Blink Of An Eye: The song was written as a tribute to Chris Cornell and Chester Bennington shortly after their tragic deaths and is one of the most beautiful pieces I have created to date. I had always been a huge admirer of Chris Cornell as I don't think there has ever been a greater vocalist and it was a huge shock to hear he had taken his own life. Although the music of Chester Bennington didn't have the same kind of influence on my life, it was heartbreaking to hear that he felt he couldn't go on without his good friend. The song is dedicated to all victims of male suicide'.
Musically the song is based on folk. But there are layers of backing vocals – which almost take the place of a synth. Hints of bluegrass sounding guitar. There is a somber beauty to the song that both reflects the serious topic of the song which also resonates with your soul – I can think of no other way of putting it.
NB VIDEO
And now onto a song about the eruption of a volcano. 'Mountain' explores the eruption of Vesuvius from the point of view of the inhabitants of Pompeii. It takes as its theme the idea that the people may have thought they were being punished by the gods for wrongdoings. I include this because it's surprising that a song about this can be quite so compelling, The music is wonderful but it's the words that hooked me in; that had me hitting repeat.
Album closer 'Ellipse' is a song that builds to an explosion of rock. It's almost like a teaser for Part 2 (knowing what's to come). The song explores the reactions to unexplained events (like an eclipse) in the past where people will have sought supernatural and religious explanations to explain what was happening. It's mustic and haunting; that feeling maintained through the 'loud bit' by a violin. There's a power in this song, a power that stirs your emotions.
This is a collection of incredibly accomplished songs – beautifully put together and played. But this is not the important thing. The important thing is that the songs are the epitome of good song writing – the words and music working together to communicate feelings, emotions and stories. One never overwhelms the other. And on another level – they are truly musically beautiful
I can't recommend this album highly enough.
The info
Duncan says:
I am a songwriter from Manchester who writes both acoustic and rock music with a heavy folk influence and a love of vocal harmonies. I have been writing and releasing music for much of my life but since 2017, I have been putting more time into recording as well as creating videos based on the ideas within the songs.