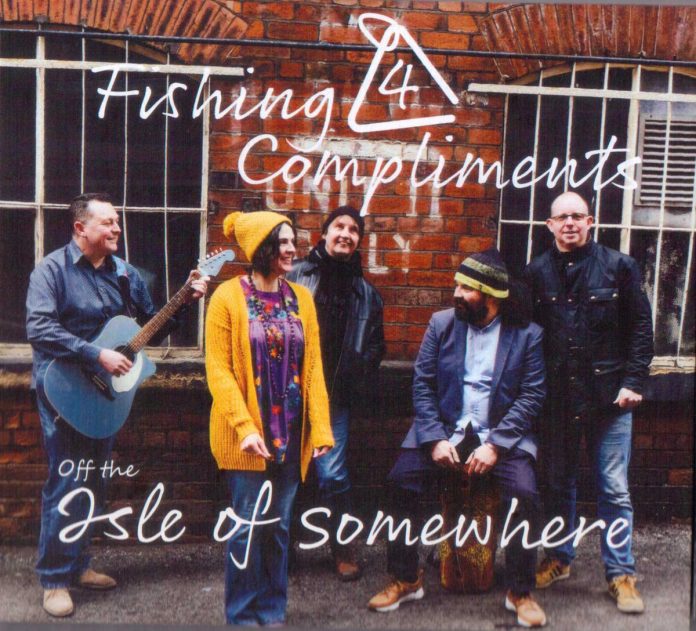 I'm always keen to support bands from my hometown – Huddersfield – so reviewing the debut album from Fishing 4 Compliments was something of a no brainer.
We are promised 'a unique indie/folk/pop sound' and 'songs have been described as; 'enigmatic,' 'intriguing,' 'sunny,' 'happy' and 'making you feel like dancing in the moonlight''. Sounds good, so let's dig in.
Opening song 'You're Not The Only One' hits that 'happy and make you feel like dancing' mark full on. A tune that is earwormy as anything, a beat that just doesn't stop, words that are sing-along to the max. A folky pop song.
'Tomorrow Who Knows' is something else. A pulsing beat for a song that is more folky in a kind of rock way. It's darker in sound but still has that melodic thing going on. I am reminded of Fleetwood Mac with that pulse and harmonies.
Intriguing, this is obviously a band who like to mix it up.
Another change of sound with 'Shell'. It's kind of folk indie-pop. Light, a way danceable beat. But with that folk tinged lead vocal.
The intriguing titled 'Drunken Tree' is ever changing and shifting. Folk influenced one moment, big pounding folk-rock the next, rich and many layered, then sparse and light. But listen closer and you'll hear intriguing words, the cleverness of the arrangement. And oh boy that sudden swell to the harmony laden sections gives you a lift in your soul. This is one huge song. An album highlight.
Another song, another switch in feel; 'Baby Blue' has a country swing feel. It's feel good stuff. Retro and new at the same time. It's joyous people – feet-tapping, hum along. 'Lost Without Your Light' has a country feel, and continues that feel good theme. Great tune, great words, great playing.
'Wild Bird' combines a vocal that sears into your heart, a sparse arrangement. Beautifully placed harmony backing vocals, touches of electric guitar. This is a slow burner of a song. You are drawn into it, and suddenly you can't help but play it again.
Back to a folk-country feel with 'The Love You Left'. Great tune, one for bop.
'Mystic Moonlight' is at its heart a big folk ballad but with touches of rock there, a blues hint here. Evocation, moody, atmospheric. Lovely,
Usually I'd be describing ' Way Out Of My Head' as a big pop ballad but it has both a folk and Americana edge; so out goes that simplistic description sadly. Anyway it's a big ballad – big lead vocal, rich harmonics, clever guitar, sparse clever drumming. Another lovely track.
Closing track 'We Got It Wrong' is a great slab of folk indie-pop. Great beat. Lovely guitar, backing vocals that bring a joy to your heart. Rich keyboards. A touch of a Gospel feel. This is just a great song.
How to sum this album up? It's hard because there's such variety in the feel and sound of the songs. And yet, there's something there that says' yep I'm listening to the same band here'. Mainly it's the vocals – Eileen brings the folk edge – but closer listening shows a certain common approach to the way songs are put together.
And look let's not get hung up on the genre a song may fall into, the song is the thing and they certainly know how to write a great song. And there's great playing. They just do their own thing and I love a band who do their own thing.
This is a fantastic album of songs that are uplifting and joyful there, moody, rich and evocation here. Songs that are written and played from the heart. Lovely.