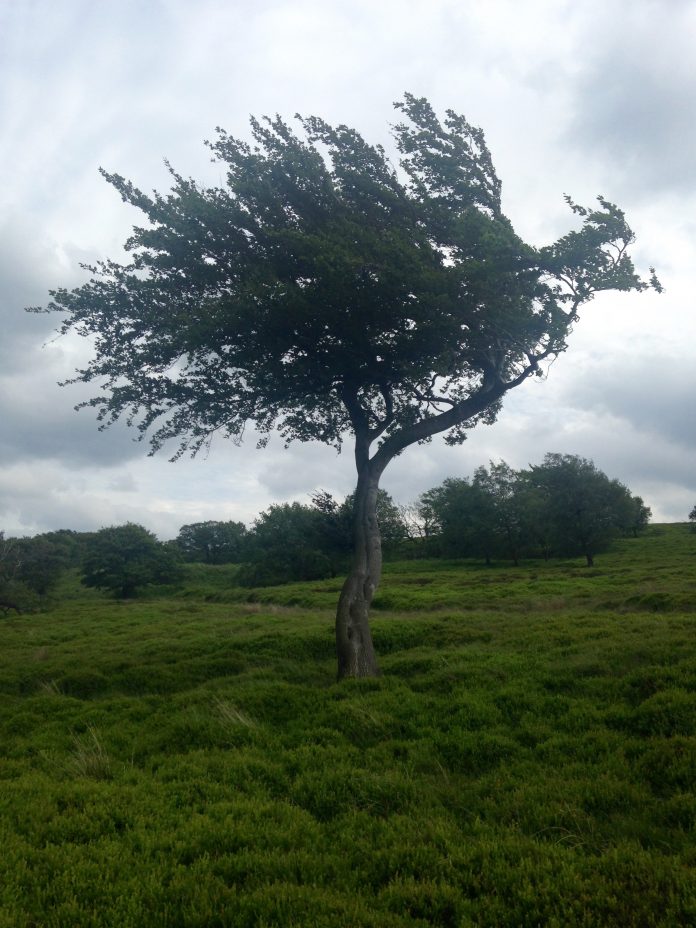 John Reed's debut album 'Moorscape' is, to be honest, rather difficult to pigeon-hole in one particular music genre. He describes the sound as being "60% folk, 30% rock, and 10% punk", but there are hints of classic americana, blues, progressive rock, bluegrass and church music peaking through.
There's enough 'folk' for the folk purist to appreciate the album and enough of the other sounds to draw in people who aren't big folk fans. It may be easier to agree that this is music that shows a range of influences and leave it at that.
Listening to this the musical touchstone for me was Redgum. For those who don't know Redgum they were an Australian band whose songs were rooted in traditional music but they took that into a very contemporary place – musically, lyrically and politically.
As well as John on vocals, cittern, six & 12 string acoustic guitars, the album features Kieran Heaney on electric guitar and bass, Rajendra Jadeja on tabla and Emma Perry providing vocals.
The first thing that's going to hit you is John's cittern playing, as he explains, "The whole album was written around the cittern, but instead of playing it like the medieval folk instrument that it is, I play it more like a rock/rhythm guitar". After that, unless you've been keeping up with contemporary folk, you might be surprised by the inclusion of tabla playing on something that is billed as a folk album. Finally you might be surprised again to learn that the album's production – which is great by the way – was handled by HeyGamal.
These songs have a main theme, that theme being the moors of the North-West, clearly a place that John has a deep love for, but there are wider issues that come through in the songs – the politics of class for one.
So are you intrigued? Let's get into the music.
This is an album where it's hard to pick highlights, there aren't really any poor tracks or tracks that come across as fillers. So I'm just going to mention my personal favourites. It's available on Bandcamp so you get the chance to stream the tracks and pick your own favourites.
The album opens with 'The Drovers Trail'. It's a travelling story song with a stomping acoustic guitar riff. That '60% folk, 30% rock, and 10% punk' thing comes through very clearly.
In a more traditionally folk style 'Watergrove Farm' is a moving song – you might say almost a traditional ballad – about the village and residents of Watergrove. The village was cleared and now lies under the Watergrove Reservoir built to provide water for Rochdale (you can read about this here). This is incredibly catchy and has a chorus I can imagine being sung along to by an audience live. While on one level is an incredibly moving story of one village and its residents. It can also be read as a comment on what the authorities are prepared to do to ordinary working families to get what they want.
'The Cart' is just lovely, although John's cittern is up front there's an electric guitar hook going on that makes it sound a bit like a late period Floyd track. It's about a journey made by a loaded cart but there's far more to it than that.
'Clouds' is a simple song musically but lyrically it's far more complex than a first listen may suggest. Is it about how different skies affect your moods or is it the other way around, it can interpreted either way. This song also features the first appearance of Emma's vocals – they're not exactly backing vocals nor a twin lead vocal but a vocal layer. This song builds and it grows on you.
'Guns' is one of my personal favourites from the album. This has way more than 10% punk, but not necessarily only musically. It's about people shooting on the moor but there's comment on class, and it moves onto the countryside being closed for military shooting ranges. The tabla adds an unexpected sound to the track but it all works. What I don't want you thinking is this some classwar-driven rant, it isn't. The lyrics are clever and musically it's fabulous.
'The Denied' leans towards acoustic-punk and is a song about the grabbing of common land from the people. Although it also appears to reference the removal of the right to roam at one point. Again I've got to emphasise that this isn't a rant, it's a well thought out and well written song.
'Blizzard' is, well it's a bit of a surprise, it's an all out rock track in a sort of prog style. There's a folk element to the sound there somewhere but there's crashing guitar chords, a great guitar break and … tabla. This had me hitting repeat.
My final pick is 'Dim Blue Light'. Musically it's lovely, it's got a sort of folk-pop feel to it. Lyrically however it's an entirely different story. It's the story of a maidservant being killed by her mistress and how the mistress gets away with.
This is an album of well written and well played songs that really hang together as a collection or can equally well be listened to individually.
So who's this going to appeal to? I can think of no better way to put than I did in my album preview. For me this is complex moving music that's going to appeal to a lot of people – yes even those who say that they don't like folk music.