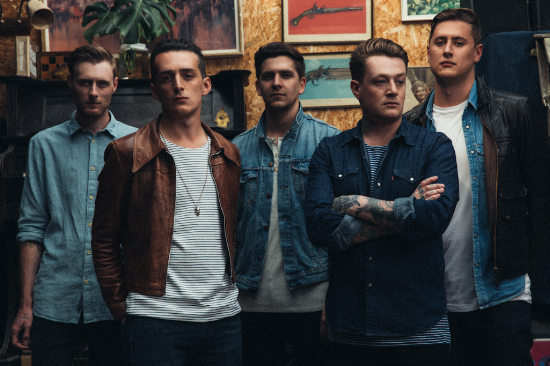 Following a busy summer UK & European festival period, that took in shows alongside the likes of Kings of Leon and Aerosmith, as well as making their Glastonbury debut on The Other Stage, Deaf Havana have announced completely new recordings of their entire UK Top 5 album, 'All These Countless Nights' released on October 27th via So Recordings.
'All These Countless Nights – Reworked' is a deluxe edition that sees the original album tracklisting appear on disc one, as well as a trio of bonus tracks, whilst disc two features the entire album reworked. The reworked tracks were produced once again by Adam Noble, with several also featuring The Prague Philharmonic Orchestra, expanding and deconstructing the album's critically acclaimed melodic qualities in equal measure with stunning effect.
"The inspiration behind these reworked versions, much like we did years ago with the Fools And Worthless Liars alternative versions, was that if we are going to re-release a record, we really want fans to buy something worth spending their money on," says frontman James Veck-Gilodi.
"I've never been a fan of re-releases that just have a couple of live tracks shoved on the end. I am always keen to try out new things and I have a very short attention span. I tried to get as far away from the original tracks as we could, some of the darkest, heaviest songs on the original record have now become the lightest and most upbeat ones and some of the tracks are so far removed that they are barely recognisable. I'm incredibly excited for everyone to hear what we have done and to bring some of these new versions out on tour in the future!"
TRACKLISTING
DISC ONE
ASHES TO ASHES
TRIGGER
L.O.V.E
HAPPINESS
FEVER
LIKE A GHOST
PRETTY LOW
ENGLAND
SEATTLE
ST PAUL'S
SING
PENSACOLA, 2013
BONUS TRACKS
CASSIOPEIA
ANEMOPHOBIA PART II
SICKAGO
DISC TWO
ASHES TO ASHES (REWORKED)
TRIGGER (REWORKED)
L.O.V.E (REWORKED)
HAPPINESS (REWORKED)
FEVER (REWORKED)
LIKE A GHOST (REWORKED)
PRETTY LOW (REWORKED)
ENGLAND (REWORKED)
SEATTLE (REWORKED)
ST PAUL'S (REWORKED)
SING (REWORKED)
PENSACOLA, 2013 (REWORKED)
A deluxe purple vinyl version of 'All These Countless Nights – Reworked' is available too and is limited to just 500 signed copies.
Pre-orders are available now from:
Physical https://deafhavana.tmstor.es
Digital http://smarturl.it/ATCN_DLX
Dates
Deaf Havana are currently touring Australia supporting Placebo, before returning to the UK to embark upon a regional headline tour in November, with support from Black Foxxes and Decade.
NOVEMBER
9th – Brighton, Concorde 2
10th – Southampton, Engine Rooms
12th – Cambridge, Junction
13th – Bath, Komedia
14th – Coventry, Kasbah
15th – Leeds, Beckett University
17th – Nottingham Rock City
18th – Liverpool, Academy
20th – Aberdeen, Garage
21st – Edinburgh, Queens Hall
22nd – Newcastle, Northumbria University
24th – Cardiff, Y Plas
25th – Exeter, Lemon Grove