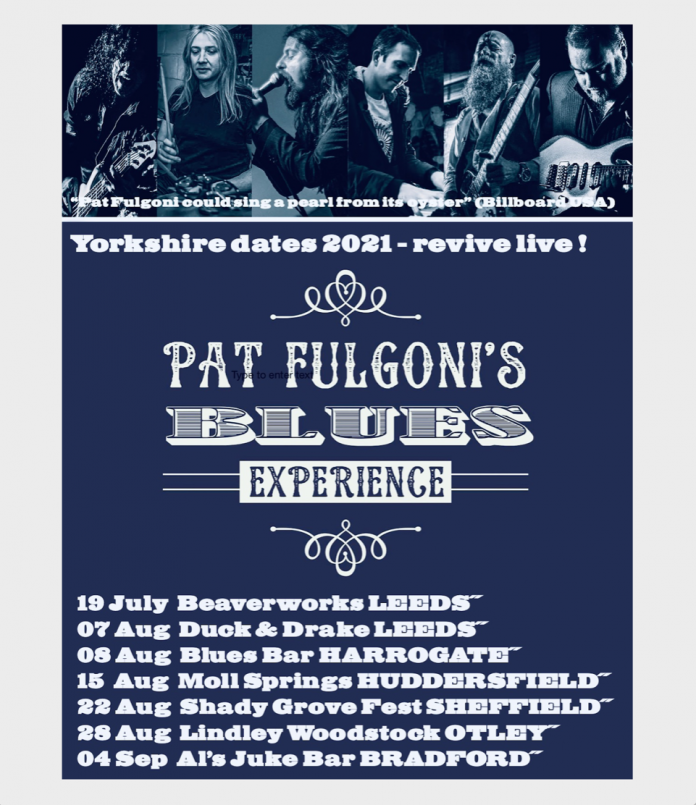 Before lockdown, UK singer Pat Fulgoni rehearsed his new blues band the Pat Fulgoni Blues Experience for a European tour.
The Blues Experience was all set for European festival dates this summer including the Great British Rhythm and Blues Festival, Colne and Blues Alive, Sumperk, Moravia before the corona blues struck.
Now that COVID restrictions have been lifted the band are ready to hit the road and they've now got some Yorkshire dates lined up (see below) and Pat is already penciled in for the Sumperk Blues Alive Festival in November this year.
'Dark Side Of The Blues: Pat Fulgoni Live In Prague'
Pat released a solo blues album – 'Dark Side Of The Blues: Pat Fulgoni Live In Prague': recorded with leading players from the Czech blues scene.
Previously only available on CD in the Czech Republic the album is now available on streaming and download sites.
The album was recorded at Faust Studios, Prague with production by Richard Mader. The album includes covers of songs from Ray Charles, BB King, Stevie Ray Vaughan, John Lee Hooker, Led Zep, Bill Withers, Thin Lizzy.
iTunes/Deezer – https://player.believe.fr/v2/3616553542989
Upcoming dates
07 Aug Duck & Drake 43 Kirkgete, LEEDS
08 Aug Blues Bar 4 Montpellier Parade HG1 2TJ, HARROGATE
15 Aug Moll Springs, Netherton, HD4 7DN, HUDDERSFIELD
22 Aug Shady Grove Fest, Shady Hall Farm, Ford Rd, SHEFFIELD
28 Aug Lindley Woodstock, OTLEY
04 Sep Al's Juke Bar 32a Darley Street, BRADFORD
More info: https://www.facebook.com/patfulgonibluesexperience/