When we were contacted by Grace and Hana – the two people who are Graceful Harmony – I was intrigued, they seemed to have done a lot in such a short time. Listening to their music I was impressed, very impressed – both the singing and piano was fantastic. And although they'd told me how old they were – they're both 14 – I tried not to let that influence what I thought of what they do; I needn't have worried, the duo are impressive full stop.
While they've played a variety of gigs – including Imaginarium Music Festival in October last year, a festival headlined by The Seamonsters. Upcoming gig-wise for the duo, and one they really looking forward to, is Wentworth Live in June, where they play the New Music Stage. They're the youngest band to chosen to play the event ever.
They're also collaborated with other musicians and singers – Voice finalist Lucy Milburn and Umar Siddiqui from Gogglebox who makes electronic music – which shows a real dedication to learning to be better at what they do, and really maximising the variety of musical things they do.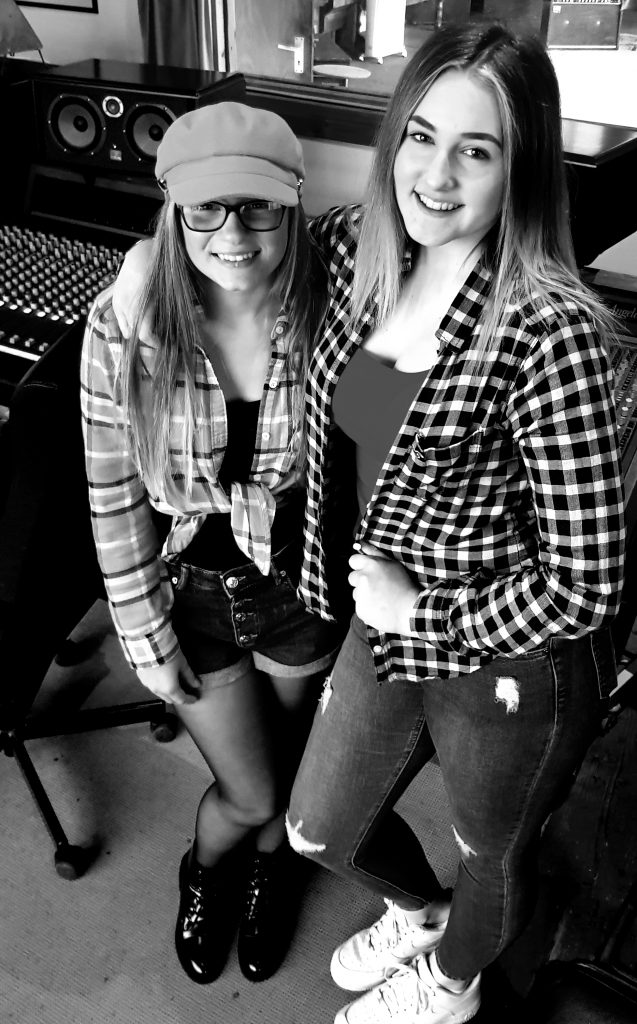 All of this is in a very short time, they've only been together for around a year. I for one wonder quite how they managed to pack all of this into such a short time. Grace says in answer to one of my questions that she's 'currently studying Grade 7 piano in my spare time', am I alone in wondering where she gets 'spare time' when Graceful Harmony is doing so much.
While at the moment they perform covers – and there's nothing wrong with that, a great cover is a fantastic thing if the artist interprets the song rather than reproducing the original, and many artists become great doing covers – the duo are starting to write their own material (there's more about that in the interview I did with them). But if the playing and singing is as impressive as what they currently do, then their own songs come with some promise.
The interview
As usual I sent Hana and Grace some questions, some of which on reflection were rather badly worded, they were nice enough to answer them.
Local Sound Focus: For people who don't know you can you tell us what you each do in the duo. Do you have other music interests outside of Graceful Harmony that you're both pursuing?
Hana: In the duo, I am the singer. I do have other musical interests too, I play the piano too.
Grace: Aside from being the pianist in Graceful Harmony I am currently studying Grade 7 piano in my spare time.
LSF: How did you get together as Graceful Harmony?
G: We met through having very similar interests (obviously music) We performed at school concerts together and realised through that that our talents worked well together.
H: I have piano lessons with Grace's mum and we go to the same school. As we share similar interests, it kind of went from there.
LSF: Do you find that people are surprised by how young you both are?
G: I definitely think people are surprised by how young we are due to the various performances we've have the opportunity to do.
H: Yeah, so many people are very surprised how young we are and what we have achieved.
LSF: Are there any other young – as in age – bands or artists that you like?
G: We did a gig a few months ago called 'The Imaginarium Festival' where we saw an amazing band called 'The Azenas'
H: The Azenas are very good!
LSF: Despite only having been together for a year you've played some pretty impressive gigs. Do you have gigs that you've thought of highlights so far or have gone particularly well?
G: My favourite gig was either Imaginarium Festival or playing at the Lyceum theatre in Sheffield for the Children's book awards.
H: Performing at the Sheffield Lyceum was a personal favourite for me.
LSF: You currently define yourselves as a covers act – although I personally don't like that as definition, I'd prefer to say that you perform interpretations of songs other people have written – how do you choose the songs you perform, and are there any songs that you'd like to perform but haven't?
H: We chose songs that we are comfortable with. Sometimes we step out of our comfort zone and take on big anthems, making them our own. I would like to sing an upbeat song but only if we're both comfortable with it and it sounds good.
G: We like to choose songs that are age appropriate and also songs that people know and become involved in when we perform.
LSF: I understand that you're currently working on your own songs, what can we expect from those, is there anything that may surprise people who know what you currently do?
H: You can expect our songs to be lyrically reflective. Touching on important topics that affect the world today.
G: Yes, we are definitely trying to write our own songs and our aim is to send a message to the audience on our views of the world today.
LSF: Are you planning to record your own songs once you've got them together, and are you planning to bring other musicians into the recording process or are you planning on keeping that classic voice and piano sound?
H: We definitely plan on recording our songs. We don't plan to bring in other musicians unless we feel it's right and adds to the performance.
G: We are definitely going to record our own songs and if it works, work with other musicians to enhance our performance.
LSF: What artists and bands do you like and influence your music?
H: Artists like Adele and Emily Sande.
G: We love artists such as Adele and Emily Sande all the way through to artists like Ariana Grande.
LSF: You've collaborated with other artists like Voice finalist Lucy Milburn and Umar Siddiqui from Gogglebox (who makes electronic music) how did those collaborations come about? And do you like the collaboration process?
H: We met Lucy at an event we were playing last summer. Since then we have sang together and she has listened to our music giving great feedback. We sent some music to Umar Siddiqui and he loved our work. He writes synth music and asked us to cover one if his tracks which was fantastic!
G: I love collaborating with other artist as it teaches us how to improve. Lucy gave us some really useful feedback and hearing Umar's music really inspired us to write our own.
LSF: What can we expect from Graceful Harmony in the future? Is there anything coming up that you are particularly excited about?
H: You can expect us to keep working very hard, getting our name out there and improving as much as we can by taking advice from people who have been in the industry much longer than us!! I am very excited to perform at Wentworth Live music festival on Saturday 15th June.
G: You can definitely count on us for some exciting performances in the future such as Wentworth live in June this year.
What's clear is these two are on mission to have success and are prepared to work really hard at it. And while they're at the beginning of their musical career, they've gone a long way already and are really building on a the foundations they've already put in place.
Graceful Harmony are:
Grace Wilkinson – piano
Hana Edwards – vocals
Twitter: https://twitter.com/HarmonyGraceful
Instagram: gracefulharmony.music
Gigs
They play Wentworth Live on Saturday 15th June
More information: https://www.wentworthmusicfestival.co.uk
Other upcoming gigs
Fox Valley music festival: Sunday 16th June 2019
Meadowhall Centre, Sheffield: last Wednesday of the month 6-8pm
Lound Fest: Friday 28th June