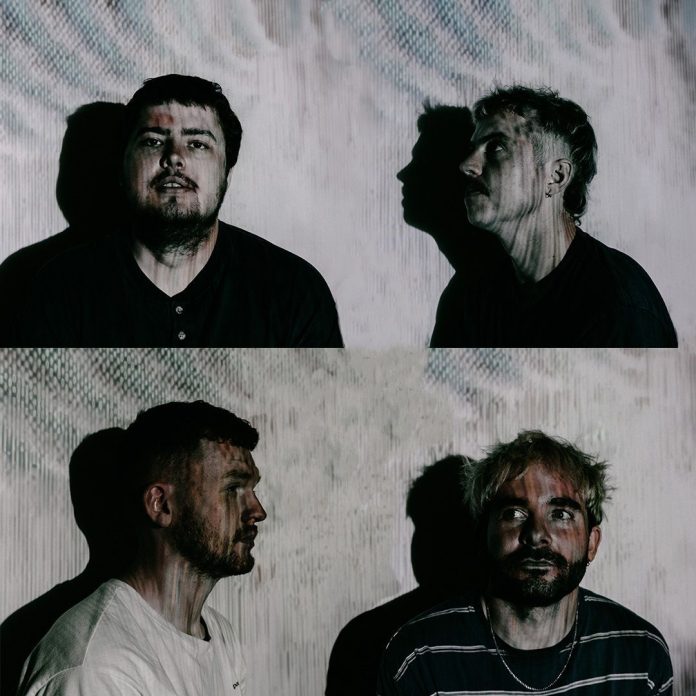 Hull based shoegaze quartet bdrmm have shared details of a new run of EU/UK tour dates for February and March 2024. The dates come on the heels of their new 7″ single 'Mud', which was released last Friday via Mogwai's Rock Action label. The record arrives hot on the heels of the bands widely lauded second album "I Don't Know".
Now, just two months on from that release, the band have returned with a new 7" release which also features a remix of the recent album track 'Be Careful', which is reworked by fellow Hull outfit Fila Brazillia who have collaborated with everyone from Radiohead to Harold Budd, Black Uhuru, Twilight Singers, and The Orb.
Recorded with long-time collaborator Alex Greaves (Working Men's Club, Bo Ningen) during their album sessions at The Nave Studios in Leeds, 'Mud' sees the band expanding further on their dynamic and sprawling sound, with oceanic production and atmospheric instrumentation, underpinned by the bands reverb heavy vocals.
Frontman Ryan Smith explains, "Mud is a track about approaching loss. Trying to cope with the end before it has even happened. The memories created are in fear of being washed away, and by keeping hold of them. You're doing more harm than good."
New 7" single out now via Rock Action – Order HERE
Tour dates
November 2023
Saturday 18th – Cardiff – Clwb Ifor Bach
Sunday 19th – Bristol – Thekla
Monday 20th – London – Scala
Wednesday 22nd – Cambridge – Mash
Thursday 23rd – Bedford – Esquires (SOLD OUT)
Friday 24th – Brighton – Patterns (SOLD OUT)
Sunday 26th – Dublin – The Button Factory
Monday 27th – Belfast – Limelight 2
February 2024
14th Feb – Vigo Sala
15th Feb – Oviedo
16th Feb – Valencia Loco Club
17th Feb – Barcelona
19th Feb – Milan Circolo Arci Bellezza
20th Feb – Bologna Covo Club
22nd Feb – Leipzig Naumanns
23rd Feb – Berlin Hole44
24th Feb – Dortmund FZW
25th Feb – Groningen Vera
27th Feb – Rotterdam LantarenVenster
28th Feb – Paris Petit Bain
March 2024
1st March – Saint-Malo La Route Du Rock
6th March – Aberdeen Tunnels
7th March – Dundee Beat Generator
8th March – Edinburgh Voodoo Rooms
9th March – Glasgow The Hug and Pint
11th March – Newcastle -The Cluny
14th March – Norwich Arts Centre
15th March – Southampton The Joiners
16th March – Margate Elsewhere
18th March – Reading The Face bar
19th March – Sheffield Yellow Arch
20th March – Manchester Band On The Wall
23rd – 26th May – Bearded Theory Festival, UK
Tickets are on sale now via bdrmm.co.uk
More about bdrmm:
While the world became socially distanced in 2020, Hull's bdrmm made the kind of impact with their debut album any young band would dream about. Released on the small Sonic Cathedral label in July that year,
Three years on, the band's new album 'I Don't Know' takes the adventure somewhere else. It's contemporary shoegaze in a way but much, much more. Again recorded at The Nave studio in Leeds with producer Alex Greaves (Working Men's Club, Bo Ningen), the band's trademark effects-laden guitars and motorik Neu! grooves have now been augmented by piano, strings, electronica, sampling and even occasional dance beats. Fragile ambient pieces line up against pulverising guitar chords, sometimes within the same song. There are ambient washes and delicate piano pieces, while influences or reference points veer from Radiohead to My Bloody Valentine to the Cure to Brian Eno – perhaps – the minimalist classical of the likes of Erik Satie. Whatever has produced it, it's a bigger-sounding, more tuneful, really rather fantastic second statement by four young men who are rightly sure about what they're doing and loving every minute of it.
"We're still coming from the same place, but the influences have got much broader," confirms singer-guitarist Ryan Smith. His younger brother Jordan (bass, now also keyboards) has been checking out Steve Reich and Boards Of Canada and says, "A lot of it is just us gaining confidence, and also not wanting to retread old ground. We'd made the guitar record. So we were thinking, 'What else can we do?'"
Musically they experimented with everything from "pure atmospherics" to eight-minute songs but lyrically, it was more a case of expanding and developing what was already there. On Bedroom, Ryan Smith was writing mainly from a personal perspective – about relationship break-ups, substance abuse and mental health, issues anyone can relate to especially after three years of pandemic, war and economic crisis. This time, the songs still come from a personal place but are more wide-ranging and more universal.
"Everything's still probably based on things that have happened to me," Ryan explains, "but I'm writing more ambiguously, so that it can be understood by others in whatever situation they're going through. I always think the first record feels like one person's relationship, whereas this is so much broader, and can be interpreted in different ways."
It's also the product of different environments, with songs written everywhere from at home in Hull to driving through the Alps, as they have become a touring band. While the album was mostly recorded at The Nave, it benefitted from a week at a farm in Wetherby, West Yorkshire, a "retreat" which the producer's friends turned into a recording studio.
"It felt like going to a kids' club in summer," grins Jordan. "We all had different rooms. I was writing upstairs. Conor was in another room behind the drum set. We were all staying there so we'd spend the night together drinking or whatever and then the whole day making music."
"I Don't Know" was also the group's first release for Mogwai's label, Rock Action, a partnership which came about when the two bands toured together. "We were really drunk one night, and Stuart (Braithwaite) said 'I'd love to sign you'," Jordan chuckles. "It was like a lot of flirting, but it felt like one of those things that was just said in a drunken conversation. Then he got in contact sober… and we were like, 'This is actually gonna happen.'"
There was another larger label interested as well, and who were equally upfront about their plans for the band. "They went 'We're going to get brand new producers to make everything sound amazing and we'll get a whole new team to do the artwork', Jordan reveals. "I just felt myself getting more and more angry. Like, I've always done the artwork and Alex always does our production. He's recorded every single thing we've ever done and there's a real relationship between band and producer. I don't see why we'd want to change all that." As the bassist gently points out, it's worked for them so far.
Although in 2020 bdrmm felt like an overnight sensation, it's seven years since their inception and in some ways the band started much further back, in childhood, when the Smiths' father introduced them to different types of music. "He played us so much music when we were young," smiles Ryan. "It started with Radiohead, as if often does, but then it just branched off: atmospherics, Brian Eno's ambient series, shoegaze and electronic music." Then Yuck's fuzzy self-titled 2011 debut was another big reference point. "We'd invite mates over and play it really loud."
With other influences stretching from Deerhunter to DIIV to Warp to 4AD to ambient jazz soundtracks, both brothers taught themselves to play. "The only reason I picked up a guitar was because Ryan was in a band called the Tennents at that point, who I thought were amazing," Jordan remembers. "But for some reason I wanted a bass, not a guitar." Six years older than Jordan and now 28, Ryan never thought he'd be in a band with his younger brother, but this came about after he recorded an EP on his phone using GarageBand and uploaded it to BBC Introducing, typing the name bdrmm down at the last moment. To his great surprise, it didn't get played on the Yorkshire and Humberside BBC Introducing show but on national Radio One. "It was unbelievable, and that started the band."
Soon afterwards, Jordan got a text from his brother asking "'Do you fancy trying playing bass for this new thing?' I'd never been in a band before." Initially a five-piece, the line-up has cemented around Ryan, Jordan, Joe Vickers (guitar) and Conor Murray (drums) and Jordan says he couldn't think of three people he'd rather share their experiences with. The band have gigged and gigged and gigged, their live trajectory taking them from a debut at Hull's Adelphi via support slots with Her's, Viagra Boys and Fat White Family to pinch yourself moments such as appearing with ride at the Roundhouse or touring the UK and Europe with Mogwai, including an unforgettable appearance with the Glaswegians at London's 10,400-capacity Alexandra Palace. "From Hull Adelphi to Alexandra Palace," smiles Ryan. "I still can't believe that happened."
Similarly, when Bedroom was released, Ryan didn't really expect anything to happen. "But then the reviews started to appear, and it felt like there was another one every week." Jordan was at home during lockdown when he saw a Tweet about the five-star NME review. "And I was sat there in my underpants, smoking a joint with the drummer. Nothing had changed, which was brilliant, in a sense. We just feel lucky that other people seem to like our music as much as we do."
They've brought this burgeoning confidence to "I Don't Know". It's more of a group effort than the debut, the new album's eight songs reflecting experiences, musical maturity and a growing ability to turn the personal into the universal. Dreamily busy opener Alps' combines ambient washes, busy dance beats and blissful, beautifully hazy lyrics. The song's sense of movement and travelogue reflects its birthplace – it was written in a van as the band drove through the Alps listening to "Thom Yorke's electronic stuff".
The bass-driven, slightly trip-hop grooved, gently anthemic "Be Careful" is an instruction to the listener to do exactly that. Ryan explains: "I struggled with alcohol during lockdown and it's a song about realising how we can all act when we're not in our right minds. You know, it can unleash stuff and it's not always nice. So 'be careful of yourself'!"
Heavy guitars and the band's love of Radiohead and Ride power the mysterious "It's Just A Bit Of Blood", which darkly asks someone "Where do you get off?" before the krautrock-pop We Fall Apart partly captures what Ryan describes as "how people are feeling". This may refer to someone experiencing relationship breakup or a wider populace facing wider threats of a changing world impacted by climate and economic crisis, but Ryan has been careful to be more ambitious than "I'm sad, blah blah. Blah." For Jordan, this particular song – with its sublime narrated coda – is also "about the times over the years where it's been hard to continue being a band, and where it would have been easier to bow out. But we didn't. For me, the songs all have a multitude of meanings."
The listener can put their own interpretation on the beautifully pensive ambient instrumental "Advertisement One", and there's an emerging pop nous to the hazily tuneful "Pulling Stitches". "Hidden Cinema" is one of the most hauntingly vulnerable bdrmm songs to date, a raw and honest admission of personal imperfections and even failures. Musically, surely the most ambitious thing the band have done to date is majestic closer "A Final Movement", which at an epic eight minutes and eight seconds might be one for the numerologists to ponder. Musically it opens like a flower from a serene synthesiser opening to a widescreen, cinematic-type grandeur, teased along the way with Chameleons-type guitar shapes.
Lyrically, it expands something they first explored on Bedroom's sublime song "A Reason To Celebrate" – a theme Jordan describes as "accepting the beauty of something not working out". Indeed, the song began life around that first album as a slow core guitar song titled "Duster", but has since developed enormously. "We're massive fans of Oneohtrix Point Never," explains the bassist. "He had a song called Chrome Country with this amazing opening chord. We just wanted to create that kind of beautiful synthesis and threw everything into it. It's the first time I've written strings for anything, so why not do it on an eight-minute song?" Indeed, why not?
"We've always followed our instincts and done what felt right," smiles Ryan. "Surely, if you're in a band, that's the most important thing you should do."
Bdrmm – 'I Don't Know'
1. Alps
2. Be Careful
3. It's Just A Bit Of Blood
4. We Fall Apart
5. Advertisement One
6. Hidden Cinema
7. Pulling Stitches
8. A Final Movement
bdrmm are:
Ryan Smith (guitar, vocals)
Jordan Smith (bass, synth and vocals)
Conor Murray (drums)
Joe Vickers (guitar)