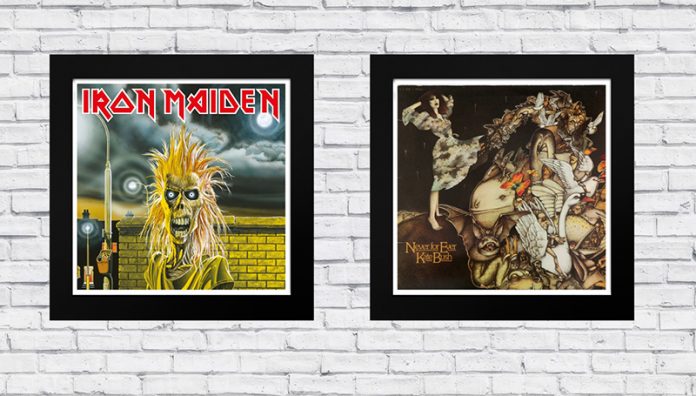 This autumn, Best Art Vinyl, an international award celebrating the best in record cover design, comes to Barnsley as part of an exciting new exhibition featuring a host of renowned names from the world of music, art, design and photography.
Now in its 12th year, Best Art Vinyl is a unique award celebrating record cover art, compiling the global opinion on the best in art, photography and graphic design in modern music culture. Each of this year's fifty award nominees will be shown together for the first time here in Barnsley.
Best Art Vinyl: 12 Years on 12 Inches celebrates record cover art featuring a host of renowned names from the world of music, art, design and photography. A second half of the exhibition focuses just on Barnsley. Best Art Vinyl Barnsley takes an in-depth look at 12 of its own vinyl record covers including contributions from Saxon, Dave Burland, Rolo Tomassi and The Black Lamps all displayed alongside the original artwork.
A one off printmaking workshop on Saturday 11 November hosted by Sheffield artist, Saskia Palmer will accompany the exhibition. In the full day workshop artists of all abilities will create a lino-cut print based on a record sleeve under the guidance of the artist.
Sheffield-based artist Saskia Palmer creates bold and striking work. She has a background in traditional portraiture and a strong drawing style which is clear to see in her linocut print designs. Her work offers a look into the unique quirks of British class, music and popular culture using humour, pathos and nostalgia.
This special workshop allows participants to create their own unique piece of art. It is suitable for both experienced printmakers and absolute beginners from 11 years and up, but is a definite must for music-lovers. The workshop is full day with the price including all materials, a break and refreshments.
So bring along your favourite record sleeve and get creative! By the end of the day, you will have learned new skills and have created the unique gift for the music lover in your life – or yourself.
And as a way to celebrate the international award coming to Barnsley, The Civic would also like to hear about the favourite record cover designs from Barnsley residents' own record collections and would like to feature them in their own exhibition.
Visitors to The Civic are invited to bring along a 12" vinyl or LP to the gallery, to be framed and hung alongside your memories of that record. It doesn't have to be your favourite record by a particular band or musician, but it does have to be a record cover design that has influenced you or stayed with you over the years. The records will be on display at The Civic, between 11 November and 20 January.
If you would like to have your favourite record cover featured in the exhibition, bring it along to the box office at The Civic, any Tuesday to Saturday, between 10am and 4pm. This is only open to submissions of vinyl 12" singles or LPs. If you have any questions about loaning your record, please call the gallery on 01226 327011 or email jasonwhite@barnsleycivic.co.uk
Best Art Vinyl: 12 Years on 12 Inches and Best Art Vinyl Barnsley open at The Civic on 11 November 2017 and close 20 January 2018. Admission is free.
Record Cover Lino-Cut Workshop is on at The Civic on Saturday 11 November from 11:00am-4:00pm. Recommended for 11+. Price £35 and booking is essential.
For more information and to book visit www.barnsleycivic.co.uk or call the Box Office on 01226 327000.