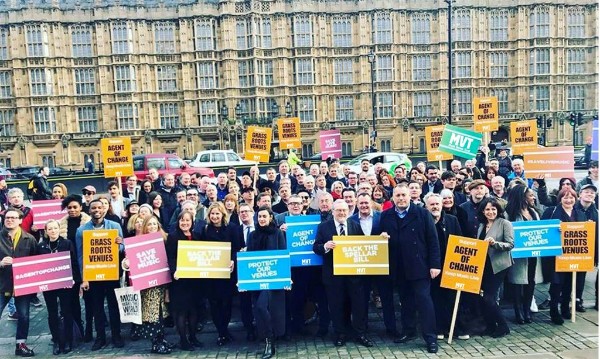 Today has been an important day for Music Venue Trust, the network of grassroots music venues and everyone who supports their work. Over three years ago they introduced the concept of Agent of Change into the UK (following its success in Australia) with Frank Turner fronting a campaign to make Agent of Change a part of UK Law. The Agent of Change Principle is not complicated or controversial, it's simple common sense: Agent of Change says that the person or business responsible for the change is responsible for managing the impact of the change. This means that an apartment block to be built near an established live music venue would have to pay for soundproofing, while a live music venue opening in a residential area would be responsible for the costs.
Over the past few years, they have helped build a collective voice as partner organisations such as UK Music and The Musicians' Union have taken on the cause. When Michael Dugher became CEO of UK Music last year he said that Agent of Change would be a priority and at Venues Day 2017 he announced John Spellar MP's intention to take a Bill to Parliament. John then spoke about why this was important.
Since Venues Day, UK Music, Music Venue Trustand The MU have been working together to raise support for John Spellar's Ten Minute Rule Bill. Further music industry bodies have backed the Bill while cross-party support has built in Parliament and artists including Sir Paul McCartney, Chrissie Hynde, Craig David, Sandie Shaw, Ray Davies, Billy Bragg, Feargal Sharkey and Pink Floyd drummer Nick Mason have added their voices. This morning, Wednesday 10 January, a delegation collected outside Parliament to further publicise the cause and interviews are taking place throughout the day. Music Venue Trust patrons including Billy Bragg, John Robb, Jeremy Pritchard (Everything Everything), Frank Turner, Rhoda Dakar and David Gedge (The Wedding Present) have lent their voices to help gain further traction.
Earlier today John Spellar MP's Bill was read in Parliament and no objections were raised. A huge list of sponsors of the Bill accompanied the first reading, meaning that this can now progress to a second reading. Music Venue Trust would like to thank everyone who has supported the campaign so far and encourage anyone who has not yet done so to write to their MP to ask them to support the Bill.
MVT is all about collective working. They created the Music Venues Alliance to bring an end to grassroots music venues working in isolation and create a voice for the sector.
They send thanks to every venue, artist, music fan, politician, industry body and company who has supported MVT to date. Special mention to their patrons and trustees, donors and sponsors, including TicketWeb, UK Music, Sony Music UK, fabric, Jack Daniel's, White Light, Jackpot, HMUK, Openstage, Academy Music Group, Ministry of Sound, Estrella Damm, The MU, Ents 24, Wardell Armstrong, CAA, Coda, WME, Xray Touring, UTA, Primary Talent, ITB and ATC Live.
For further information head to: musicvenuetrust.com