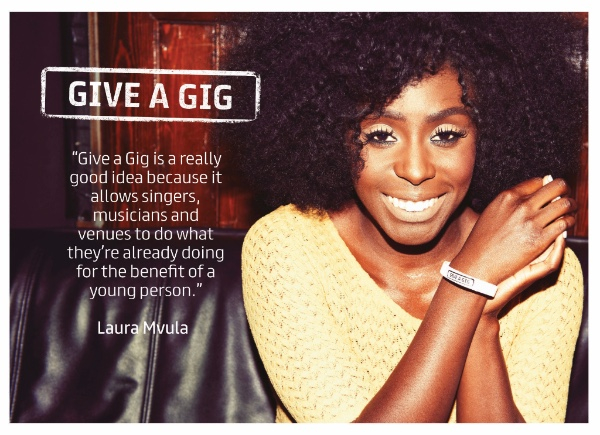 'Without Youth Music we wouldn't have got to where we are today, honestly! We're supporting Give a Gig 'cause we want others to have the same opportunities for making music that we did' Rizzle Kicks
Give a Gig Week will be a nationwide music-making extravaganza, with the charity aiming to have 100 gigs happening in this one week.
Gigs can take place anywhere, from your own living room, local pub to legendary music venues or more unusual spaces. One band, The Monotones, plan to stream gigs live from all Three Peaks in the Yorkshire Pennines!
Getting involved is easy – Youth Music offers a useful support pack with advice on planning and promoting gigs, as well as an online poster generator for creating publicity materials.
Sign up at www.giveagig.org.uk
"We're really excited about Give a Gig Week," says Matt Griffiths, CEO of Youth Music. "The money raised from the 100 gigs across the country will ensure that young people experiencing challenges in their lives can regularly make music. Musicians, bands and those making music for fun know first-hand the personal and social benefits of music-making and how it can help overcome really difficult situations. I urge you to get involved and put on a gig so that many more young people have that opportunity too. "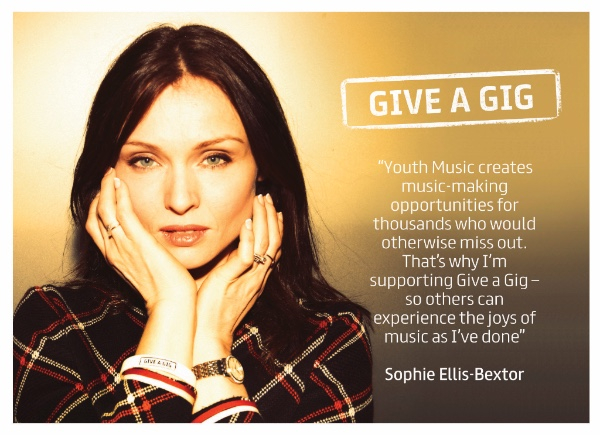 Pop star Sophie Ellis-Bextor spoke up for the initiative: 'Music is a huge part of my life and I feel so lucky to have been able to make a career out of something that I love so much. Youth Music creates music-making opportunities for thousands who would otherwise miss out. That's why I'm supporting Give a Gig – so others can experience the joys of music as I've done'
Youth Music, founded in 1999, is a national charity investing in music-making projects for children and young people facing challenging circumstances. These challenges include disability, poverty, mental health issues, refugee status or being brought up in care. Each year more than 350 Youth Music projects are happening across England. That's around 75,000 children and young people regularly making music.
The projects support practical, creative music-making of every possible style and technique, with activities including songwriting, music production and performance. Projects include Amies Freedom Choir in London which supports young women who've been trafficked into the UK and the Songbirds project which provides music-making for seriously ill children on the wards of Royal Manchester Children's Hospital.
As well as helping young people develop musically, Youth Music projects also improve their personal and social skills, helping them to face difficult challenges in their lives. Communities divided by prejudice or gangs can be brought together to perform. Writing lyrics can enable a bereaved teenager to express their grief. Making hip-hop beats can help a kid understand maths in a way they never grasped at school.
Before their chart-topping success, Rizzle Kicks performed on the Youth Music stage at the Underage Music Festival in 2009. Laura Mvula honed her songwriting skills with Black Voices, a project supported by Youth Music in Birmingham, while rising grime star Elf Kid has taken part in the No Hats No Hoods project in Lewisham, South East London.
Amies Freedom Choir in London, which supports young women who've been trafficked into the UK, is run by Pan Intercultural Arts with financial support from Youth Music.
The Songbirds project, which provides music-making for seriously ill children on the wards of Royal Manchester Children's Hospital, is run by LIME Music for Health with financial support from Youth Music
Twitter: @giveagig #giveagig
Facebook: www.facebook.com/giveagigweek
Instagram: http://instagram.com/give_a_gig
Online: www.giveagig.org.uk
Give a Gig Week takes place nationwide from 24 -31 March, 2017. To register your gig visit www.giveagig.org.uk
For enquires about registering gigs, please contact
Mark Pierce,
Fundraising Officer,
Youth Music
Tel: 0207 902 1097
Email: mark.pierce@youthmusic.org.uk