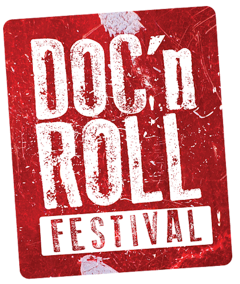 As part of the festivities, Doc'n Roll will be showcasing a series of sublime films focusing on subjects from: fierce pioneers of American grunge punk L7; the extraordinary Ella Fitzgerald; immeasurable jazz icon John Coltrane; Matt Johnson's recently-revived seminal post-punk outfit The The; the bubbling underground Techno scene of Iran; … PLUS an unflinching and deeply personal look into the life of 18-time Grammy winner and rock god: Eric Clapton……
Doc'n Roll is supported by the BFI using funds from the National Lottery to grow audience appetite and enjoyment for a wide range of independent British and international films.
Doc'n Roll Film Fest launched in 2014 and set out on a mission to show recognition to the under-the-radar music films that are largely ignored by risk-averse film programmers. Post-screening Q&As, DJ sets and live music themed on the films, all add to the overall cinematic experience.
Tickets on sale from 9 April 2018 via http://www.docnrollfestival.com/films/
Film and listings information
Pure Love: The Voice of Ella Fitzgerald
Dir. Katja Duregger, 2017, Germany, 52mins
19:00 WEDNESDAY 2 MAY – HULL TRUCK THEATRE
* * Hull Premiere **
Focusing on the phenomenon of her extraordinary voice, this film pays tribute to The First Lady of Song – Ella Fitzgerald – on what would have been her 100th birthday on 25 April 2017. Fitzgerald's voice is a phenomenon and unrivalled to this day. With absolute pitch and perfect intonation, her voice spanned three octaves, her phrasing seemed effortless, and the odd moments in her nearly 60-year career when she sang off-key were few and far between. There is almost no style of music in which she did not excel, and her numerous – now legendary – recordings of the Great American Songbook with pieces by US composers such as George and Ira Gershwin, Harold Arlen, Cole Porter and Duke Ellington remained a benchmark for the interpretation of those songs for generations of singers. Ira Gershwin is rumoured to have said: "I didn't realise how good our songs were until Ella sang them." Duregger unravels the secret of Fitzgerald's voice via insights from singers Dianne Reeves and Dee Dee Bridgewater, jazz drummer and producer Terri Lyne Carrington, jazz violinist Regina Carter, author Tad Hershorn and the eminent jazz critic Will Friedwald, among others. They describe the impact her voice had and continues to have on their lives.
Raving Iran
Dir. Susanne Regina Meures, 2016, Switzerland, 84mins
Skype Q&A with director TBC
19:00 THURSDAY 29 MARCH – HULL TRUCK THEATRE
* * Hull Premiere **
Anoosh and Arash are at the centre of Tehran's underground techno scene. Tired of hiding from the police and their stagnating career, they organise one last manic techno rave in the desert, under dangerous circumstances. Back in Tehran they try their luck selling their illegally manufactured album. When Anoosh is arrested, there seems to be no hope left. But then they receive a phone call from the biggest techno festival in the world. Arriving in Switzerland, they are overwhelmed by the realisation of their own dream. The response from radio and newspaper interviews and the acclaim of millions of ravers and other DJs catapult them into another sphere.
The Inertia Variations
Dir. Johanna St Michaels, Sweden/UK, 2017, 85 mins
19:00 FRIDAY 4 MAY – HULL TRUCK THEATRE
* * Hull Premiere **
Matt Johnson of post-punk band THE THE, known for his intensely personal and political songs, has remained silent as a singer-songwriter for the last 15 years. Conflicted by creative inertia, he has observed from the side-lines as corporate state propaganda has swamped the cultural airwaves.
To try and purge his feelings of disenchantment—and to attempt to relocate his mojo and muse—Johnson decides to challenge the narrow media consensus through his own radio broadcast. A long-term listener of shortwave radio, he launches Radio Cineola, his conceptual version of this romantic medium, via a live midday to midnight marathon. The show includes not only live music and poetry, but also interviews and discussion about where local, national and international democracy now stands in the 21st century. The guests range from geo-political analysts to local activists, from students of mind control to semiotics experts, from teachers to healers. A promise to the director of the documentary, his ex-partner Johanna St Michaels, to write a new song for the broadcast stirs up old demons of inertia and bereavement.
Chasing 'Trane: The John Coltrane Documentary
Dir. John Scheinfeld, US, 2017, 99mins
15:00 SATURDAY 5 MAY – HULL TRUCK THEATRE
* * Hull Premiere **
The definitive documentary film about an outside-the-box thinker with extraordinary talent whose boundary-shattering music continues to influence and inspire people around the world. This smart, passionate, thought-provoking and uplifting documentary is not just for jazz heads, but for anyone who appreciates the power of music to entertain, inspire and transform.
Trane was an enigmatic figure whose massive influence on generations of artists has grown even stronger since his untimely death at the age of 40. Scheinfeld's film features great insights from notable fans, including commentary from Denzel Washington, Carlos Santana, Common, Cornell West, and many others.
Eric Clapton: Life In Twelve Bars
Dir. Lili Fini Zanuck, 2017, UK, 131 mins
19:00 SATURDAY 5 MAY – HULL TRUCK THEATRE
From an early age, Eric Clapton was captivated by the blues. As he says of his lifelong fascination: ""It was always one man with his guitar versus the world. He was completely alone and had no options other than to just sing and play to ease his pain."" In this unflinching and deeply personal documentary, director Lili Fini Zanuck (Oscar winner, Driving Miss Daisy) traces Clapton's five-decade career as he reflects candidly on how his life experiences were channeled into music.
Through an extensive archive of performances and home movies, along with audio interviews from those who knew him best-George Harrison and Steve Winwood, among others-we come away with a deeper sense of what inspired the legendary musician and his unforgettable work.
L7: Pretend We're Dead
Dir. Sarah Price US, 2016, 82′
19:00 SUNDAY 6 MAY – The Adelphi
* * Hull Premiere **
Fierce pioneers of American grunge punk, L7: Pretend We're Dead is an engrossing time capsule told from the perspective of L7, these true insiders who brought their signature blend of grunge punk to the masses. Culled from over 100 hours of vintage home movies taken by the band, never-before-seen performance footage, and candid interviews, it takes viewers on an all access journey into the 1990's grunge movement that took the world by storm. Charged with lyrics that had political bite and humour which proved irresistible to the disenfranchised, the marginalised, and the punk, they helped define grunge as the genre of a generation.
Chronicling the early days of the band's formation in 1985 to their height as the 'queens of grunge,' the film is a roller coaster ride through L7's triumphs and failures – a classic tale of rags to riches to rags. Featuring exclusive interviews with Exene Cervenka (X), Krist Novoselic (Nirvana), Shirley Manson (Garbage), Louise Post (Veruca Salt), Joan Jett and many more.