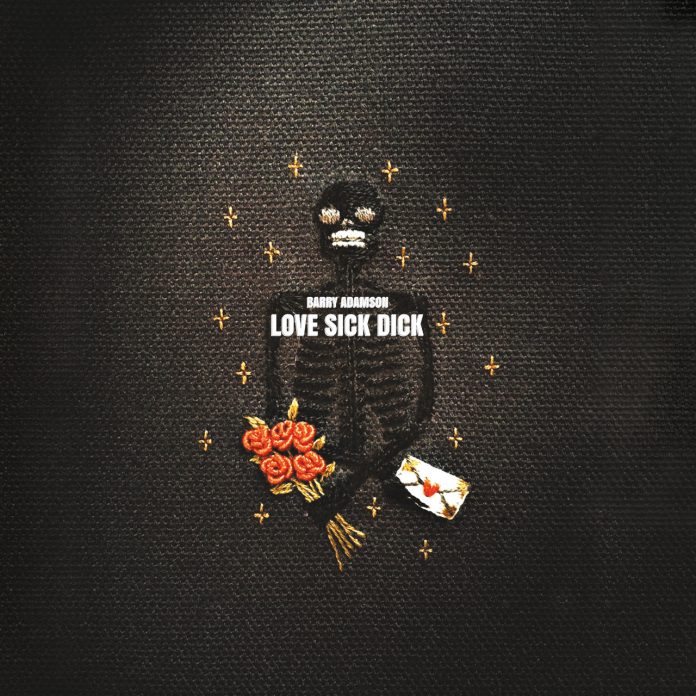 The new release will feature 'Sweet Misery' which premiered on Mark Radcliffe's 6Music show in the UK and on Henry Rollins' KCRW show in the US.
Listen to the track here:
LOVE SICK DICK has the superb combination of the classic Adamson we've all come to revel in plus some fresh new twists, as he takes us on a journey and probes the inner workings of one lovelorn guy in all of his downhearted, paranoiac, grieving, hapless and helpless self! From the pulsating futuristic blues of 'Sweet Misery' where Adamson circles his condition, knowing there isn't any other place to go, to the vampiric, prowling roam of 'They Walk Among Us', where parasites joylessly feed off each other and dance macabre.
Throughout the recording, Adamson says it all with a vocal that is on point and as strong as it has ever been. The other tracks offer no less than sheer forensic testimony to the central theme and condition he is examining. 'One Hot Mess' unashamedly dances forcefully into an intended's ego to tear it apart and claim it, with a confessional punchy bass and thematic disco swagger. 'I Got Clothes' is a manic poem that begs mentor Nina Simone for guidance as it rips and spits out the opening; bluesy and dark and fat at the low end, running and chasing down the object of the character's desire. 'People Like Us' acts as a contemporary pit stop, like Adamson has turned on a nineties radio station while he fills up on fuel and considers the situation at hand before driving off into the distance. 'On Golden Square' is where Adamson digs into his soul to find nothing but a dull, pathetic ache, laid bare by a promise that he can never deliver, his endless optimism (and oddly, his mother's!) convincing us and himself that what is 'all right' is also 'so right' as synths swirl around and tease an old school fifties style riff.
Just like the singular central character in Adamson's new record, Barry recorded the whole project solo, living up to his multi-instrumentalist hallmark by programming, playing live and sampling and stealing every note you hear on each track, exploring some really interesting techniques in doing so and using modern technology to make an old wail.
To quote Adamson: 'The blues is the blues and if the heart aches then that's the sound that will come out whether you are playing guitar, a synth, a piano or playing futuristic guitar solos on your iphone!'
Barry Adamson embarks on a solo tour in April, full details below
Barry Adamson 2017 Tour Dates
22 April – Manchester, Ruby Lounge
24 April – Glasgow, King Tuts
26 April – Bristol, Thekla
27 April – London, M.O.T.H Club
Tickets are on sale from http://listings.ticketweb.co.uk/barryadamson
Love Sick Dick pre-order available from: www.barryadamson.com