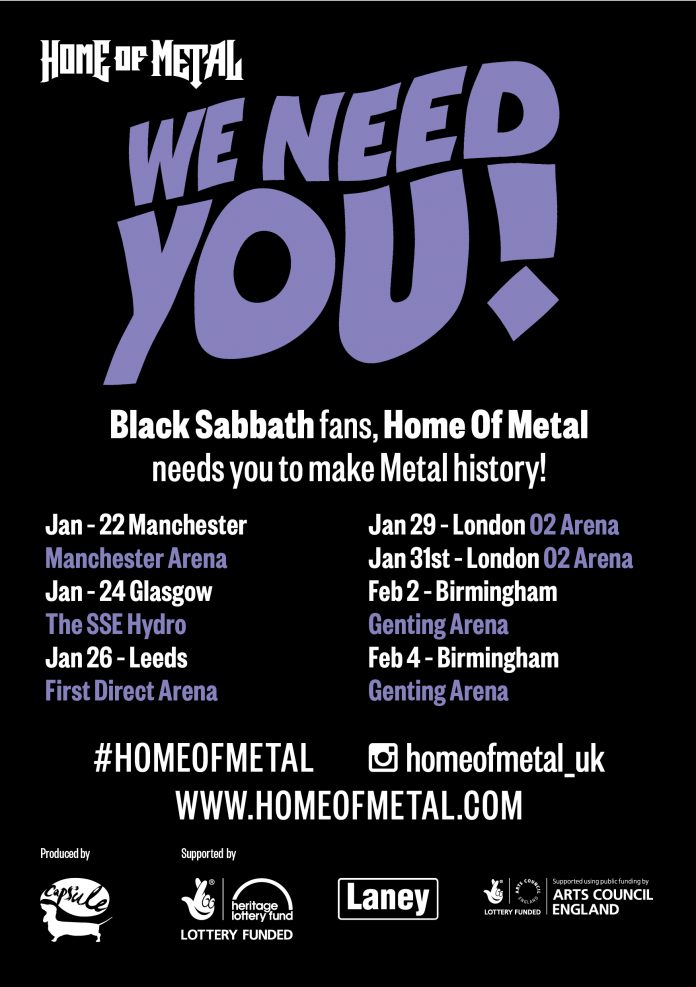 "It's an honour to be a part of the Home of Metal. I am just a guy from Birmingham who's been blessed to have had such dedicated fans throughout my career. Like I've always said 'I am nothing without them." Ozzy Osbourne
"Fans are our lifeblood, they've always been there to support us. The audiences have been getting bigger as the tour progressed, it's been amazing. " Tony Iommi
Established by Capsule in 2007, Home Of Metal is a ground-breaking project that examines the origins of Heavy Metal and its birthplace in Birmingham and the Black Country. Delivered across fifteen major arts institutions, including a large-scale exhibition at Birmingham Museum and Art Gallery, Home Of Metal brought together unseen artefacts, relics, memorabilia and personal stories sourced directly from the fans alongside iconic items from bands including Black Sabbath, Judas Priest and Napalm Death.
Over 200 000 people attended events and activities during the summer of 2011 and it was shortlisted for a National Lottery Heritage award, for the title of Best Heritage Project.
Now, as Black Sabbath approach their final UK tour, Home Of Metal will be there at every show to take portraits of the fans coming to pay their final respects to the gods of metal. Come and find them in the foyer of each venue and they will also be situated at Birmingham New Street Station from Thursday February 2nd to Saturday 4th from 3-7.30pm.
The Birmingham New Street Station stand will also allow fans the chance to have a go on a Gibson guitar and Laney amp, the same set-up that Tony Iommi uses to create his iconic sound, albeit smaller and in practice amp form!
Home Of Metal aims to explore how the music of four working class lads from Aston, Birmingham captured the hearts and minds of fans globally. A testament to their loyalty, the project will pay homage to the fan's devotion and document the forty year relationship. Home Of Metal will work with fans, volunteers and the community to harness the power of social media, make portraits and capture and collate stories that mark this unique moment in history. The content collected will be used to develop an active online archive which will form part of a future exhibition.
To help achieve this, Home Of Metal is asking all fans to contribute to the archive by uploading your photos of your related memorabilia to help inform the content of an exhibition that will tour internationally in 2018, followed by a summer season in Birmingham and the Black Country in 2019. We are working towards a permanent collection to celebrate the legacy of Black Sabbath and Birmingham, the birthplace of metal here: www.homeofmetal.com/the-archive
"An artist or band's success can be measured by their relationship with the fans and the success of the 'Home of Metal' exhibition brought home just how dedicated and loyal ours are" explains Black Sabbath guitarist and founder Tony Iommi. "It's always humbling to realise how you've touched people's lives with your music, a project where fans are actively involved would be great."
Come and find Home Of Metal on the Black Sabbath tour at:
Jan 22 Manchester – Manchester Arena
Jan 24 Glasgow – The SSE Hydro
Jan 26 Leeds – First Direct Arena
Jan 29 – London 02 Arena
Jan 31st – London 02 Arena
Feb 2 – Bham Genting Arena
Feb 4 – Bham Genting Arena
To get more info, contribute to the archive, or become a volunteer go to www.homeofmetal.com
Home of Metal is supported by the Heritage Lottery Fund, Arts Council England, Laney Amplification and Live Nation