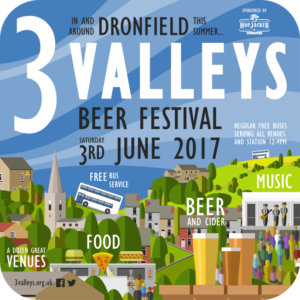 The organisers have increased the number of family friendly venues this year too with face painting, bouncy castles, a bucking bronco, a kids disco, a circus skills workshop, balloons, ice cream vans and tuck shops all waiting to be discovered on the day!
On the live music front 3 Valleys will see 30 different artists including vocalists, musicians, brass bands, tribute acts, rock bands and more. There will also be a number of DJs keeping visitors dancing into the evening.
More information is available at http://www.3valleys.org.uk.
Music
20ft Squid Blues Band – Coach & Horses
AK47 – Miners Arms (Dronfield Woodhouse)
Arron Burdon – Jolly Farmer
Craig Boden – Barrack
Dave Perkins – Barrack
Doohickey Band – Barrack
Drive Me Home Band – Dronfield Arms
Dronfield Brass Band – Three Tuns
Dronfield Buskers – Three Tuns
Gerry Cooper – Coach & Horses
Girl Band – Pioneer Club
Hallowed Traveller – Miners Arms (Hundall)
Jackson – Miners Arms (Hundall)
Jazz Trio – Three Tuns
JJ Galloway – Pioneer Club
Junkyard Dog – Green Dragon
Late Night Legacy – Blue Stoops
Legends of Rock Show – Hill Top Sports & Social Club
Lyndsey Dracass – Green Dragon
Machin and Ian – Dronfield Arms
Mat Whale & Little Convoy – Blue Stoops
Meat Loaf Tribute – Hill Top Sports & Social Club
Rib Eye – Miners Arms (Hundall)
Sam Wain – Manor House Hotel
Sea Whores – Coach & Horses
Supercrush – Dronfield Arms and Green Dragon
T'Other Band – Three Tuns
Tres Amigos – Hyde Park Inn
Ultimate Elton John – Hill Top Sports & Social Club
Waddy Band – Blue Stoops
Family Activities
BARRACK: details still to be confirmed.
BLUE STOOPS: Balloon making, circus skills, face painting and more
DRONFIELD ARMS: Face painting and tuck shop
HILL TOP SPORTS & SOCIAL CLUB: Bouncy castle, ice cream van, kids disco and children's games.
PIONEER CLUB: Bouncy castle, bucking bronco and more.
All venues will have outdoor areas.