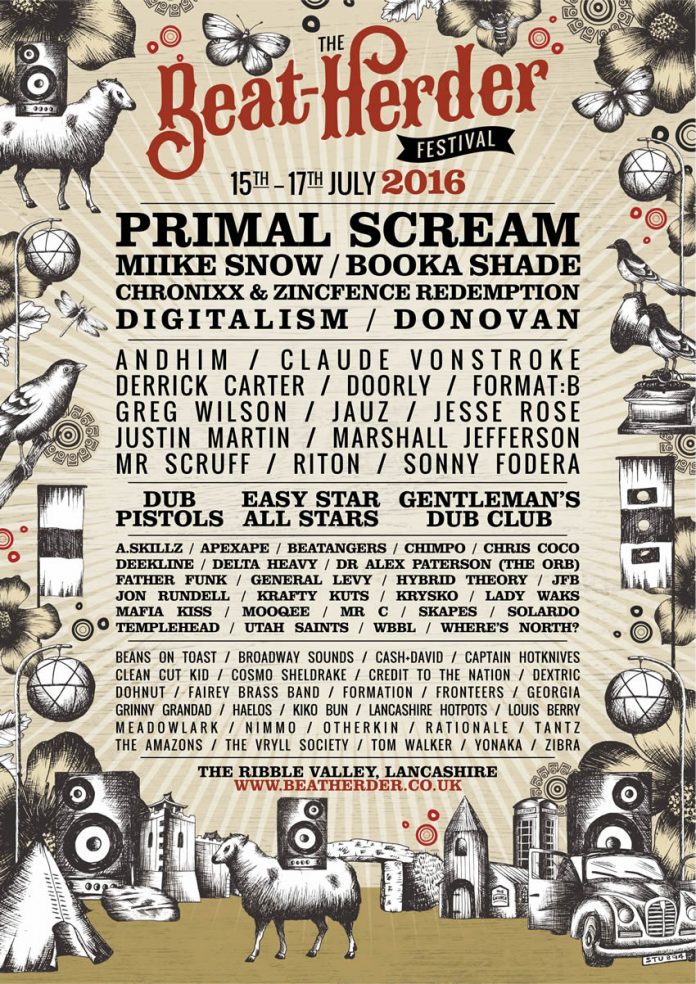 The jewel in the crown of Northern England's festival calendar, Beat-Herder, today releases a string of new acts added to its already-stellar line-up. Todd Terje will be playing his infectious Norwegian disco live in his Sunday main stage headline slot, while beat-boxer extraordinaire and production whiz Beardyman will invite a supergroup of world class musicians and freestyle MCs to make a brand new album live, inspired song titles made up by the audience in his Dream Team Sessions.
Acid house and techno veteran A Guy Called Gerald and co-founder of avant-dubstep label Skull Disco, Appleblim are confirmed for Trash Manor. Elsewhere The Fortress, one of the most exhilarating stages at Beat-Herder, is set to pop off courtesy of BBC Radio 1 DJ B.Traits who headlines the Friday. Bristolian DJ/production super duo Stanton Warriors will take their turn to spin their genre-spanning records on Sunday and on Saturday there will be an Off Me Nut Records take over, plus sets from Ed Solo, Paul Taylor and Mark Archer (Altern8). The trance contingent will be represented by pioneers of the scene, Union Jack.
Legends in the drum 'n' bass scene, TC feat MC Jakes will headline The Ring on Saturday, joining the festival's burgeoning all-star cast of D&B favourites including Jauz, Delta Heavy, A Skillz and jungle veteran General Levy.
Also announced today is the comedy line up. Taking over the Maison D'etre stage on Sunday afternoon will be the magnetic Tom Stade (Live At The Apollo, Michael McIntyre's Roadshow, The John Bishop Show), stand-up storyteller Rob Rouse (8 Out of 10 Cats, Celebrity Juice, Dave's One Night Stand), former comedy reviewer turned comedienne Fern Brady (8 Out of 10 Cats, Seann Walsh's Late Night Comedy Spectacular), Keith Carter, Rob Mulholland, Danny Sutcliffe and more.
Never one to rest on their laurels, Beat-Herder has earned a reputation for keeping punters guessing by creating new stages, surprises and secret areas year on year. One of the most inventive festivals when it comes to production and set design, the 2016 edition will boast not one but two new areas. For the first time in its history, Beat-Herder will be teaming up with esteemed psychedelic party crew Sunrise. Now in its 19th year, Sunrise started in Manchester and has grown to be one of the most well-respected psytrance parties today. Expect top production, wild sounds courtesy of the mighty Opus Sound System, UV eye candy and the best psychedelic music ranging from chilled to psybreak and right right through to full on stompers.
Also new for 2016 is The Illustrious Society stage, the "home of the Good, the Glitterati and the Intelligentsia" will be setting up at Beat-Herder. Suits, steam punk or vintage attire are mandatory for entry.
The Perfumed Garden is an enigmatic stage nestled in the Beat-Herder landscape: somewhere to sit and eat delicious food and drink a cool brew while listening to an eclectic selection of music. Headlining Friday is Bobby Bird's electro/ambient project Higher Intelligence Agency (live), with London/Bahrain five-piece Flamingods headlining Saturday.
Once you've had your fill of food and drink, head to the Smoky Tentacles Shisha Lounge for the finest acoustic acts, dubbed out poetry and downbeat sounds, with reggae/hip-hop duo Subculture Sage and gypsy-folk-meets-jungle group Ushti Baba also announced.
New announcements include:
Todd Terje Live
Beardyman's Dream Team Sessions Ft. MCs Leen And Serocee
A Guy Called Gerald
B.Traits
Stanton Warriors
TC Feat MC Jakes
Ed Solo
Appleblim
Higher Intelligence Agency (LIVE)
Union Jack
Flamingods
Mark Archer (ALTERN8)
Paul Taylor
Subculture Sage
Comedy line up announced:
Tom Stade, Rob Ruse, Fern Brady, Jack Evans
Plus 2 new stages announced for 2016:
Sunrise
The Illustrious Society
Also announced:
Abba Arrival / Tan Dem / Big Bad Sound System / Henge / Jinx In Dub / Jon Sterckx / Mojo Filter / Mrs Cakehead / New Kingston / Paddy Steer / Pete Lawrence / Phatworld / Smiley Maxx / Steve Thorpe / Spongebob Squarewave / Oh My God! It's The Church / Thorpey / Trikilatops / Ushti Baba / Nipples Of Venus
Perfumed Garden Line-Up Additions
Higher Intelligence Agency / Flamingods / Paddy Steer / Henge / Mrs Cakehead / Jon Sterckx / Trikilatops / Mister Tooley / Shack / Ennio Maccaroni / Waka / Stagger Lee Fisher / Lez Scott / Stee Bowden / Kate Fear / Paul Woodgnome / Liz Collier / Dj Phez
Smoky Tentacles Shisha Lounge Stage Line-Up Additions
Rumjig / Maxi Roots In Cumbia / Tantz / Dj Rorshack / Hot Damn / Head Tentacle / Louise Coady / Lewis Garland / Wenro / Matt Montez / Paper Cranes / Lyons And Lazel / Midnight Zu / Solana / Ushti Baba / New Kingston / Jinx In Dub W/Dub Dadda / Tom Spiral & Escape Roots / Dj Feline / Jon Dawes Pc / Marc Constantine / Shunya / Kalika / Mama Jerk & The Ladyfingers / Binbag Wisdom / Skayaman / Subculture Sage
Information and tickets: http://beatherder.co.uk/