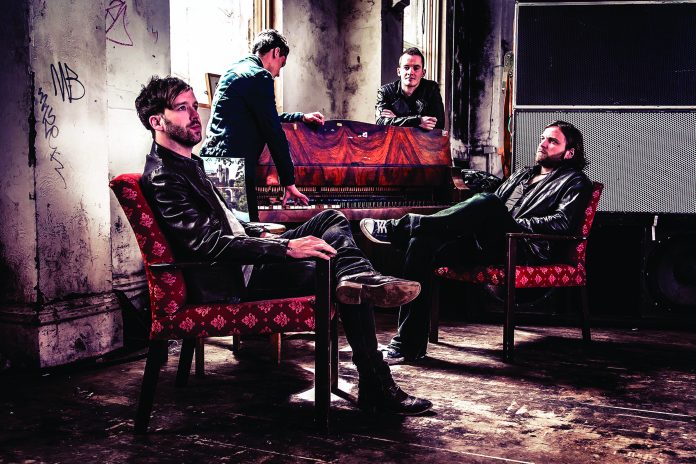 UK shows with Black Star Riders, Joanne Shaw Taylor and UFO and slots on the main stage at the Minehead Giants of Rock, The Rock & Blues Festival in Skegness, and at Hard Rock Hell 9 in Pwllheli sealed a definitive year for the Manchester born ensemble.
The twin guitars of Nick Bowden and Paul Bowe are intricate and polished, with Bowden's vocals defying conventional range and Bowe's captivating showmanship. The two guitar prodigies are ably assisted by the rhythm section of bassist L.D Morawski and Danny Rig on drums, making for an exciting act that are already being hailed as the 'next big thing' in the new wave of alternative blues rock bands.
2016 is shaping up in a similar manner with Giants Of Rock (again), a Planet Rock sponsored UK tour in March with Australian rockers Tracer, and the second release from 'Across The Divide' –  'Guess What' – play-listed at Planet Rock for 6 week. 'Master Plan' will be released to coincide with the 'Crossing The Divide' tour.
Upcoming live dates
June 10 Nice & Sleazy – Glasgow
June 11 Gullivers – Manchester
June 12 Picturedrome – Holmfirth
June 30 Maze – Nottingham
July 1 Leopard – Doncaster
July 2 Live Rooms – Chester
July 7 Louisiana – Bristol
July 8 Clwb Ifor Bach – Cardiff
July 9 Cavern – Exeter
July 13 Adelphi – Hull
July 14 Slade Rooms – Wolverhampton
July 15 Railway – Winchester
July 16 Brewood Festival
July 20 Head Of Steam – Newcastle
July 21 Nambucca – London
July 22 Crauford – Milton Keynes
July 23 Waterfront – Norwich
Tickets: www.federalcharm.com/tickets
Soundcloud:
https://soundcloud.com/proktor-wire-sound-com/federal-charm-silhouette-192kb-mp3/s-FjhLe
YouTube: https://www.youtube.com/watch?v=xoXNQFZCNdk&feature=youtu.be
Website: www.federalcharm.com
Facebook: www.facebook.com/federalcharm