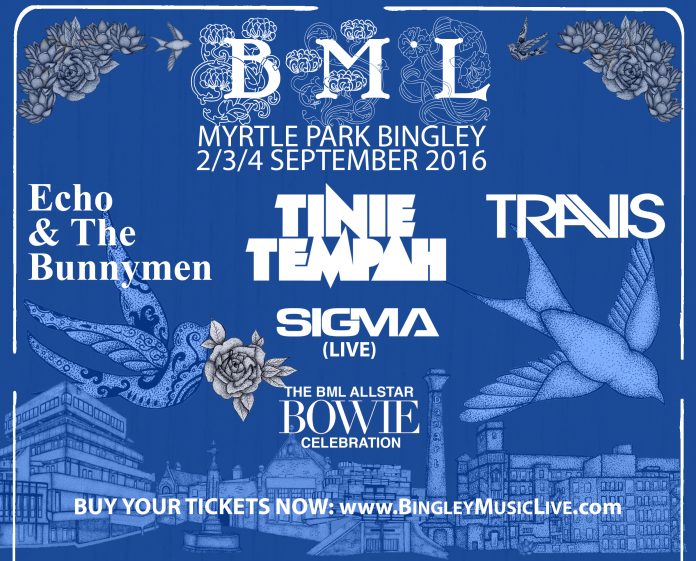 Seven number one singles and rising, there is no doubt that Tinie Tempah is one of the leading lights of the UK music scene and a massive coup for BML.
Exploding onto the top of the UK charts in 2010 with the BML 2015 headliner, Labrinth produced track 'Pass Out', the smash hit gave birth to the career of both artists. Having received two Brit Awards in 2011 for Best British Breakthrough Act and Best Single he has continued to collaborate with other artists such as Ellie Goulding on 'Wonderman', BML 2014 artist Jess Glynne on 'Not Letting Go' and recent KDA Number One 'Turn The Music Louder (Rumble)' with BML 2013 artist Katy B.
One of the most celebrated multi Brit Award winning and platinum selling bands, Travis, make their long awaited return to the British musical landscape. The band have been responsible for hit after hit with huge tracks such as 'Sing', 'Writing to Reach You', 'Flowers In The Window', and the anthem of all anthems, 'Why Does It Always Rain on Me'.
Appearing as a guest presenter on Radio One, Coldplay's Chris Martin heaped praise on the Scottish band as "the band that invented my band and lots of others" and in 2013 The Killers paid tribute during their headline set at T-in-the-Park, covering Travis' 'Side'. Long awaited new album 'Everything at Once' is due for release in April 2016.
Chart topping exponents of Drum and Bass, Sigma will no doubt be welcomed with open arms as they take to the Myrtle Park stage. The act topped the UK charts with "Nobody to Love" and in 2014 they released their second consecutive number one "Changing" co-written by BML 2015s Ella Eyre and featuring Brit Award winning Paloma Faith with smash hit "Higher" featuring BML 2015 headliner Labrinth. Sigma's fourth iTunes number one and top 5 hit, "Glitterball" was released last year with guest vocals from Ella Henderson.
Returning sons Echo and the Bunnymen, will hit the stage for the 10th anniversary of BML still led by the intense voice of Ian McCulloch and guitarist Will Sergeant. One of the greatest songwriting acts the country has ever produced, tracks include 'The Cutter', 'Bring on the Dancing Horses', the anthemic 'Nothing Lasts Forever' and the spellbinding 'Killing Moon' ahead of a new album rumoured for release later this year.
Following the recent untimely death of David Bowie, BML will pay tribute this year with a host of very special guest artists each performing their favourite David Bowie track in what is sure to be a very special festival moment.
The first wave of tickets for the festival, on 2-4 September, in Bingley's Myrtle Park, are on sale now. For more details, see festival website – bingleymusiclive.com for details. This year, tickets are being sold in two tiers, meaning the sooner people buy tickets the less they pay. This year, a new ticket price category for teen tickets for 12-15-year-olds is available. There is also a four month payment plan for those who would prefer to spread the cost and for the first time ever, on-site camping.