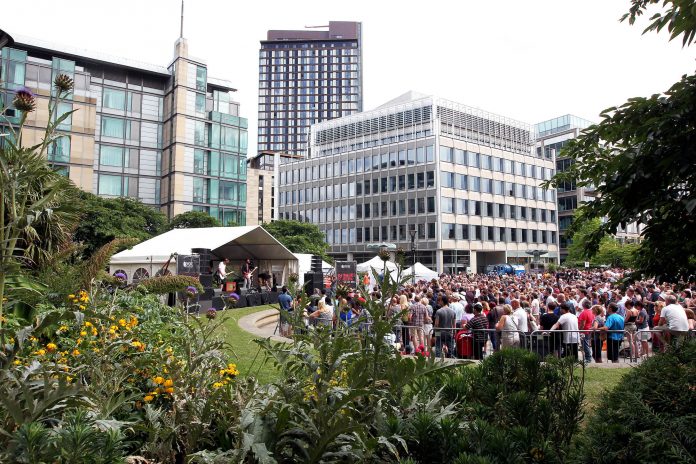 The Fringe at Tramlines returns to Sheffield over the weekend of 22nd to 24th July with a full programme of events following a stripped back festival in 2021. With support from Sheffield BID, the city centre will be bursting with music and entertainment over the weekend as people take to the streets for the biggest party of the year. The free outdoor stages (Devonshire Green and The Peace Gardens) and Sheffield city venues, bars, pubs and clubs will feature a huge array of live music and DJs, creating a unique festive atmosphere across the city centre and beyond.
The main arena for the Fringe at Tramlines at Devonshire Green will feature a large stage and a fantastic range of food and drink. Curated by local legend Papa Al, this stage aims to include a diverse range of music representing the great variety of culture in Sheffield.
Saturday headliners Jungle Lion are a frenetic 10-piece ska band with a long history of performances during the Tramlines weekend. Jungle Lion are joined by the outlandish Captain Avery, Romano Jilo (a local Romani dance group), Neighbourhood Voices (60 strong all female choir), Blue Street Brass, LAIK and post-punk electronic sounds from Speed for Lovers. DJs on Saturday include Andy H, Ian Hodgson, Kom Kom, Broc Pastor and Dubcentral. The host for the day will be acclaimed singer, songwriter and producer, April Ess.
Sunday at Devonshire Green is headlined by Highway Child (soul, blues and funk classics) and the magnificent Sheffield Beatles Project who are a super group of local musicians playing music from The Beatles. Also performing are Solar Love (reggae, dub, Latin), Tin Soldiers (15 piece festival band), alt folk from Before Breakfast and Sheffield based singer songwriter Teah Lewis. DJs on Sunday include festival specialist Jimmy the Gent, Kat Sugi, Myna, Rob Cotterell, Aejazz Zee and Papa Al. The hosts for Sunday will be Penny and Johnny.
Papa Al – Stage Curator said 'The Fringe at Tramlines stage on Devonshire Green is going to be brilliant this year and I really relish the chance to put some of the city's finest musicians on the stage. With the Women's Euros in town, and both footballers and supporters coming here, there's an emphasis on women in music, with five female DJs playing over the weekend, a 60 strong female choir and some truly talented musicians gracing the stage.'
The Peace Gardens will feature DJs with a multitude of music genres that are guaranteed to get people dancing. Hosted by Sile Sibanda of Radio Sheffield (who will also DJ), Saturday highlights include a DJ set from Dorian Cox of The Long Blondes and an open deck event hosted by local music shop and venue, Record Junkee. Also featured are Herbal T & Mikki Revel from Bradford FM playing a smooth mix of reggae, dub and soul and Jesus Hairdo, former DJ from the famous 'Brighton Beach' club night. Also on Saturday are nON sTOP eROTIC cABERET with dark electro pop and Manchester DJ/Producer Xariella Music.
Sunday will also feature SIle SIbanda and Record Junkee DJs whilst Henry from The Orielles will play an Indie Rock set and Emily Pilbeam will play the best unsigned, undiscovered music from across the region.
With so much musical entertainment being hosted across the city, Sheffield City Council have partnered with app developers Woov to create a brand new mobile app that will include a comprehensive guide to everything that's taking place over the weekend. The free app can be downloaded for both Android and Apple devices using the link woov.to/tramlinesfringe
The Welcome to Sheffield webpage also features dedicated 'The Fringe at Tramlines' pages and is a great source of general information about Sheffield. It has suggestions for discovering areas around the city to eat, drink and hang out over the whole weekend. www.welcometosheffield.co.uk/thefringe
A printed programme is also being produced by Exposed Magazine and will be distributed across the city in advance of the event with digital version via the Exposed website. https://www.exposedmagazine.co.uk/