The ultimate celebration of all things Gothic and alternative, Tomorrow's Ghosts will return to its spiritual home between Friday 29th to Sunday 30th October 2022. A weekend that relishes in the darkest of arts, from music to markets, performance to literature, and so much more, the festival remains central to the wider events taking place across the town, the official birthplace of Dracula for what will be its fifth year.
FEATURING
Special Guests…
GHOST DANCE + INTO A CIRCLE
BALAAM AND THE ANGEL
Plus….
EVIL BLIZZARD PRESENT 'BLIZZOWEEN'
BOOTBLACKS
ALL MY THORNS
+ MORE TBA
Whitby Pavilion, Whitby
Friday 28th October – Sunday 30th October 2022
Alluring artists from across Europe & the USA, Tomorrow's Ghosts can today confirm those first acts who will be haunting the hallowed halls of the Whitby Pavilion in 2022… Into A Circle, Ghost Dance, Balaam And The Angel, Bootblacks, All My Thorns, AND Evil Blizzard.
Kicking the festival off in definitively gothic style will be Friday's special guests: GHOST DANCE, the band co-founded by Yorkshire goth rock royalty Anne Marie Hurst (once of The Elements and Skeletal Family) along with Gary Marx (formerly of The Sisters of Mercy). Between 1986 and 1989 they released a classic series of singles which formed part of their formidable live set which saw them play the main stage at Reading, tour with the Ramones across Europe followed by one of the most loyal fan bases in the UK. Resurrected by Anne Marie in recent years (backed by ex-Harlequyn members Tim Walker, Phil Noble and Dave Wood, plus Stephen Derigg (formerly of Original Sin)), Ghost Dance are back and recording new music too. Expect to hear brand new single "Falling Down" alongside classic material when they play Tomorrow's Ghosts 2022.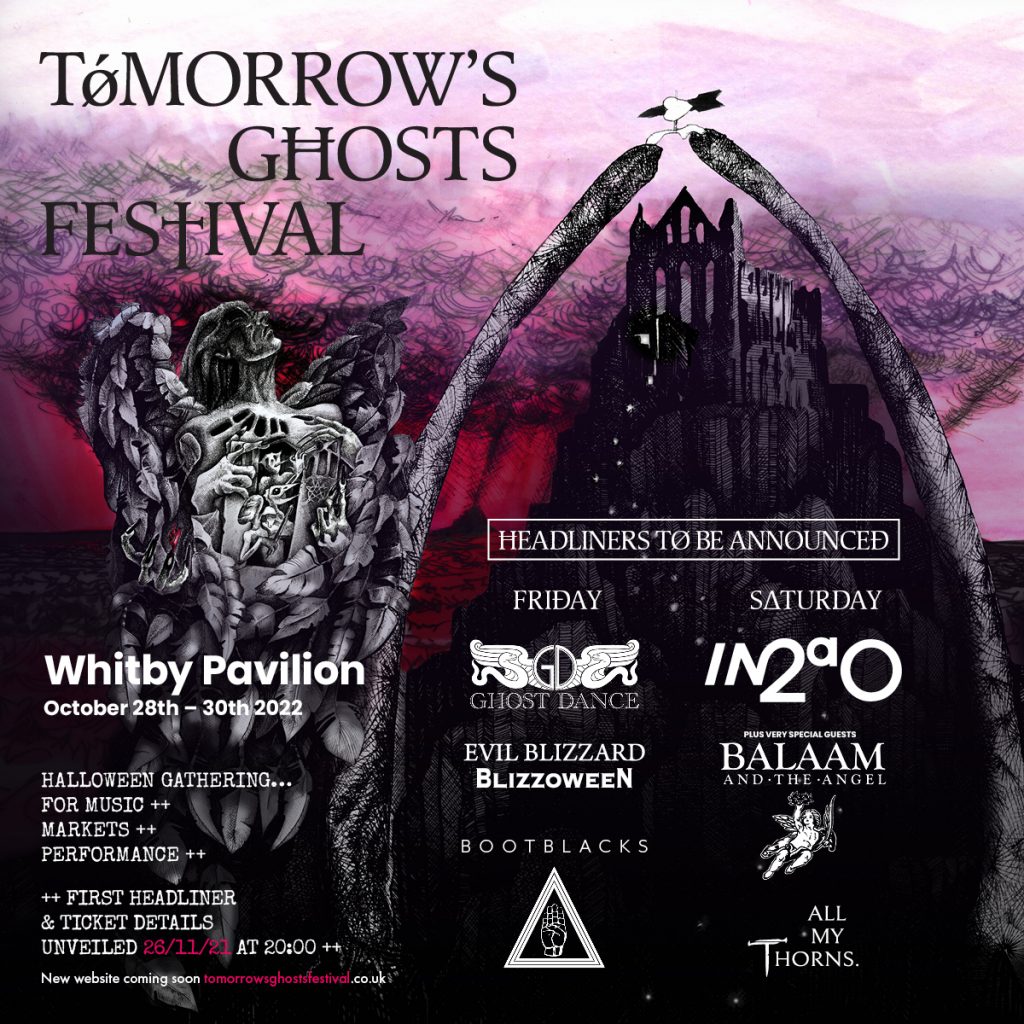 In a bonafide Tomorrow's Ghosts Festival exclusive, Saturday night will witness the festival debut performance from reunited special guests: INTO A CIRCLE. In what will be their first show since 1989, the noir new wave band of Paul "Bee" Hampshire and Barry Jepson will return to the stage in what is certain to be an emotional comeback. The duo (once of the legendary post/punk band Getting The Fear) will be digging into Top 10 Indie Chart denting singles likes "Forever", "Rise" and "Evergreen", along with cuts from their seminal debut album 'Assassins', and even revealing some brand new studio material for the very first time.
Genre aficionados will also be able to reacquaint themselves with the oeuvre of gothic rock originals BALAAM & THE ANGEL who join the festival as Special Guests alongside Ghost Dance and Into A Circle. Formed in 1983, the West Midlands band's debut on Virgin Records 'The Greatest Story Ever Told' is a dead-cert goth classic, with tours alongside The Cult, The Mission, Kiss and Iggy Pop giving the band their formidable live reputation. Rekindling the project over the last decade with a select few live outings, the Tomorrow's Ghosts appearance promises to be a rare opportunity to see Balaam & The Angel in the most fittingly shadowy of settings.
Preparing something of a seasonal special, the singular EVIL BLIZZARD will present their sensory-blitzing annual show 'Blizzoween'. Once described by Classic Rock Magazine as 'THRUMMING WITH DYSTOPIAN MENACE AND MADNESS', Preston's grimmest gang have a hard-earned reputation as one of the most ingenious and charismatic live experiences on the music scene today. Guaranteed to contain harrowing and heavy rock'n'roll thrills and spills, expect a Halloween performance that will spook you to the core.
Elsewhere on the bill, New York City's new favourite nocturnal noiseniks BOOTBLACKS will be flying into the festival especially for the occasion to air tracks from their cultish canon; whereas modern-day goth scene flag-bearers ALL MY THORNS (comprising members of Soma Dawn and Sometime The Wolf ) will be packing-in progressive new age goth/metal cuts galore from their 2021 debut album 'From Here And Earth'.
With very special headliners for both nights to be announced in due course, expect further big reveals as soon as 26th November 2021… Tickets also go on sale that morning and are expected to fly.
TICKETS
Tickets for Tomorrow's Ghosts festival go on presale on Wednesday 24th November 2021 and general sale on Friday 26th November. Links and prices are as follows:
Friday Night Tickets – 28th October 2022- £38.00 Advance STBF
Presale: https://bit.ly/3CrHbfc || General Sale: https://bit.ly/3Fo9366
Saturday Night Tickets – 29th October 2022 – £38.00 Advance STBF
Presale: https://bit.ly/3nr5SV7 || General Sale: https://bit.ly/3oE9EcR