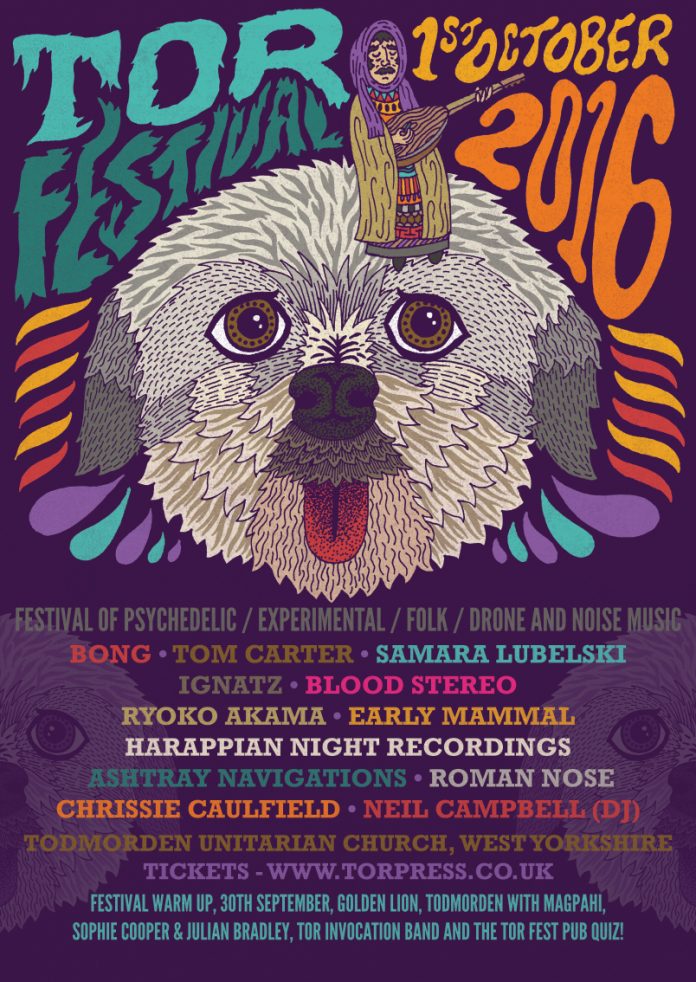 Festival Warm Up Night: Friday 30th September at The Golden Lion, Todmorden
Magpahi – ethereal folk songs filled with mystery and intrigue.
Sophie Cooper and Julian Bradley – new duo experimenting with vocals, trombone and electronics, amazing stuff.
Tor Invocation Band – amorphous group with no fixed line up, dilapidated drone and hazy disintegrating psych.
Main Festival: Saturday 1st October at Todmorden Unitarian Church
Bong – ultra heavy psychedelic doom masters from Newcastle
Tom Carter- founding member psychedelic folk legends Charalambides, spectral guitar metamorphosis.
Samara Lubelski – pastoral folk tinged pop songs, Samara has played in the Tower Recordings, MV & EE, Thurston Moore's band and Chelsea Light Moving, amongst many others.
Ignatz: the alias of Belgium's Bram Devens – sparse, deeply personal and emotive songs, captivating and enthralling.
Blood Stereo – experimental noise duo of Dylan Nyoukis and Karen Constance, always a blast and never predictable, demolished feng shui.
Ashtray Navigations – psychedelic legends consistently producing mind meltingly great music.
Early Mammal – mammoth fuzz cloaked psychedelic rock, heavy stuff.
Ryoko Akama – sound artist from Japan via UK working with objects and electronics, delicate intricate work exploring spaces and environs.
Harappian Night Recordings – anarchic euphoric madness, instruments from all over the world blasted together in a frenetic vortex.
Roman Nose – trio of Jon Marshall, Sarah Mcwatt and Charlie Collins, relentless ecstatic propulsive monsoon.
Chrissie Caulfield – electric violin through more effects pedals than you can count, entrancing stuff.
Tape roast: Sunday 2nd October at The Golden Lion, Todmorden
For those of you still around on Sunday, drop by the Golden Lion for a Sunday roast and some tape djing from Sophie Cooper, Jorge Boehringer and some other guests.
Tickets and further information: http://www.torpress.co.uk/Festival.html