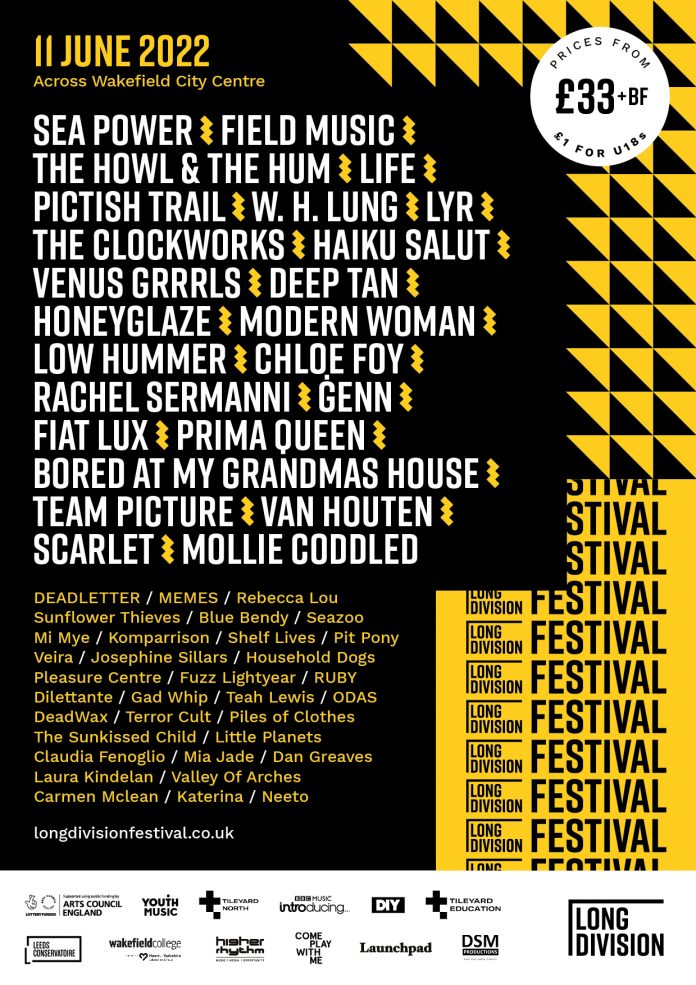 It's the 11th Long Division, and after a switch to September in 2021, it returns to its traditional June weekend. Over 70 artists will perform across the whole day in an exciting mix of city centre venues, all within walking distance (They say walking distance but I'd recommend comfortable footwear).
The choice of bands and artists on the Saturday is almost too much; there will be some hard decisions to make on who to see and who you'll have to miss. Fortunately there's a Clashfinder to help you plan your day or, as I always seem to do, go see somebody on impulse.
That's the introduction over, let's look at the details.
Opening event: Simon Armitage in Conversation
Wakefield Town Hall, Friday 10th June
Poet Laureate Simon Armitage will be in conversation with Chris Madden (Chinwag) for a unique evening of poetry and discussion. He will also read new work and take questions from the audience.
Simon Armitage was born and grew up in West Yorkshire. He is the recipient of numerous prizes and awards, including the Queen's Gold Medal for Poetry and the PEN Prize for Translation. He has published over a dozen poetry collections, including Magnetic Field, and acclaimed mediaeval translations of Sir Gawain and the Green Knight and The Owl and the Nightingale. He is the author of two novels and three non-fiction bestsellers: All Points North, Walking Home and Walking Away.
A regular broadcaster, Armitage presents the popular BBC Radio 4's series The Poet Laureate has Gone to his Shed. He writes extensively for television and radio, most recently for BBC 2's Where Did The World Go, A Pandemic Poem. An award-winning dramatist, his play The Last Days of Troy was performed at Shakespeare's Globe.
He writes, records and performs with the band LYR (who will be performing on Saturday) and has received an Ivor Novello Award for his song writing.
Armitage is Professor of Poetry at the University of Leeds. His critical book A Vertical Art brings together the vibrant and engaging lectures from his tenure as Oxford Professor of Poetry (2015-2019).
Tickets: https://www.seetickets.com/event/simon-armitage-in-conversation/wakefield-town-hall/2314861
Festival Day
As you can see from the listing below, we are talking about quality bands in vast quantities. No doubt you'll have favourites you'll want to see, but there's ample opportunity to strike out into musical territories unknown.
There are quite a few LSF favourites playing, so let's start with them, plus the odd personal favourite just for fun. In no particular order of wonderfulness, just by venue.
First up are the post-punk band Deep Tan. They do post-punk in that jerky angular way The Slits did it, but just way sparser. Engaging and hypnotic.
Electropop band Fiat Lux are making their return to their hometown celebrating their 40th Anniversary year. This is their first gig in Wakefield since they reformed in 2017. The band began in the city back in 1982 and were discovered by Wakefield's own Bill Nelson, leading to a debut single with him in the production chair which made the UK Indie Top 5, and gained an NME single of the Week and a major record deal. In their formative years they played many venues big and small in Wakefield.
Fuzz Lightyear play grungy psychedelic garage rock with hints of wild post-punk and musical madness. I've reviewed their releases but never seen them live, so this is going to be a def for me.
Alt-folk band Mi Mye are playing their hometown festival. They make beautiful inventive and emotional music that is completely mesmerising. Mollie Coddled does wonderful meaningful songs in a Bedroom Pop, NuSoul, Dream Pop way. Her songs are a joy.
Leeds' band Van Houten play dreamy psychedelic pop that's a good time epitomised. Ava In The Dark where angelic vocals meet experimental guitar, punchy drums, shimmering synths and fuzzy basslines.
Household Dogs I find hard to describe as can be seen from my recent EP review 'Americana post-punk, Gothic Americana rock, mutant orchestral pop, all figure but don't come close. Whatever we're going to call it, the music is put together with an outstanding level of skill. And while the songs may vary in sound, they have a feel, a mood, that hangs them together'. Hard to describe, yes, but this band are the real deal and a must-see.
Dilettante is an art-rock collective led by multi-instrumentalist Francesca Pidgeon. Wonderful songs, put together beautifully. Sunflower Thieves play folk influenced music with absolutely fabulous vocals.
The mighty VENUS GRRRLS are one of my favourite bands. They play alt-rock/Riot Grrrl songs that address issues as well as being a riot musically. If you've not seen them, see them.
Gad Whip might be loosely defined as a post-punk band. I say loosely because they add in elements of out-there dub-influenced space-rock in the style of one of my favourite bands ever – Here & Now, splashes of electronica, hints of acid, hip-hop, garage-y hard punk and sounds woven into a maelstrom of tumbling mesmerising sound.
So that's my must-see list, other bands I'd like to see are Low Hummer – because I missed them at the last LD, The Howl & The Hum and Field Music – because friends I trust told me I needed to see them, and finally Sea Power – because, well they're Sea Power
And by the way do feel free to drop LSF a line via our Facebook Page or email if there are other bands or artists you think I should see.
Line-up by venue
Listing valid on the day of writing – check the Clashfinder for up to date listings
Venue 23
12:15 – 12:45 Rebecca Lou
13:15 – 14:00 Low Hummer
14:30 – 15:15 The Clockworks
15:45 – 16:30 Pictish Trail
17:00 – 18:00 LIFE
18:45 – 19:45 The Howl & The Hum
20:15 – 21:15 Field Music
22:00 – 23:00 Sea Power
Mechanics Theatre
12:00 – 12:30 Little Planets
13:00 – 13:30 Pit Pony
14:00 – 14:30 Shelf Lives
15:00 – 15:30 Deep Tan
16:15 – 16:45 MEMES
17:15 – 17:45 Veira
18:15 – 18:45 GENN
19:15 – 19:45 Honeyglaze
20:30 – 21:15 Modern Woman
21:45 – 22:30 Fiat Lux
Town Hall
19:45 – 20:30 Haiku Salut
21:00 – 21:45 LYR
22:15 – 23:00 WH Lung
Vortex
13:00 – 13:30 Fuzz Lightyear
14:00 – 14:30 Straight Girl
15:00 – 15:30 Mollie Coddled
16:00 – 16:30 Mi Mye
17:00 – 17:30 Blue Bendy
18:15 – 18:45 DEADLETTER
19:15 – 19:45 Prima Queen
20:30 – 21:15 Bored At My Grandmas House
21:45 – 22:30 Van Houten
Counting House
12:00 – 12:20 Imogen Hart
12:45 – 13:15 The Strangerz
13:45 – 14:15 Pleasure Centre
14:45 – 15:15 Hang Linton
15:45 – 16:15 Ava In The Dark
16:45 – 17:15 Household Dogs
17:45 – 18:15 Yusuf Yellow
18:45 – 19:15 Josephine Sillars
19:45 – 20:15 Downtown Kayoto
21:00 – 21:45 Team Picture
Westgate Chapel
13:30 – 14:00 Dilettante
14:30 – 15:00 Laura Kindelan
15:30 – 16:00 RUBY
16:45 – 17:30 Sunflower Thieves
18:00 – 18:45 Rachel Sermanni
19:15 – 20:00 Chloe Foy
Establishment
12:15 – 12:45 Terror Cult
13:15 – 13:45 Valley of Arches
14:15 – 14:45 Komparisson
15:15 – 15:45 Seazoo
16:30 – 17:00 Scarlet
17:30 – 18:15 VENUS GRRRLS
The Hop
12:45 – 13:10 Young Team Bands
13:20 – 13:45 Young Team Bands
14:00 – 14:20 Young Team Bands
14:45 – 15:15 Surface Waves
15:45 – 16:15 Gad Whip
16:45 – 17:15 Deadwax
17:45 – 18:15 Teah Lewis
18:45 – 19:15 The Sunkissed Child
19:45 – 20:15 Tiger Island
Jolly Boys
12:45 – 13:15 Mia Jade
13:45 – 14:15 Carmen McLean
14:45 – 15:15 Katerina
15:45 – 16:15 Neeto
16:45 – 17:15 Dan Greaves
17:45 – 18:15 Piles of Clothes
18:45 – 19:15 Claudia Fenoglio
Sunday: Long Division+
In the mood for more

LD Website https://longdivisionfestival.co.uk
LD Tickets https://www.seetickets.com/promoter/long-division/10318
LD Clashfinder https://clashfinder.com/m/ld2022