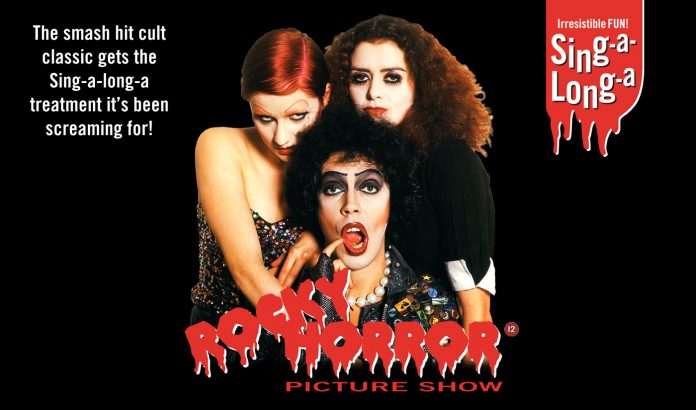 Singalonga Productions' latest film show to come to The Civic is based on the Campest Cult Classic of all time.
Made in 1975 with Tim Curry as Frank 'n' Furter, Susan Sarandon as Janet, Richard O'Brien as Riff Raff and Meatloaf as Eddie, The Rocky Horror Picture Show is the craziest, not to say weirdest, movie ever made.
It's packed full of terrific numbers including 'Sweet Transvestite', 'Whatever Happened To Saturday Night?', 'Science Fiction Double Feature', 'Toucha Toucha Touch Me' and, most memorably, 'The Time Warp'.
Now at long last The Rocky Horror Picture Show gets what it's been SCREAMING for – the full Sing-a-long-a treatment that has wowed audiences around the world. Following on from the original phenomenon, Sing-a-long-a Sound of Music (now in its fifth year in London), the unique interactive format, where the audience are the stars, has been used for Joseph and His Amazing Technicolor Dreamcoat, Fiddler on the Roof, Moulin Rouge, Annie and The Wizard of Oz. Sing-a-long-a Abba, the first live show to use the format, played to sell-out audiences at The Whitehall Theatre in London's West End in 2003.
The fun-filled show starts with a vocal warm-up led by the evening's host, who also takes the audience through their complimentary 'magic moments fun pack', containing various props to be used at strategic points throughout the film. This is followed by a fancy-dress competition in which everyone who has come in costume is invited onto the stage to show off their imaginative creations. The audience then settles down to sing its heart out with on-screen lyrics so everyone can join in.
In the case of Sing-a-long-a Rocky Horror, expect the howling to go on all night!
Fancy dress not obligatory but highly recommended.
Sing-a-long-a Rocky Horror is at The Civic on Friday 3 February at 7.30pm. Tickets are £15.
For more information and to book visit www.barnsleycivic.co.uk or call the Box Office on 01226 327000