I was introduced to GAOB by my schoolfriend Warren (AKA Was) who also introduced to me to Altered Images. Actually he introduced me to whole lot of things that were, at the time, well out of my comfort zone. I recall the day he played a New Order 12" to me in the common room (look I went to the sort of school where we had common rooms, I'm not apologising for that) I was quite, quite stunned. He also introduced me to Rip, Rig and Panic and I think Scritti Politti. I have much to thank Warren for, to be honest.
What I listened to mainly at the time was heavy rock/metal, so jangly post-punk pop was a huge leap. Having taken that leap, well to be honest my record collection seemed to grow a lot, and I was buying stuff I heard on John Peel's show even if I'd only heard a snatch that I liked.
Warren and I went to see Altered Images play, sneaking out of school and sneaking into the venue to see the band soundcheck and actually getting to speak to Clare – who pointed out that she really didn't like my Rush badge (this was actually the cast metal 2112 badge which I was quite proud of then). I don't think she was that keen on my cord jacket either but she was polite enough not to mention that.
I missed his visit to try and get to see GAOB – I think I had had to ring my dad once too often to ask him to come and get me having missed the last train home. He didn't actually get to see the band but he did hear the band's set – this is what he says on the website for GAOB (see links below), although I know how he managed to hear the set, he doesn't actually go into that detail, and I'm not going to tell you either.
What I do recall is the excitement I felt on my first listen to GAOB. It was spikey, fun and witty. It had ragged edges. It was inventive, It was funky. I do recall thinking it sounded a bit like Altered Images in places but also some of the more spiky darker post-punk stuff I heard on The Peel Show. But it sounded like pop music to me, just better pop than the stuff we were hearing on Top of The Pops and daytime radio at the time.
Many websites out there seem to 'lump' them into being Twee. Twee was a sort of jangly post-punk poppy sound epitomised by Talulah Gosh. Altered Images, by the way, were never ever Twee, even if you think 'jangly post-punk poppy sound' fits them to a T.
Talulah Gosh: Trivia
Just because I can, I have to hand some trivia to impart:
Talulah Gosh took their name from a headline on an NME interview with Clare Grogan
The singer from the band – Amelia Fletcher – is now Professor of Competition Policy at the University of East Anglia. She also sits on the board of the Financial Conduct Authority
After the death of the band's drummer the remaining members formed Heavenly and then Marine Research. Both of these featured Cathy Rogers on keyboards and backing vocals, you may be more aware of Cathy as the original co-host of Scrapheap Challenge. That's her with the short hair at the beginning of the video below.
And we're back …
Although some of GAOB's music could be described as Twee, some is more punk-pop or post-punk. There's also a distinct Buzzcocks' influence in some of their songs. Some of it goes way post-punk, way way post-punk into the realm of bizarre sounding pop. It takes influences from anywhere and everywhere, and mixes them into this quite quite wonderful thing. It's pop but not as we know it.
The band I mentioned right at the top of this column actually sound like the Twee-ish GAOB tracks. And there appear to be a few other bands that have some of that Twee-ness, perhaps it's time for Twee revival!
I used to have all of GAOB's recorded material and a tape of their 1981 Peel Session – recorded on a very rickety radio/cassette player – but all except the album 'Pleasure' have disappeared.
There are lots of 80s bands from Leeds that get a huge amount of respect, I think GAOB need adding to that list.
'Pleasure'
Track listing
Pleasure
Too Big for Your Boots
I'm Beautiful Now
Waterbed Babies
Fun-City Teenagers
£600,000
Heaven
China Blue
Fast Boyfriends
She Flipped
Goodbye to That Jazz
You can listen to it here: https://youtu.be/vXmatjQiY8s
I know I heard the album near it's 1981 release date – Warren may have played it to me – although I didn't buy the album until I was at university so it was probably after the band had broken up, although I don't think I was aware that this had happened. I probably missed the issue of NME that carried that news. Finding that bands had broken up months before you found out wasn't that strange at the time.
Mine came with the gift 'Pleasure Bag' which is still complete except for the stencil.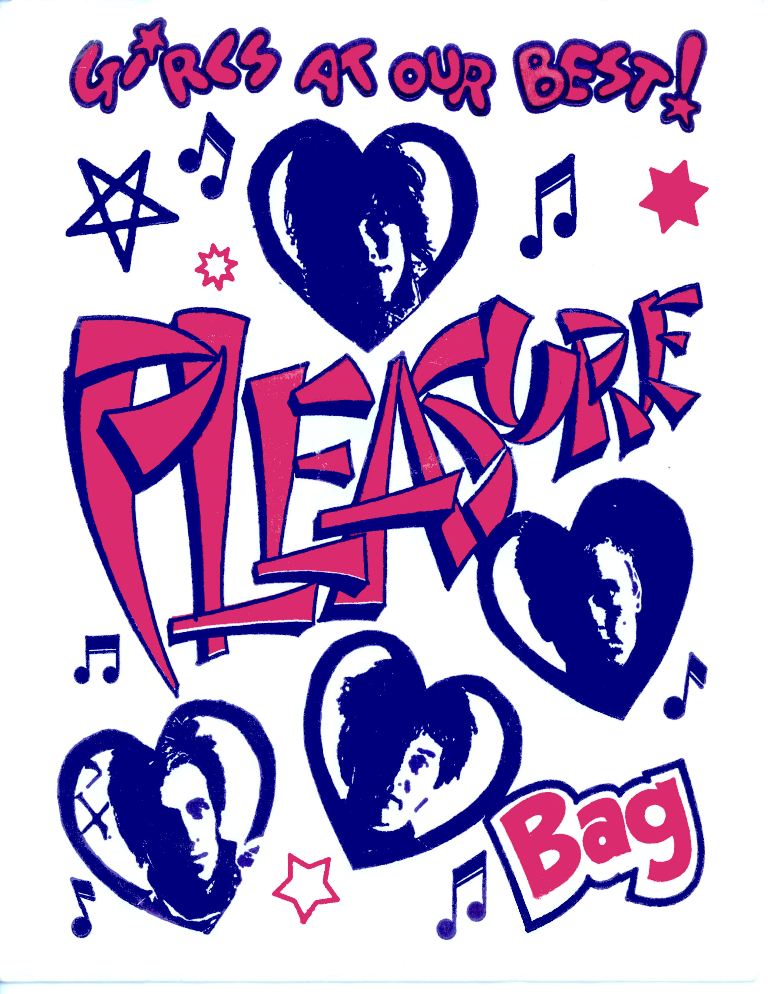 So what of the music, well it's still as good I remember, it's fresh! It's spikey! It's fun! It's funky! '!'s are catching!
Jo's vocals are quite wonderful, they're, how shall I describe them, pure but with an edge of raggedness in her voice in places that is so good. Actually I had forgotten quite how good the vocals sound, and there's some nice layered vocals going on that bizarrely sound quite goth in places (these are way back in the mix so you'll need to listen carefully).
Listening carefully, as you have to when you are writing about something, this was obviously an incredibly musically talented group of musicians. The bass playing really stands out and the drumming is wonderful.
Yep there's that ringing guitar post-punk thing going on in places, so we can tick that box. But there are tunes and you can hum them. It's fun, happy music. And there's lots of stuff going on, there are hints of music hall, rock 'n' roll, psychobilly, jazz, dub, children's TV themes and even church choirs. I'd forgotten quite how insane some of the music on this is. Some tracks have keyboards – played by Thomas Dolby – and one track even features a clarinet.
Whatever is going on musically these songs bring a huge smile to your face. A huge almost painful smile.
At this point I need to address something – back in the early 80s another friend said 'isn't this just a novelty and throw away pop?'. Well no, although GAOB's music is huge fun, there's a depth. It's well played, cleverly arranged and the lyrics are witty in places and in others about the society at the time. The songs bear being played over and over again, and you're always going to hear something you'd not found before. For me it's like ABC, yes their music was pop but it was meta-pop, it was so pop it was lifted out of that and into pure class.
For me, this album is a classic of it's time, and deserves to treated as such.
Members and some history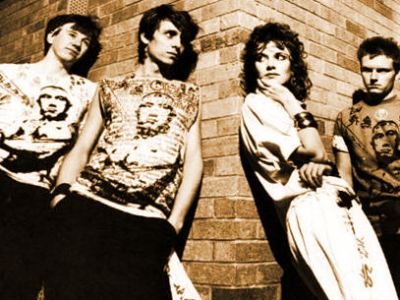 Three original members of the band – Gerard Swift, Chris Oldroyd and James Allan – all played in a 77-vintage punk band called S.O.S!. Jo joined and S.O.S! became The Butterflies. They split up but then reformed naming themselves Girls At Our Best (or Girls At Our Best!, the '!' seemed to be optional). They split up in 1982.
Judy "Jo" Evans – vocals (1979-1982) – real name Jo Gaffney – Warren's website appears to indicate that she dropped out of music.
James "Jez" Alan – guitar (1979-1982) – real name Jez Pritchatt – After the band split, Jez played guitar in Sex Beat. In 1983 he went on to join The Meteors 'pyschobilly' offshoot The Tall Boys. He then formed Sadodada! along with Jonny Slut (of Specimen). The Tall Boys reformed again in 1996 and 2012/3. Jez is now the Course Leader for the Foundation Degree programmes at Leeds College of Music
Gerard "Terry" Swift – bass (1979-1982) – appears to have dropped out of being in bands after leaving. Warren's site says he become a heating engineer.
Chris Oldroyd – drums (1979-1980) – left and joined Music For Pleasure, Red Lorry Yellow Lorry and is now in Leeds based Snapp http://www.thesnapp.co.uk
Paul Simon – drums (1980) – You can read about Halifax born Paul on the Wikipedia site https://en.wikipedia.org/wiki/Paul_Simon_(drummer). He is now part of AjantaMusic http://www.ajantamusic.com
Darren Carl Harper – drums (1980-1981) – Warren's site says he had a job fixing computers after leaving GAOB
Rod Johnson – drums (1981-1982) – appears to have gone onto playing drums in Bruce Woolley & the Camera Club (which also included Thomas Dolby) and also played with Robyn Hitchcock
As can be seen the band seem to have quite a thing about band names with an '!'
Links
There's lots of stuff out there – just Google, but there are a couple of sites worth mentioning
Girls At Our Best Tribute site (Warren's site)
An interview with Jez on the Leeds College of Art website gives a slightly different account of the founding of the band, although it broadly matches the 'publicly accepted' band history – although given that he was actually in the band it's probably closer to the truth than the 'publicly accepted' story!
Recorded material
Albums
'Pleasure' 1981 – available on iTunes
'Pleasure' Re-issue by Optic Nerve Recordings 2014 – 2 LPs on transparent yellow vinyl with pink,red and blue splatter available from https://opticnerverecordings.com/products/girls-at-our-best-pleasure-2lp
Singles/EPs
'Getting Nowhere Fast' – Single 1980 – 'Getting Nowhere Fast' was covered by the Wedding Present, and included as a B-side on the latter's 1987 12″ single 'Anyone Can Make a Mistake'
'Politics' – Single 1980
'Fast Boyfriends' – Single 1981
'Go For Gold!'/'I'm Beautiful' – Single 1981
The Peel Sessions – ‎12″ 1987