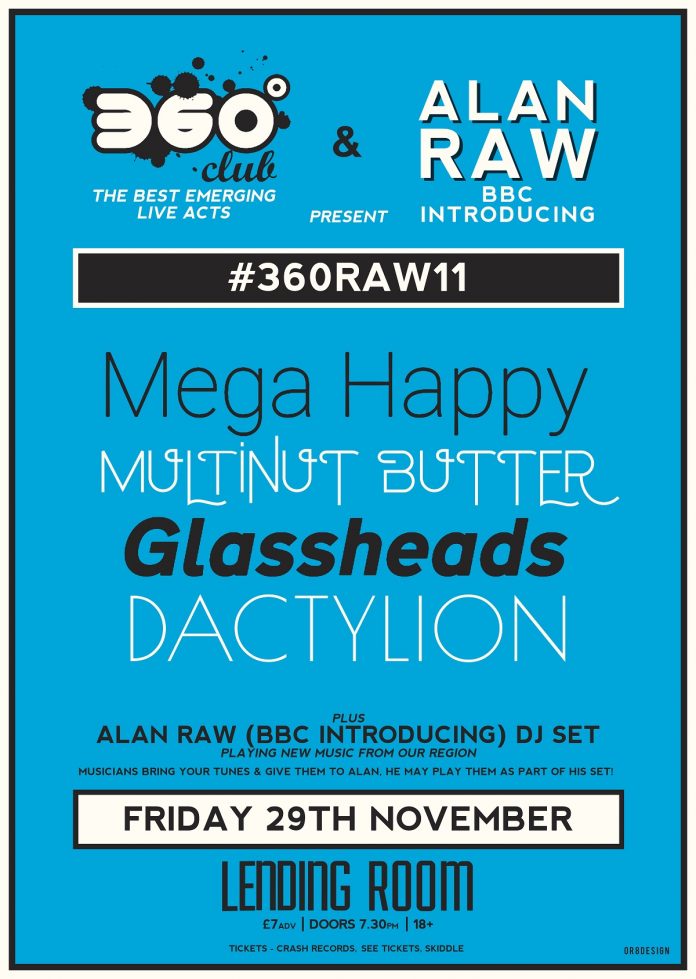 RICHARD WATSON, promoter of the 360 Club in Leeds, and ALAN RAW, presenter of BBC Introducing West Yorkshire and BBC Introducing Humberside, are proud to announce the eleventh of their special events showcasing the incredible talent emerging from West Yorkshire and beyond.
Taking place on FRIDAY 29 NOVEMBER – and subtitled #360RAW11 – the event focusses again on West Yorkshire's finest and most exciting emerging artists, this time featuring four acts from Leeds – MEGA HAPPY, MULTINUT BUTTER, GLASSHEADS and DACTYLION
Event link: https://www.facebook.com/events/798050700639631
Ticket link: https://www.crashrecords.co.uk/360raw11
As with previous #360RAW events, the night will see Alan Raw DJ before and between the live sets, playing new music of all styles from local artists. Anybody can come along and meet the face behind BBC Introducing and are encouraged to bring demos which he may well play on the night, or pass onto the producers for consideration on his shows. The ethos of #360RAW is purely about supporting emerging acts, a passion that both Richard and Alan share, and one that sees them freely offer their time, their help and their advice to musicians without any hidden agenda.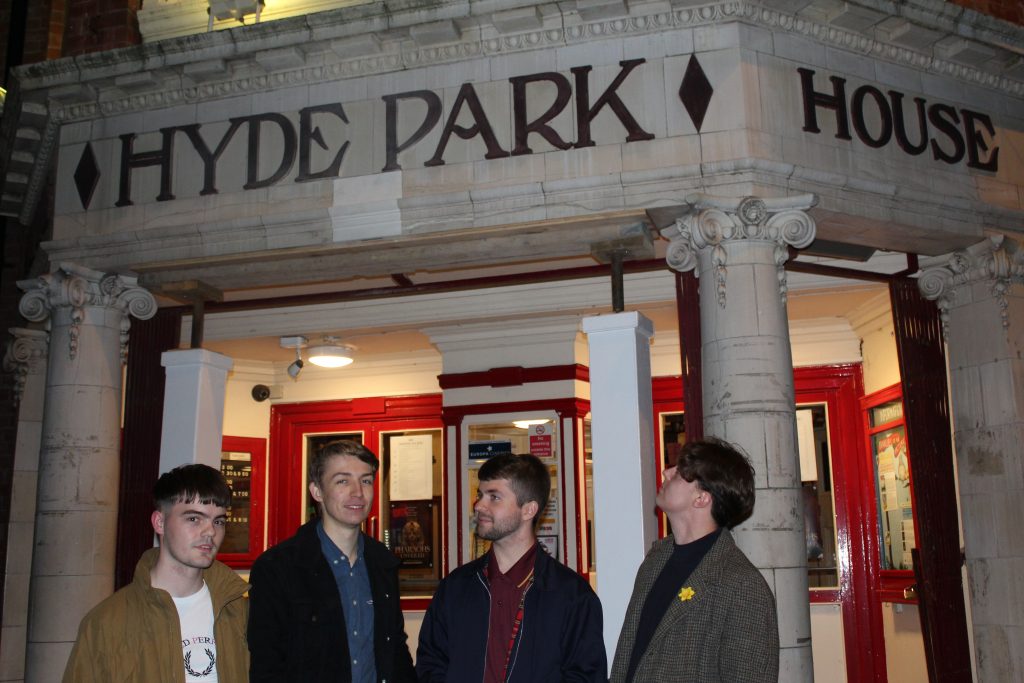 MEGA HAPPY
Whilst being sonically indebted to both Post-Punk and New Wave, MEGA HAPPY hail from the LS6 area of Leeds and comprise an ability to seamlessly weave incongruous elements like angular guitar riffs and 50s melodies into their neatly crafted pop songs. By embracing an independent DIY ethos, there is an authenticity surrounding the band that audiences are resonating with. Their uniquely distilled sound, coupled with the long-standing tradition of the DIY parties that accompany their gigs, has resulted in a buzzing, high-energy atmosphere becoming a staple of their live performance.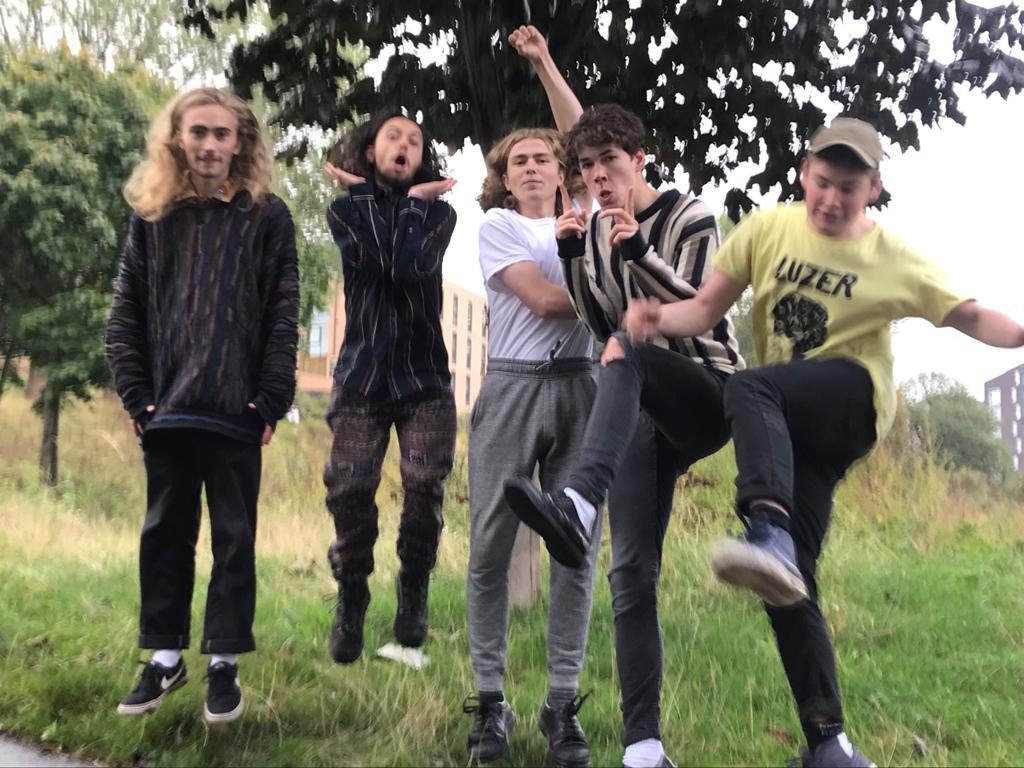 MULTINUT BUTTER
Leeds based MULTINUT BUTTER bring some of the finest in excessive reverb and difficult-to-decipher vocals currently in existence. Blending pop hooks with rowdy rock jams, they create a sound that's drawn comparison with Mild High Club, Tame Impala and Connan Mockasin, all of which is vaguely accurate, but there's no one quite like Multinut Butter and there's very little that can prepare you for the experience.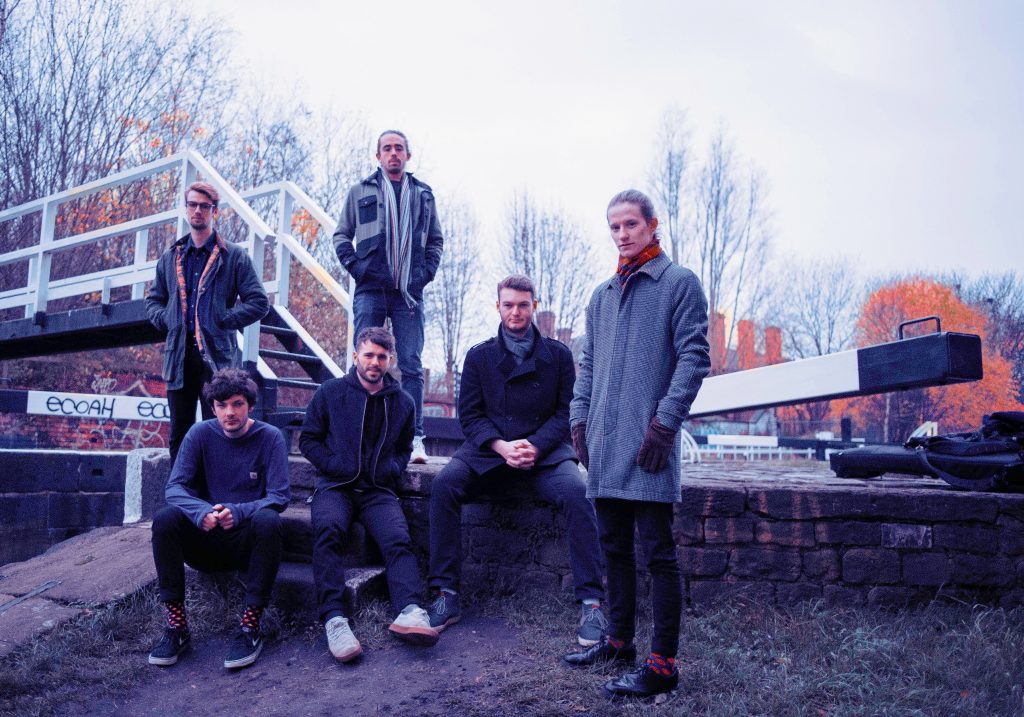 GLASSHEADS
On the face of it, Leeds' GLASSHEADS are a pop rock band drawing inspiration from alternative rock bands and experimental guitar textures with lyrics that revolve around fictional narratives. Dig deeper, however, and you discover a band that combine a wide musical knowledge with their self-confessed everyday ordinariness to create music which challenges issues of transition between cosseted early adulthood and freedom, presented in a new and interesting light. Having formed only last year, the band have already started to make a substantial footprint in the North of England with widely acclaimed support shows to the likes of Neon Waltz, The Molochs and Faux Pas.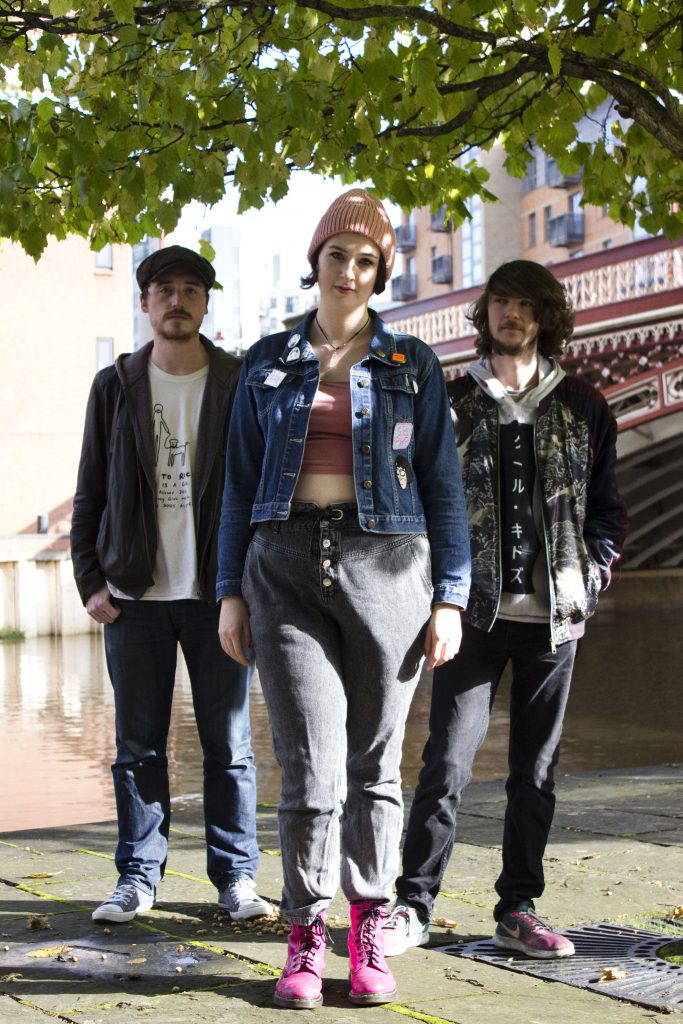 DACTYLION
Who's got the saddest sound? DACTYLION do, and they're bringing it to you. The female-fronted shoegaze band, now based in Leeds but originally formed in Derbyshire, specialise in combining soft, sweet vocals with raw, distorted power to create a DIY soundscape of sheer bliss. As described by the band themselves: "We have too many pedals and not enough happy memories".